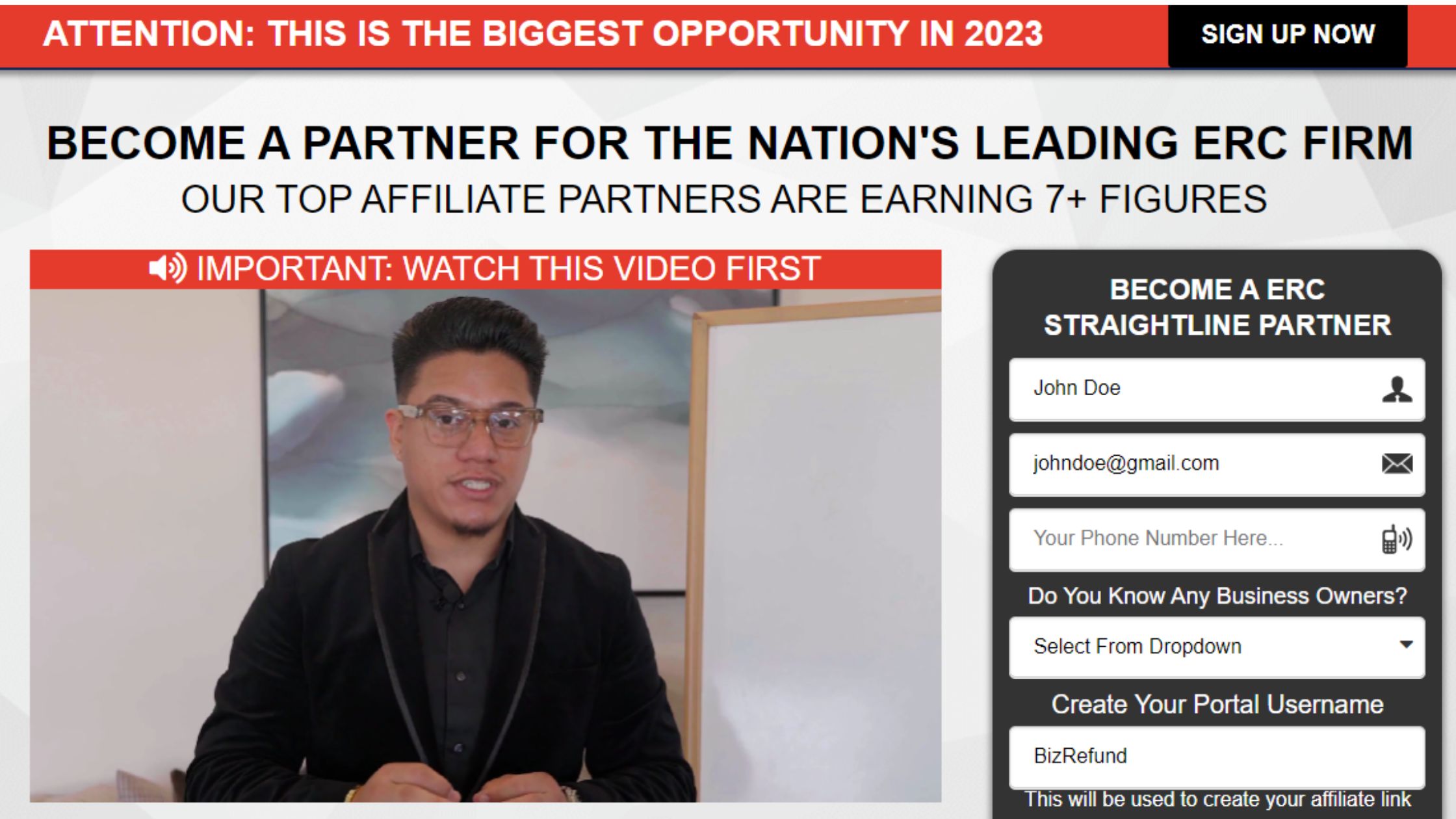 Did you come across the ERC Straightline Affiliate Program yet? If not you might want to give it a bit of your attention as these kinds of super high ticket programs do not really grow on trees. Let´s have a look at this!
What if you could just offer ANY business a large amount of money with no strings attached, and by doing so earning yourself a HUGE commission? AND what if you could do this with very little prior experience and with minimal amount of work? This is exactly what this opportunity is about!
---
Program: ERC Straightline affiliate Program
Website: www.ercmillionare.com
Owner: ERC Straightline
Price: FREE to join (you pay with your time & effort)
Who is it for: Affiliate marketers (experience wont matter)
---
What is the ERC Straightline Affiliate Program?
The ERC Straightline Affiliate Program is a new opportunity where your job is to get business owners to apply for a refund for money they lost during the covid-19 era. According to Forbes about 80% of businesses qualify for this without even knowing about it themselfs. So, there you might see some opportunity, right?
How does it work
Sure you can do this affiliate work just like you would do any other affiliate work, with a website, driving organic traffic through the SERPs with keywords, or maybe doing different kinds of paid traffic, PPC, FB Ads, etc.
However, this particular affiliate program might actually be done way better with NONE OF THE REGULAR METHODS.
This one is particularly effective to do off-line, by calling people directly on the phone.
Sounds hard? Yes understand why you might think that, I would too if it wasn´t because I know that you will get trained on exactly what to say and who to call.
The actuall selling, or closing the deal is not done by you, so don´t worry about that, it´s done by the sales staff of ERC Straightline. Your only job is to get the business owner to simply see if he (or she) qualify for the money.
---
How much can you earn?
You get 20% of ANY refund amount paid out to the businesses you refer. The maximum amount a company can get is $26,000,00 per employee, and you get a nice cut of those $26k yourself. It can add up pretty insanely lucrative if the business have many employees…
Below are some screenshots of some of the top affiliates earnings: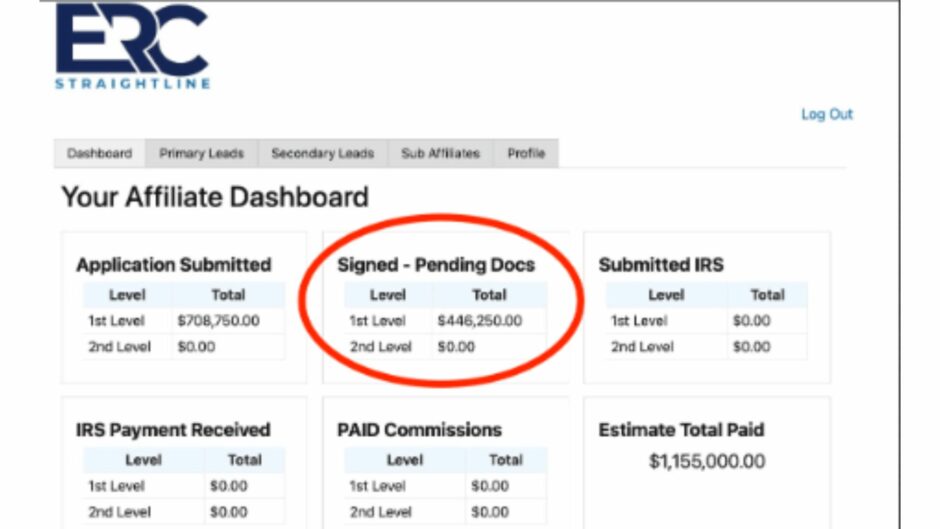 Pretty big commissions if you ask me!
Of course, they might not be from one lead (business owner) only but it don´t have to be from that many as the average commission is $22,500,00 so take that times 10 and you got $225k, take it times 20 and you got almost half a million dollars…
So yeah, this can be very lucrative IF you put in some effort into it.
---
Get 1 insider tactic on how to make sales asap!
I can provide you with some very clever tactics you can apply to reach success as fast as possible with this. If you are interested in this you simply follow these 2 steps:
1: Join through this link (or any other link on this page)
2: Comment below (after you have joined) that you would like more info
That´s it!
Once you have done these 2 steps I will send you the insider tactics privately to your e-mail. I will reply in the comment section below on what subject line you should look for in your inbox.
P.S. This opportunity will only work until 2024, so that is another reason you don´t want to sleep on this.
---
Final words (is this for ANYONE or NOT?)
Well, this is just like everything else not for everyone, because anyone won´t succeed, eventhough anyone can. It will come down to the amount of effort you are willing to put in.
Money loves speed, that good old saying is very true.
So, if you are interested in doing this then just jump into it and give it at least 1 hour per day for the next 4-5 weeks, you WILL get results if you do that. Put 2 hours per week and you will get double the results, 3 hours per day and you will get tripple results. That´s just a natural law.
If you implement the insider tactic (read further up) you will do very good I would say…
($0 free to join, you only "pay" with your time and effort)
---
I hope you found this short review on ERC Straightline to be helpful and that you now have a better understanding on what it is and if it´s something for you or not. If you are an affiliate yourself then please share your experience in the comment section below as it ca help others! Also, if you got any questions about this I would be more than happy to answer them below!
I wish you success!
John, founder of Start Make Stop Waste
**You might also want to read about these 5 High-Ticket affiliate programs