Welcome to my Brave.com review. We shall be highlighting both its strengths and weaknesses in a bid to determine whether it is one that you can rely on, or it is one that you should totally avoid. In this review, we shall be looking at :
What is Brave.com?
What are the Features of Brave Browser?
How easy is it to use Brave.com?
Is Brave Browser Safe?
Is Brave.com genuine?
Pros and Cons.
---
Name: Brave Browser
Official Website URL: https://brave.com/
Overall Rating:
(4 / 5)
Recommended: Yes
---
What is Brave.com?
Brave.com or Brave Browser as popularly referred to is a browser that is still relatively new to the market. it has been around since 2016, making it one of the newest entrants to the market. It has however managed to get the attention of a significant number of users owing to its emphasis on the provision of security as well as privacy. Even as it offers these features, Brave Browser does not compromise on the other features, or even on performance, as you shall see down below:
This browser comes with very impressive features and offers top-notch performance. These are coupled with excellent speeds and very low RAM consumption. The browser offers quite a number of security and privacy features, such as its built-in ad blocker, and the shields that ensure that cookies are blocked and that all trackers are not successful. It also offers a Tor mode.
This browser is currently available for the desktop versions of :
Windows 7 and later versions
macOS X 10.10 and later versions
Ubuntu
Debian
OpenSUSE and Fedora (Linux distributions)
If you would like to use this browser on your smartphone, you need:
Android 4.1 and later versions
iOS 12.0 and later versions
What are the Features of Brave Browser?
Both the mobile and desktop versions of Brave Browser have a built-in ad blocker. This feature helps you solve the third-party extension installation problems. With Brave Browser, you also have the freedom to create your "sync chain" between the devices that you frequently use, to ensure that they all share bookmarks.
Most other browsers usually force you to create a user account, but this is not the case with Brave.com. Instead, you are required to use one-time verification codes that come in the form of text and a QR code. Unfortunately, the "sync chain" feature only works for bookmarks.
Another outstanding feature of the Brave Browser is 'Brave Rewards". It is this company's strategy to change the manner in which online advertising works. This platform usually pays the users who opt in to view the ads up to 70% of the revenue that is generated. These users are paid using Ethereum-based crypto known as Basic Attention Tokens. You can use this crypto to tip the content creators who are registered with this platform.
You have the liberty to specify the ads that you are okay with seeing every hour, and you can customize how much page time should be perceived as a visit. Since the users of this browser usually opt-in, the ads that they view are customized based on local data. This eliminates the need for third-party trackers, thus improving your privacy in as far as the advertising sphere is concerned.
How easy is it to use Brave.com?
On the desktop and mobile versions, Brave Browser presents a very sleek as well as a responsive interface that is quite easy to understand and to navigate through.  All its elements are placed in very familiar places, making it close to impossible for you to figure out what is meant to be used for a specific purpose.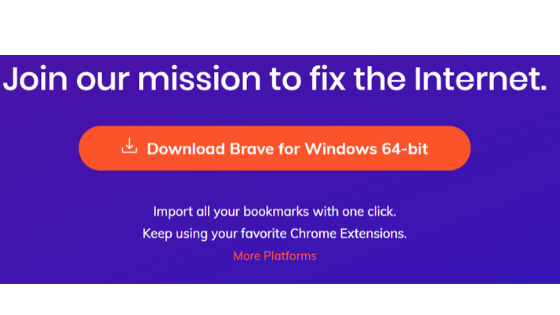 There's nothing strange about the desktop user interface. If you have used Chrome or Opera, then you will have an easy time with  Brave Browser. The tabs are located at the top, and the address bar follows right below. Navigation controls then fall on one side,  and your profile, the settings buttons, and Brave rewards fall on the other side.
Brave Browser does not support tab-scrolling, and even though you can pin your tabs, it is not possible for you to place them in groups. You can also customize the browser to look or feel totally familiar to you, with the Chrome themes.
For the mobile version, the bookmarks, history, and settings fall on the top left menu, right next to the browser's address bar. Compared to the other mobile browsers, Brave Browser is quite easy to manage. Actions such as editing, deleting, and creating folders for bookmarks are quite easy on the mobile version of the browser. There is a "shields" menu on the other end of Brave Browser's address bar, which gives its users information such as:
Ads, trackers, and scripts that have been blocked.
The "turn on/off" security option.
How can one install Brave Browser?
If you want to install and use this browser, you should visit the official site, where you will find a download bar that you can click on. All you need to do is to select an appropriate version for your computer's operating system, download it and run the install that file.
Is Brave Browser Safe?
Yes! It offers safety against third-party tracking activities, which is something that most common browsers do not offer. The security and privacy measures on this browser are the greatest edge over it has over most competing browsers.
Is Brave.com genuine?
Yes. It is 100% genuine and reliable. It is one that you can use to achieve your browsing objectives safely and privately. You do not have to get stuck with browsers that are out to track your activities. If you have been looking for ways to keep off third-party ads that are based on your activities on your laptop or smartphone, then Brave Browser is the way to go.
The best thing about it is that you can earn for viewing ads. Upon opting in, you can make several settings that determine how you will be earning when you view the ads appearing with content from content creators.
---
Pros and cons
Pros
It is very fast
Has excellent features
It still offers most extensions found on Chrome
Has good security & privacy features
Cons
Has a very low updates frequency
Only bookmarks can be synced across devices
---
That's pretty much all you will need to know about Brave.com. I highly recommend it for the excellent features and privacy that it offers. Do you have any queries or comments about it? Feel free to drop them in the comments section.
Safe and Secure browsing my friends!
Eric.