Today we take a look at something really cool! The New Franck Muller Encrypto Watch! What is Franck Muller Encrypto (franckmullerencrypto.com)? Let´s look into these new hot models launched in this short review!
Product: Franck Muller Encrypto (Bitcoin Watches)
Website: FranckMullerEncrypto.com
Owner: Franck Muller in partnership with Regal Assets
Price: Depends on what model and customization you prefer (see further down in review)
Who is it for: Bitcoin and watch enthusiasts
About Franck Muller

Franck Muller Encrypto review begins by discussing the founder. Franck devoted his career in the development of complicated watches whose popularity grew with time. Within a short period, his products became exceptional world premieres. Franck Muller, as we know it today, took a new turn in 1991 when Vartan Sirmakes challenged the investor to turn his business into a prestigious brand and enterprise.
About Regal Assets
Regal Assets is among the most respected American alternative assets companies. Huffington Post, Smart Money, and Forbes are some of the firms that recognize it. The company is known for assisting investors and retirees in diversifying their portfolio by providing them with other options such as Ethereum, Bitcoin, silver, and gold, among others. The famous INC 500 ranked firm #20 in America. Apart from the United States, the business has offices in the UAE, UK, and Canada.
Celebrities Wearing Franck Muller Watches
Prominent athletes, artists, musicians, and entrepreneurs are some of the people who wear Franck Muller watches and have helped in popularizing the brand. They include Cristiano Ronaldo, Jay Z, Rick Ross, French Montana, Brooke Shields, PSY, and Jim Jones among others.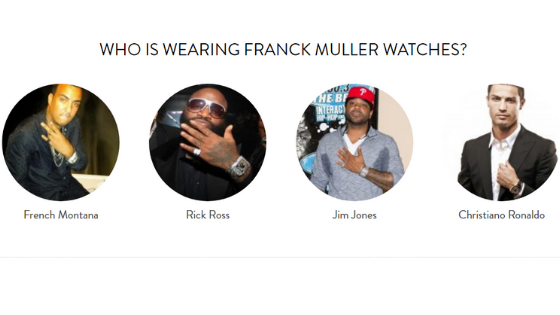 Overview Review
Franck Muller is back with a new watch. The celebrated Swiss watchmaker has released Encrypto watch with a Bitcoin wallet. This has been achieved through collaboration with Regal Assets, a cryptocurrency trading platform. If you are a crypto trader, Franck Muller Encrypto provides you with one of the safest ways to store your coins.
The watch comes with a USB. There is no risk of losing your funds when you watch damages or gets lost as it only contains the public keys. You should store the USB safely as it contains your private keys. "The world's first functional bitcoin watch," as the firm calls it, makes it easy for Crypto holders to store and spend their coins. Although the current version supports only Bitcoin, there are plans to include other virtual currencies such as Ethereum and XRP. The company launched limited-edition timepiece in the last week of May.
How to Use Franck Muller Encrypto
You can add and transfer Bitcoin from your watch. Use the public address on the watch dial to send or receive funds. The Franck Muller watch allows users to add funds to their accounts as they wish. However, you can only import the money once. To check your account balance, use any Bitcoin balance checker app or live wallet to scan the wallet dial.
To withdraw funds, you don't use your timepiece. Your coins are stored at the USB that provides cold storage. You'll require software called "live wallet" to initiate the transaction. After setting up the wallet, connect the USB wallet for the private pin to be revealed. Through a process called "importing," you'll connect your private key to the wallet to access your funds.
Prices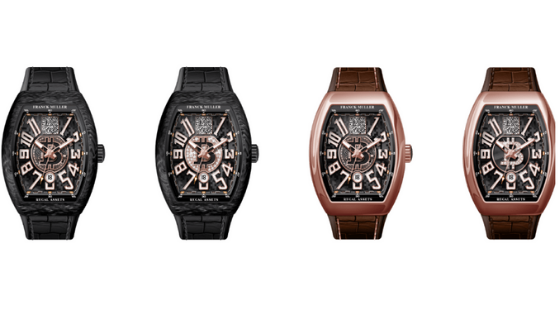 Encrypto watches are available at Franck Muller's Dubai Mall store and online. The company has made available a maximum of 500 each of women and men versions. The price ranges from $9,800 to $55,880. Franck Muller, Encrypto, Mens 45mm, Polished Case, Speed Limited Edition is on the lower end selling between $9,800 and $13,200.
Franck Muller, Regal Assets, Mens 45mm, Diamond Gold Case, Centurion Edition, is the most expensive watch, with a price range of $50,380 – $55,880 Payments can be made with Bitcoin, bank transfer, and credit card.
---
Main Features
Case materials. Franck Muller Encrypto comes in numerous case materials such as Diamond Case & Stainless Steel, Diamond Case & Gold, Diamond Case & Stainless Steel, and Carbon Fiber.
Band options. Some of the band options include Textile Black, Rubber Black, Gold Stitch, Black Stitch, Alligator Black, etc.
Weight. 0.35-0.45 kg
Water resistant
Scratch resistant anti-reflective glass
The watch comes with a sealed USB that's used for cold storage. The private keys are contained in this device
Each watch has a unique public key engraved on the dial
The watch enables users to check their Bitcoin balance directly
---
Pros
Encrypto comes with different prices thereby providing the buyers with a variety of options
Reputable companies have been behind the watch. Franck Muller is famous in the watch manufacturing while Regal Assets is known for assisting its clients in diversifying their portfolio with alternative assets in the United States, Canada, UAE, and the United Kingdom.
It´s gorgeous
Cons
The watch only supports Bitcoin thereby locking out users of other Cryptocurrencies such as Ethereum and XRP
Only a limited number of watches has been released; 500 for men and a similar number for women
---
Final words
Ok, I think that sums up the overall view of this brand new Franck Muller Bitcoin Watch series! Personally, I love them, how about you?
---
Hope you found this short review of the Franck Muller Encrypto watches to be helpful and that you now have a better understanding of what it is. Please share your thoughts on this in the comment section below as I would love to hear them!
Thank you for reading!
I wish you success!
John
Founder of: Start Make Stop Waste