In this post I am going to show you how to make money selling stuff from Amazon (or any other place online),
with stuff I mean absolutely anything, things that you do not even own. You have probably heard of Amazon? Amazon is the biggest online retailer in the world these days. Me personally have bought a lot of things from them, maybe you have to?
I have never tried to sell anything that I actually own myself on Amazon, but I have made money by selling other people´s stuff, I have done it through their affiliate marketing program.
You can of course also do the same with almost endless retailers and companies online (not only with Amazon).
How Can I Do that? How Does it Work?
Ok, first of all, you need your own website (No panic you can have one in a couple of minutes), you need the website to promote stuff from Amazon. It is a lot easier than you might think to create a website. When you got your own website, then you can start to promote stuff from Amazon.
You simply go to Amazon.com to set up an Amazon Associates account, it is totally free and also it is easier than setting up, for example, a Facebook account. When you have signed up your account, you can start to sell ANY product on the Amazon site.
Amazon will pay you a 4-10% commission (depending on the product) for every sale you make. It might not sound like much, but it does add up very quickly.
You Will Make Money Through ANY Sale!
Listen to this! This is the absolute best part: If the person who visited your website buy things on Amazon that you did not even promote…Well, guess what? You can earn money from that too!
It is very easy to get started with this and it is a GREAT way to make a full-time income. Some of the sales I have made are totally not related to the niche on my site and sometimes people buy things that are EXPENSIVE to, which means a BIG commission. Things that I had no intention at all to sell from the beginning :o)
Of course, I do not mind whatever is being sold, because in the end I will get paid for those things. There are literally millions of products to promote on Amazon, so there is no doubt you will have things to choose from.
Click the video below for the process of how to make money online (in the form of affiliate marketing) explained in an easy to understand way from the place where I learned it myself: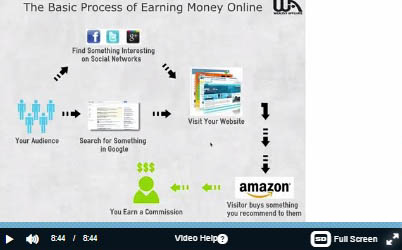 The Fun Part of it All – Getting Paid
The best part of online marketing (or any type of business) is when you get paid. Every sale you make will get saved on your Amazon Associates account. Then on the 1st every month there is payday, these are the 3 different options you have to receive your money:
Check ($100 minimum)
Direct deposit ($10 minimum)
Amazon gift card ($10 minimum)
You WILL always get paid and always on time, so you have nothing to worry about. It is a hundred percent win-win situation for them so they will gladly without any problem pay you whatever amount they owe you.
Other programs to Sign up for as an Affiliate
Amazon is a very good place to make money online, but there is also many other programs that offer the same kind of affiliate work, and also higher commissions. I personally use different ones to maximize my earnings.
There are actually programs that pay out as much as 75% commissions, but those products are mostly harder to sell to. These are some of the companies that offer the best commissions in the business:
Clickbank
Commission Junction
Share-a-sale
This 3 companies above are only an example (there are many many more) where you can become an affiliate, all of them have thousands and thousands of more products to sell, from many different stores.
Why not promote online casinos? They also have VERY high commisions!
Think about it, you can get paid to sell the same products that you buy online, this can really add up very quickly and this is exactly the same way online marketing millionaires are being made.
Why You Should Start With Affiliate Marketing?
There are many many reasons why I recommend friends and people to start with affiliate marketing.
Here are some obvious ones:
You DO NOT own the product you sell
You DO NOT have to ship anything
You DO NOT have to deal with returns or refunds
Your market (to sell to) is: the whole online world (by far the biggest market in the world)
I do not know about you but this 4 reasons only should be enough for me to do this and is also a part of why I am doing it.
Also, I want to escape the rat race and be able to work whenever I want and to be my own boss of course, and I just love the feeling of making a "passive income" which means you are literally making money when you sleeping!
I have almost reached my money making goals in my online marketing quest, I keep my goals to myself but I can say that I make more on this than I have ever done with any other "normal" 9-5 job, and also I have not worked nearly as many hours like you have to do in a 9-5 job.
AND,
I am not a computer geek :o) anyone can do this!
Wait a minute! DO NOT try this Alone!
Maybe you think all this sound very easy and you maybe have a lot of money on your mind right now :o) You have to know that this kind of business has to be made in the right way, in order to make it work. It is not only about just selling and making money.
You have to understand exactly what you are doing, this is a real online opportunity and without knowing the things required to success you are not going to make it either. Ok, so what do I need then?
Training: You have to know what you are doing. If you don't get trained, you will most definitely get stuck and you will give up, and quit fast.
Support: You are going to need help! you need someone to answer your questions right away, if you do not have this there is a big risk to frustration. 
Community: This is a VERY powerful thing to have, I realized just how powerful when I started to get help from thousands of people who had knowledge in exactly what to do to make money online.
Tools: You are going to need your own website and hosting to make this happen. Also, you NEED to understand your competition with a good keyword tool.
When you start to understand all of this, then you will also start to see the money coming in. My best recommendation for you is Wealthy Affiliate, they have the complete package with everything you need to succeed. But as with everything new, you must first spend some time to learn (or train).
It works basically like this in 4 simple steps:
Ok then, Now What?
You have made a smart choice reading this!
Now you understand a thing or two about how you can make money online and how people are making money with Amazon for example. Now it is your turn to get a "piece of the cake" and take advantage of this awesome opportunity.
If you want to learn more about making money online and also the way I learned how to do it (without any former experience), then sign up to this list and I will help you out for free:
Thanks for reading!
I hope this helped you to understand how to make money selling stuff from Amazon and I also hope you will succeed with this to if you feel ready to try it!
Please leave a comment below!
Sincerely
John
Founder of: Start Make Stop Waste