You most likely landed on this review because you want to know the answer to this question: What is My First Online Payday system? Right? Is it a scam or not? I am tired of this type of bullshit "push button and get rich" scams. Yes, I can tell you right away that it is not just a scam but also the worse kind of scams. I will explain why in this short review.

Product: My First Online Payday System
Website: www.myfirstonlinepaydaysystem.biz
Owner: "Jeremy Mathews" (FAKE NAME)
Price: $250
Who is it for: People who are uneducated on the subject of making money online and are easy to scam.
What is My First Online Payday system about?
My First Online Payday system is being spammed all over Facebook and on other places online. It is another one of those "push button" systems that guarantee to make you rich. All you have to do is push a button and the "super sophisticated automatic" program will do all the work for you.
You are guaranteed to make a winning of at least $350 a day! You also have to hurry up to make this (bad)decision because there is only 500 places available.
All of that is bullshit of course 🙂
How Does It Work?
It claims that you can try the software with $50 for free and you can keep your winings and withdraw them whenever you want. If you choose to do that you will be redirected to the "software area" where there is a green and a red button. You will get instructions to click on one of the buttons as soon as the "winning chance" is 90% (or above).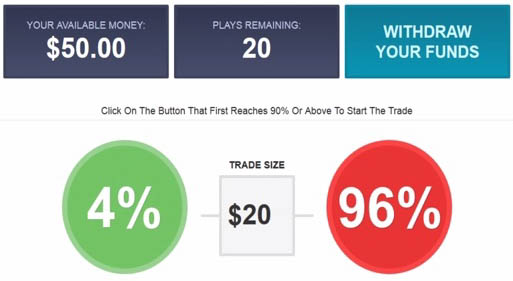 If you try this with the "free" $50 I can guarantee you one thing, you are going to win every time of the 20 "test plays" you get. I can also guarantee you that the money you "win" is not going to be withdrawable. You are going to have to make a deposit of minimum $250 first. Can you withdraw the winnings then? Nope, then you are going to have to play 100 plays first, and those 100 plays I can also guarantee that you are not going to win that many off.
Who is Jeremy Mathews?
Who in the h**l is Jeremy Mathews? I can tell you that the guy in the video that claims to be the CEO Jeremy Mathews in real life has a different name.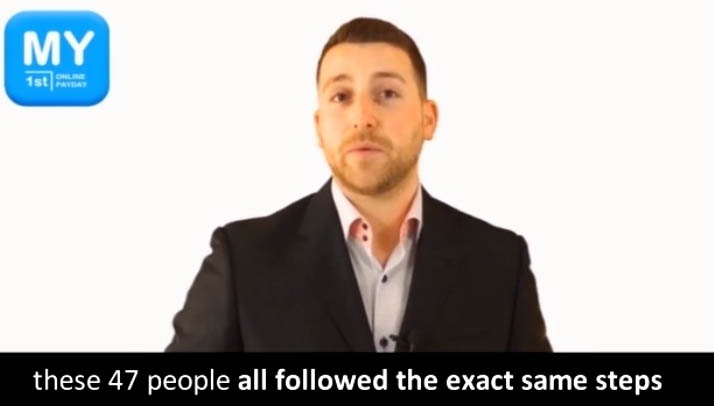 How I know that? Because he is an actor that you can hire (very cheap) on fiveer.com. (that is the place where scammers hire people to record fake reviews in case you didn´t know)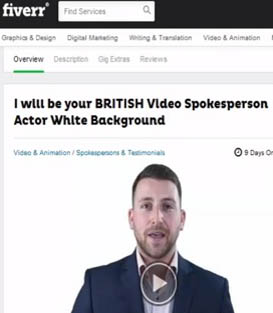 The Fake Testimonials And "The News"
What about the testimonials from the "test group" that all thank this Mr x (Jeremy Mathews) for making them rich? Are they all fake too? Yes they are, they are all Fiverr actors. I recognized 2 of them immediately because I have seen them making fake reviews on other scams before. Especially this beautiful young lady below I remember from the Aussie Method scam.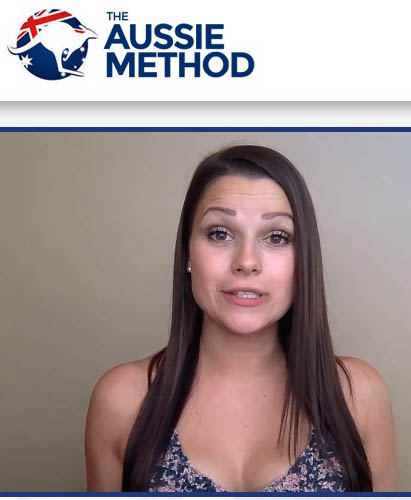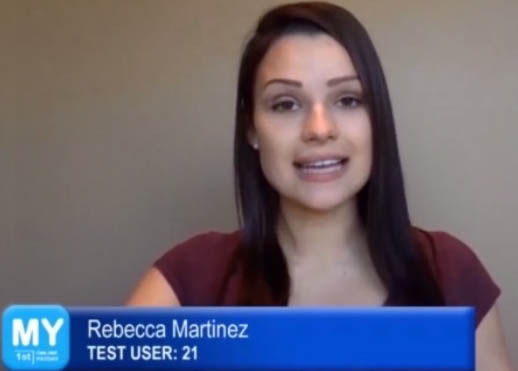 But what about the news that says that people are making money online?
The talk in the news about people making a living from home and even make a lot of money. That is real talk, many people do that today (I am one of them). But not from some "push button" system.
Do you really think that you can make thousands of dollars every day? I do! but not from a push button system.
Final Words and Verdict
Verdict: SCAM!
Overall rating: 1/10
I think I have made my point crystal clear on this one, My First Online Payday is a scam. It is pretty obvious when you look that everything is fake, owners, testimonials, lies, etc.
I really hope that you understand that too and if you have read this review I am pretty confident that you do.
Solution To Your Problem? 
Is everything online a scam? Absolutely not, but it can be very hard to find legit stuff in the jungle of scams. You should be aware of the possibilities that exist online because they are huge. Nothing happens by itself, though…
People don´t want to live in the rat race, working 9-5 with jobs they don´t even like, nothing strange about that. Also, if you want to be able to make more money than a "normal" salary it is more than possible online. But not with some magic auto-pilot trading system or push one button and "get rich quick" software, sorry but they don´t exist.
All those are nothing but scams, always. PERIOD.
Sure, there is people who have made themselves rich with forex trading and binary options trading but they have done it on legit platforms and they didn´t use some "secret" program. If you want to try trading at least try a legit platform and use the ones that allow you to trade with a demo account before you invest your own money. AvaTrade is probably your best choice if trading is something you want to do.
I don´t recommend trading as a safe way, it is something that I really suggest you study before you start doing real money trades. 
Safest And Most lucrative Way To Make Money Online?
What you can do is to learn how Internet marketing works, that is (by far) the best method if you want to be able to quit your job, and far beyond that also.
I am not talking about those pyramid programs that you probably have been approached by online (or offline). I mean that you should find an education program in the subject and stick to that one until you have learned how it works.
The best one I know about and that I know is working is Wealthy Affiliate, it is the exact same place where I learned how to make money online and it is also absolutely free to join. There you will find step-by-step training on exactly how to start making money online, you will create websites and learn how to make them earn money for you on autopilot. You will also get instant support whenever you should have any problems. There is also a premium membership to consider (if you are really serious) but that is totally up to you, I suggest you start with the free membership to see if working online is something you can see yourself doing first.
==>Click here to read more about Wealthy Affiliate<==
I hope you found this review of My First Online Payday system to be helpful and now you should know what it is all about. If you have tried it please share your experience with us in the comment section below. It will help others to avoid it. Also, if you got any other questions about this review I will be more than happy to answer them.
I wish you success!
Thanks for reading
John
Owner of: StartMakeStopWaste.com