Stumbled across something named Project BreakThrough lately? What is Project BreakThrough? A scam or a legit opportunity? A pyramid scheme? For beginners or experienced people in the subject of making money online? These are some of the questions you will get answers to in this short review. Ok, Here we go!

Product: Project Break Through
Website: www.projectbreakthrough.com
Owner: Vick Strizheus (Founder) Jason Mcclain (CEO/Partner)
Price: FREE to start but the "upgrade" version costs $297 a month + upsells of thousands of dollars!
Who is it for: People who want to make money online fast
What is Project BreakThrough about?
Project BreakThrough is a video course education that has been launched recently, it is a 14 days "fast course" in a subject that is considered (by most proffesionals in the business) NOT being a fast process that you (as a newbie) can do in only 2 weeks. The subject I am talking about is to make money online in the form of Internet marketing.
The Project BreakThrough is a video course with the hosts Vick and Jason, they both are very successful marketers with a lot of experience.
They basically claim that if you follow this 14 day course then you can expect to:
Earn a commission online.
Understand how the process works so you can do it again.
Scale and multiply this process so you can be super successful and make up to $20,000 – $100,000 and more per month
Wow that is some very bold claims!
But, they also say that no earnings at all are guaranteed. In the same time, they keep saying that if you just follow the instructions this 14 days it will be impossible to not make a commission.
Who Are Vick And Jason? 
The founder Vick and his partner are two super marketers that got a lot of experience in the online world. Vick, by the way, has been deeply involved in Empower Network. If you haven´t hear of Empower Network before you should know that it is an MLM (pyramid scheme) business… That is not a good sign. I come to that later.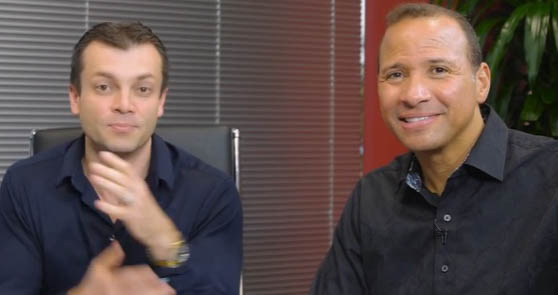 These 2 guys seem to be very nice guys and that is of course, important to a marketer, especially if the marketing going to take place in a sales video.
Worth to mention: The fact that someone have made crazy money online (or offline) don´t mean they aren´t a scammer. Someone who seems nice can of course, also be a scammer 🙂 I am not saying that this is a scam to a hundred percent but I just wanted to point those two things out:)
By the way, did you know that "Vick" used to go by another name and that he was sentenced to prison for insurance theft?
https://www.youtube.com/watch?v=6ZHRlAscJ6Q
He has also performed similar "opportunity" programs before…
https://www.youtube.com/watch?v=krwPUpYC7Vc
You can clearly see the white rental tag on the car keys. His house? Nope, if you want to hire it you can do that by clicking here.
Do I need to say more?
How This Kind Of Scam Works?
How do these characters perform their scams? Well, first they get you interested with some VERY bold claims. Like telling you that it is free for example, telling you that you will get rich, etc. But in the end, you have to pay some monthly membership fee or something of that nature… Then you will find out that the info you get provided with is not complete, you have to buy another thing (upsell), and so on.
THEN comes the problems with the program, you will get "excuse" emails why the system is not really complete yet. After some more time, the scheme is closed and the owner and his partners move on to the next project.
They will give you products to sell, you might even make a commission or two, but then they swap their affiliate ID with yours from time to time and simply just steal your commissions.
The traffic you will generate to the (scam) program (Project BreakThrough) builds THEIR traffic and makes it possible for them to sell to more people online. They will also on a regular basis take the lead emails you have collected and keeps them by themselves.
I cannot say this will be the case with this particular program but it has happened before, hopefully the history won´t repeats itself.
Vick has supporters that say that he have changed, he is now working in an ethical way and help people to make money instead… I guess all can change, I am not here to judge anyone by what they have done in the past, I just want to make people aware of what has happened before. In the end, it is up to you if you put your trust in that he won´t scam people again…
But I strongly suggest you RUN AWAY FROM PROJECT BREAKTHROUGH!
One Thing Is Crystal Clear
Both Vick and Jason knows of course, exactly what they are doing, and they are very clear that you should watch all the 14 episodes before you look at what is beeing offered at the hightrafficacademy.com website. Remember they are good marketers (scammers or not) They might have a good reason for that 🙂
Read below to see what I mean.
What is HighTrafficAcademy.com?
So, what is HighTrafficAcademy.com? High Traffic Academy is the company behind the Project BreakThrough program. I can tell you that after you have watched episode 3 you will be told to head over to HTA and upgrade to an "elite" membership for $297 a month.

Seems a little bit overpriced to me. Or I take that back, it sounds WAY overpriced.
And it doesn´t stop there…
Further into the program, you will be presented to MORE upsells that will cost you thousands of dollars!! Now it really starts to sound VERY MUCH like a pyramid scheme.
My Experience So Far With Project BreakThrough
Good for beginners? All the time when watching the videos I try to think how a complete newbie would receive and learn the info given. Because they claim it is great for beginners.
To be honest, I haven´t got that impression… At all.
If it was me I would probably not understand that much, at least not yet. But then again I will keep you informed on that as I progress all the way to the last of the 14 videos.
Do Not Ask Questions?? Just Do As We Say? 
Vick and Jason are telling you to NOT ask questions, just blindly follow what they say and do it without thinking.
Say what? Come again??
If that don´t ring alarm bells for you then you need a reality check.
Asking questions are ALWAYS your fully right in EVERYTHING not just making money online.  You should also not settle for anything less than getting your questions answered FAST and with that, I mean withing 2-5 minutes max.
They Want To Give You "The Foundation"
Vick and Jason all the time talk about that they want to give you the foundation so you learn it and understand it. All the time when I was watching the videos I was waiting for the "foundation" that they talked about and I thought it was funny that they actually never mentioned the foundation… Then when they finally stopped talking and let the members (you) go into action they didn´t start (or even mention) with the REAL foundation.
What Is The Real Foundation To Make Money Online?
Ask any honest Internet marketer this question and you will get the same answer.
The absolute FOUNDATION of any online business is A WEBSITE. 
With that, I mean YOUR website and not someone else's website. If you want to read about the REAL FOUNDATION click here.
Financial Freedom Online Takes Time 
$2,400 in your first month is easy Vick say in lesson 3 or 4 (I don´t remember) Lol! Do you really believe that? You can, of course, make that kind of money that Vick and Jason talk about online, and MORE! But… it is going to take a whole lot more time than they want you to think.
I started as a complete newbie in the subject of making money online at a place named Wealthy Affiliate (online since 2005) and I can (without a doubt) say that by day 3 there I had learned and (more importantly) UNDERSTAND much more than I would if I started with Project Breakthrough.
Why? Simply because I physically started to do things, not only listen to someone telling me how to do all things. I also started with the REAL foundation.
By day 3 at WA I had my own website up and running and access to DIRECT support WHENEVER I wanted!
So if you are a newbie I would rather recommend you to try out WA for a $0 FREE membership instead. 
Click here to read the WA review to see how the training at WA looks like!
Is Project BreakThrough A Pyramid Scheme?
As I mentioned earlier Vick has been involved in EmpowerNetwork before, a Multi Level Marketing (or pyramid scheme) company that has many times been mistaken as a real online opportunity.
That is a BIG warning sign.
Before I say (what I am about to say) I have to say: That I think that the free videos are good so far, not the best choice for beginners but better than most of the crap online. I truly believe that both experienced and beginners can benefit from watching the free video course.
But, I wouldn't jump into the hightrafficacademy.com offer that they will relate to as "the 27 income streams opportunity"
What is that? It is a Network Marketing offer. What is Network Marketing? It is just (in most cases) a nicer word for MLM aka a PYRAMID SCHEME.
The fact that the 2 guys (Vick and Jason) do a great job to "pump you up" the whole first video and basically telling you that you have to make a decision and don´t listen to any doubts in your mind, etc. It feels very "pyramid scheme" where the group (the bubble) gets almost like brainwashed. Ok, maybe I over react a little but this is something very typical for an MLM business. They (the pyramid guys) are almost always "inside of a bubble" where everybody acts and talks the same.
Typically, if you say something negative about them, they will jump on you, most times, in a not so nice way 🙂 (watch the comments below for examples) 🙂
Another thing I noticed in the first video is that Vick and Jason even want you to make a promise, that you will "pay it forward" and "help" someone else to "succeed" after you have done so…Not so strange that they want that of course because they are at the very top of the pyramid structure… It is also a very common marketing tactic to get people to buy stuff in "belief" that it is such a great product that you have to share the "gold mine" you have found.
And as (I think) that you know, the ones who gonna make a lot of money in a pyramid business are the ones in the top of the structure (the owners and a small amount of people).
The rest of the people will have difficulties earning enough to pay their monthly membership fees. Not to talk about the other upsells.
The Upsells Of Project BreakThrough!
I just finished watching the day 3 video and I have to say it makes you understand that this "FREE" 14-day course won´t be of any more value after this if you don´t upgrade to the "elite" membership that costs $297 a month! You also realize that your costs, if you (like Vick and Jason calling it) want to go all out! Be a winner! Separate yourself from the losers! Want to become rich, etc…
You will get presented to A LOT more upsells, we are talking about upsells for the cost of thousands of dollars here…
To get all of those is going to cost you $1770 + you monthly membership fee of $297
They will probably say the same thing with every upsell presented to you, things like "Become a winner", "this is for the ones who are ready for success", etc.
This thing (PBT) is simply going to cost you thousands of dollars before you realize it ain´t gonna be as good as you thought it was.
***Tired of upsells and scams? Get REAL help here.
Final Words and Verdict:
Verdict: NOT RECOMMENDED (and a RIPOFF)
Overall rating: 2/10
If we disregard the facts about "Vick's" past (or maybe even present) as a scammer…
Sure, I like the videos and there are some valuable tips you get there, but it is not like it is some BIG secrets beeing revealed. Making money online always involves both time and effort (IF you want to do it risk-free, and not invest a lot of money) Do you think it sounds "risk-free" to start paying $297 a month?
It all started out and sounded super great in the beginning. Learn Internet marketing, earn a commission in 14days for free, etc… That is some great marketing done by 2 very skilled marketers who knows exactly what and how to say things. They hide the fact that it is a pyramid scheme, and they are (most likely) going to continue to hide that fact until it is "too late" to back out from the deal.
When you have started paying the $297 a month and probably also bought some of the coming upsells you will understand. They probably never going to say it out loud that it is a pyramid scheme, but you will understand that when the "27 income streams" finally get presented.
You will get told that you will make money on your recruits recruits and also on their recruits and so on. That is how you are going to make the big money. It is probably also true that you can make big money, but I suggest you think more than twice before getting involved in this. I actually suggest you stay far away.
You are smarter than that!
You can learn all about Internet marketing on other places MUCH BETTER EXPLAINED and you won´t need to pay $297 a MONTH!! That is crazy, you can get exactly everything that is offered in Project BreakThrough (and more) for $359 per YEAR in the Wealthy Affiliate University for example.
It is also (of course) FREE to try before (and if) you buy and DO NOT include any hidden upsells and DO NOT involve you in MLM. You can also ask how many questions you want and get them all answered WHENEVER you want.
If you are a complete newbie in the subject of making money online I would rather recommend you to click the link below and start a much better step-by-step training course that you will find VERY beneficial, it is the exact same place that I started to learn and EARN money online and it WILL lead to you making money as long as you follow the instructions.
It is completely free for as long as you want, you can upgrade to premium membership whenever you want but there is NO upsells after that! Also, you will not be involved in any MLM.
One thing that I think you are going to like is that you from day 1 will see exactly what to do instructions on your computer screen so you can do exactly the same yourself on YOUR computer. It is not only "listening to talk" about how to do something without being able to physically do it yourself.
I hope you found this review of Project BreakThrough to be helpful and now you should have a better understanding of what it is and if it is something for you or not. If you have tried it please share your experience with us in the comment section. Also, if you got any questions about this review please leave them below!
I wish you the best and a lot of success in whatever you do!
John
Owner of: StartMakeStopWaste.com