Ok people it is time for a review of another "get rich quick product" called The Wake Up Millionaire. What is Wake up Millionaire and is it worth trying? Is it legit or is it a pure scam? We will have the answer in a couple of minutes. Ok here we go!
Product: Wake Up Millionaire

Website: wakeupmillionaire.com
Owner: Patric Chan
Price: $47 (start up fee)
Who is it for: People who want to learn gettin rich fast
What is Wake Up Millionaire all about?
This Wake Up Millionare program was founded by Patric Chan, inside the program he teach the users to have "the right mindset" to become a millionaire. If you join this program you also have to buy Patrics ebooks and training videos.
To be able to get this "millionaire mindset" you have to follow his training videos and also read the ebooks he provides you with. This will help you to succeed in your business. Patric claims that from his own many experiences, he have found the lost piece of the puzzle to have the exact right mindset to become a millionaire. This is the "secret" he will teach you in this program.
I see many similarities to Patric Chan and other "gurus" online. They are all very good at convincing and motivate people, witch can sometimes be a good thing of course. As far as having good content and useful tips this can be a good product, but is it really worth the money?
The price for joining the program is $47 and that is really not so expensive, especially not if you will turn into a millionaire after 6-12 months :o)
Basically you get some ebooks and videos who learn you to get "the right mindset" to success, this mindset you are then going to apply to your own business.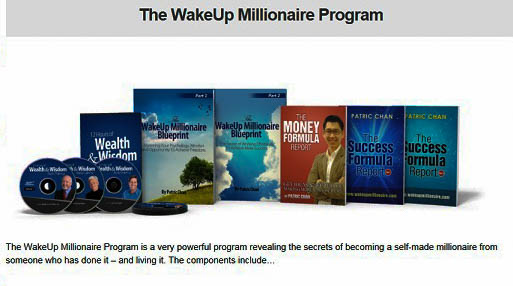 Why You Should/ Should Not Buy This
Of course many people in the world want to be a millionaire and achive financial freedom. When I found this program and watched the promo video, I almost immediately was thinking to myself that this is a scam. I can almost guarantee you that you will not turn into a millionaire after 6-12 months like the program claims.
There is no strategies in this program that can be used in online marketing and I would probably not recommend this even if it cost only $47. If you want to read books on the same subject there is a lot cheaper alternatives for you on Amazon for example. 
Reading books is of course always a good thing, and buying books is also a great way to invest in yourself. If you buy in to Wake Up Millionaire is up to you of course, but I would not recommend you to do it if you think you will turn into a millionaire by doing that only. There is no strategies of making money in the Wake Up Millionaire program you will only be taught "the right mindset" to have success in the subject.
Buy it if you want to pay $47 for "motivation" or buy a cheaper book (or books) somewhere else where you get pretty much the same.
If you are not satisfied with the Wake Up Millionaire Program there is a 60 days money back guarantee. However the Wake Up Millionaire is a Clickbank product so the "process" to get money back might take a while (and some effort). I would not bother, unless it was about a little more money than $47.
 Final Words and Verdict
Verdict: Scam!
Overall Rating: 3/10
I would maybe not call it a scam if Patrick Chan not claim you will turn into a millionaire after about 6-12 months, but he does.
If you want to become a millionaire I guess you have to start somewhere, I also think the best way to start is by making more money.
I do not belive that reading books about having "the right mindset" will make you rich faster than actually "working on your craft".
If you want to get knowledge and follow training on how to build up a business online that eventually can turn you into a millionaire I would recommend you to read the review on my #1 Recommendation. I would spend my time on that if I where you instead of listening to another "guru" telling you that money will come fast and easy.
In the end it is up to you of course, but what do you think will make you money the fastest way… Listening to a guy teaching you the right mindset? Or learning how to really start a business and learn online marketing?
Hope you found this review of Wake Up Millionaire Program to be useful and now you hopefully know what it is all about. Please leave a comment below!
Thanks
John
Founder of: Start Make Stop Waste