Today we take a look at A-Ads (Bitcoin Advertising Network) for you. What is A-Ads? A scam or a legit platform? Will it be something for you or not? A bonus opportunity. These are some of the main questions this short review will focus on. Ok, here we go!
Product: A-Ads (Bitcoin advertising network)

Website: a-ads.com
Owner: Arsen Gasparyan
Price: FREE to join
Who is it for: Any country is accepted
Overall rating:
(3.7 / 5)
---
Important to mention before we continue with the review:
Please do NOT invest more money than you can afford to lose into ANYTHING.
Also, always do your own due diligence before making any decisions to invest. This article should not serve as investment advice.
This post is mainly to help you to make a more educated choice and point out both pros and cons of the particular company being reviewed.
Ok, with that being said, let´s continue with the review:
---
What is A-Ads about?
A-ADS (Anonymous Ads)is an online advertising platform and network that doesn´t collect personal data. Anyone in any country is welcomed to use their advertising and publishing services. Their "slogan" is that users privacy should be kept, meaning their ads contains no scripts or cookies.

Currently, their ad impressions are (around) 152 million (!) per day to visitors from all the world.
---
How does it work?
First of all, this works for you no matter what country you are living in, everyone is welcome to use either their advertising or publishing service.
It is simple to use and it takes less than a minute to create a new advertising campaign. You are also provided with transparent statistics, automated bitcoin transactions and traffic from thousands of websites and apps.
You can also use the service as an affiliate, meaning you can earn money by recruiting people to the network.
Below you can hear the owner himself (Arsen Gasparyan) explain what the program is and how it works in a video that might be useful for you:
---
How to join?
If you want to join this popular advertising network just go to: a-ads.com and sign up. Simply fill up the required fields, that only consists of your desired username, email and a password of your choice (see screenshot to the right):
---
How to become an affiliate – You need education first.
Becoming an affiliate is also super simple and absolutely anyone can join. However, it is not something I would recommend unless you know how to recruit people.
In case you are interested in educating yourself how to do that then the absolute best thing I can recommend is to get yourself educated.
There are places where you even can get step-by-step video instructions, the absolute best place I can recommend is the WA University, where you can get a FREE membership for as long as you want.
** click here if you are interested in learning more about that
However, if you already know how to generate traffic and get referrals then see (below) how easy it is to get started as an affiliate.
---
How to create A-ads affiliate program affiliate link in 30 seconds:
1. Click on the "Earn tab" in the "top menu":

2. Select any ad unit type you desire (if you don't plan to embed your ad unit anywhere, then select "affiliate"):

3. If you want to do it "the fastest way" then you only scroll down to withdraw parameters, click on the "Bitcoin address tab", paste your bitcoin address (where your earnings will be send) and click "Create ad unit":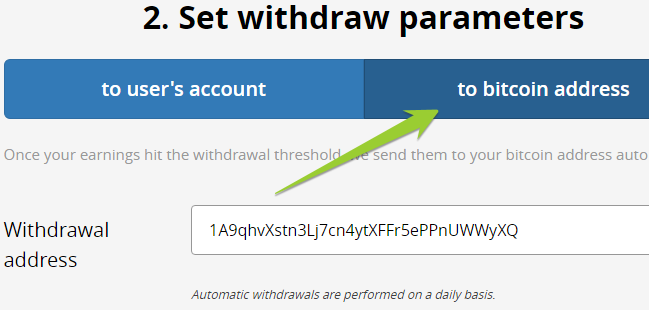 Done!, notice that your affiliate link has been created!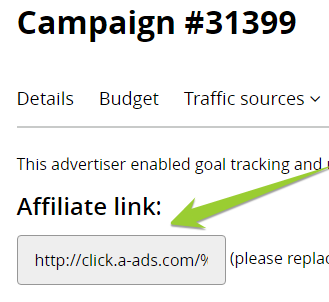 Once this is done you can now start to share your affiliate link with potential advertisers and get 50% of the fees collected from ads that they create.
Important to mention here: You can, if you want to set up your payment details so that you get paid on auto-pilot every 24 hours (if you have reached the minimum payout of 0,001 BTC), you do this simply by going to your profile settings and add your payment details there.
---
The products and services
The products and services being offered is:
Advertising service
Publishing service
Affiliate service
---
Is A-Ads a scam?
So, is A-Ads a scam? No, it is not a scam, it is actually one of the most well known and trusted Bitcoin ad network platforms out there, just Google around online for a short time and you will see most people talking about the platform as their preferred choice.
However, please do NOT invest more money into this (or anything else) than you can afford to lose!
Stick to the "rule of thumb" above and you will be just fine.
---
Are there any red flags?
Are there any red lags? Let´s take a look at the most well known online review and rating sites to see what score they have given A-Ads:
After looking at the most well-known, such as Trustpilot, Trustlink, BBB (better business bureau), Ripoffreport, etc I found that there weren´t many complaints at all, it wasn´t actually that much info at all.
The online reviews and rating:
Trustpilot

Overall rating: 
(4 / 5) (out of 2 reviews
BBB

Overall rating: N/A
Yelp

Overall rating: N/A
Ripoff Report

Overall rating: N/A
Is this for you?
One thing that is always good to do, to get a better overall picture of a company to get a better overall picture is to compare its pros against its cons to get a better overall picture. Below I have pointed out some obvious points to make this job easier for you:
The good
Well known and trusted by many (A quick look at some Bitcoin blogs reveals that this network is used by many Bitcoin enthusiasts)
Good alternative way to advertise (Most people only use Google Adwords, FB Ads, Solo Ads, etc. (Many are not aware "or skeptical" to use Bitcoin alternatives, so now might be a great time to start, before the masses join)
Easy to use (Simplicity is something that I personally appreciate a lot), maybe you do also?
Transparency (This is ALWAYS a good thing)
The bad
Bitcoins only: The only way you can be paid is through bitcoin (personally I don´t see this as a problem).
The Low Ads In Rotation (This will most likely become better as more and more advertisers join the program)
Advertisers that participate in the program are still relatively small.
---
Final words and verdict
Verdict: Legit
Overall rating
(3.5 / 5)
Ok, I think that sums up the overall picture of this advertising network pretty well. I have to call this legit for now, also I have to say that it is the Bitcoin ad platform I am most impressed with that I have reviewed so far. With that being said I will not recommend it though, as I am not sure of its effectiveness.
The rating 3,5 stars out of 5 is an ok one, and it feels very fair for now. This rating can of course change to both a higher or a lower one as we make sure to update this reviews as soon as any "news" comes up.
I hope you found this short review of A-ADS to be helpful and now you should have a better understanding of what it is and if it is something for you or not. If you have used any of their services please share your experience below as it can help others. Also, if you got any other question about this review I will be more than happy to answer them below!
I wish you success!
John
Founder of: $tart Make $top Waste