What is Abra.com? How effective is it? Should you turn to it as your best solution or should you simply stay away? Join me in today's review as I take you through the main elements about Abra that you need to know in order to make a decision whether it is one for you or not. Here are the main items that we shall be going through: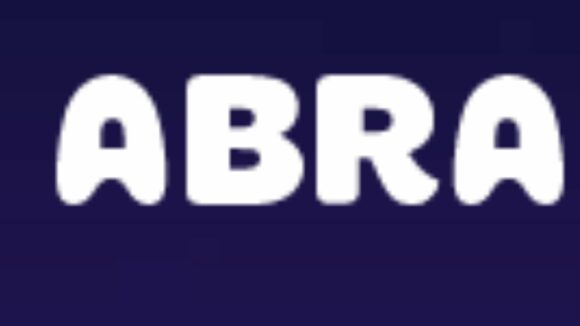 What is Abra.com?
A brief history of Abra
The services provided by Abra
How does one get started with Abra?
Funding your Abra wallet
Is Abra Legit or Is It a Scam?
Pros and Cons
---
Name of the platform: Abra
Official Website URL: https://www.abra.com/
Overall Rating:
(2.6 / 5)
Recommended: Not Recommended
Not to worry, I got you covered with this alternative to Abra- try it out and order your very own crypto ATM card for free 
---
What is Abra.com?
Abra is a developer of a renowned crypto wallet that allows its customers to conduct online money transfers and crypto investments. Abra leverages on Bitcoin technology to bring together the money transfer operations and payments, through a digital cash wallet that enables users to utilize their cryptos, create their own portfolios, and even mobilize their assets at will. This makes it easy for all Abra users to easily invest in exciting stocks using cryptos.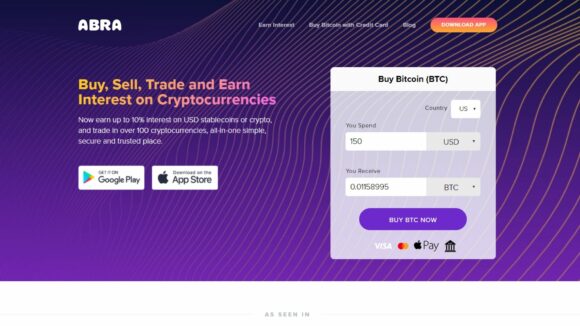 Despite having a wide range of services, this platform was initially intended to help its users send out money easily. The Abra app incorporated an entire network comprising of tellers that facilitated international cash payments. Abra is at the moment an all in one investing and money transfer service which also acts as a non-custodial wallet. You can access Abra as an Android or iOS user.
This platform incorporates roughly 30 cryptos, along with 50 fiat currencies, which can be accessed via the easy to use mobile app that is available in many countries. Abra also gives its users multiple wallet funding options.
A brief history of Abra
Abra came to life in 2014, as the brainchild of Bill Barhydt and Pete Kelly. One outstanding thing about Abra is that is has managed to attract a significant number of venture capital firms, who have funded its progress to date. It has raised an estimated $35.5 Million in funding, from firms such as:
NYCA
Pantera
RRE Ventures
American Express Ventures
First Round
Jungle
Arbor
Lerer Hippeau
Operative Capital
Silicon Badia
FBS Capital
Liberty City Ventures
Carthona  Capital
Mesa Ventures
Digital Currency Group
The Abra team is based in Silicon Valley, USA, though it also has its office in Manila, Philippines. At the time of creation, Abra started by incorporating an entire network of Tellers across various states and locations both in the USA and in the Philippines. With this teller system, it was possible for Abra users to go about various cash transfers through face-to-face meetings.
In 2017, however, this platform progressing its users to purchase and sell Bitcoin, and begun supporting USD bank transfers as well as deposits, via the American Express Card. The Teller payment system was then limited to the Philippines right around the same time.
The services provided by Abra
Abra is available to customers from different nations, who can rely on it to buy cryptos. This platform can also be used by customers to transfer funds in the form of USD, EUR, GBP, CAD, CNY, and JPY ( all of which are fiat currencies.
Those who live outside the USA can use Abra to invest in several stocks, including:
Apple
Amazon
Alibaba
Tesla
Netflix
Investors can also invest in ETFs such as:
SPDR Gold Trust
SPDR S&P 500
United States Oil Fund
Vanguard FTSE Europe
How does one get started with Abra?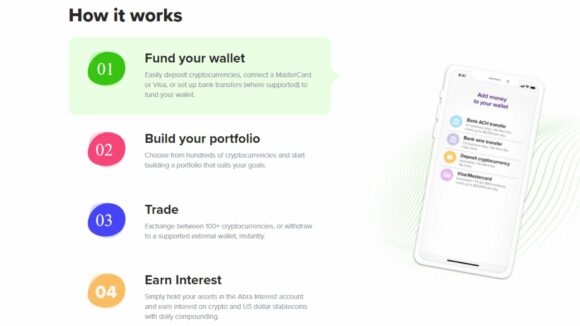 To use the Abra wallet, one needs to download the Abra Wallet, whether from the App Store or Google App Store. Upon Installing the Abra app, one is needed to enter details such as their name, email address, and phone number.
You will then receive a text that has a verification code and will be prompted to come up with a 4 digit PIN that should later confirm. Next, you are required to confirm whether or not you reside in the USA, before being request to take note of the seed phrase provided to you.
Upon completing the above steps, you can start adding funds to your new Abra wallet through several options, including;
Bank transfer
Credit Card
Another Crypto wallet.
You can easily view and manage your portfolio right within the Abra app. When you need to exchange the various cryptos supported, or even withdraw funds to your bank account or a crypto wallet, you can also do that easily.
Funding your Abra wallet
As we have already seen, upon installing your Abra wallet and completing the setup phase, you can go ahead to add funds before deciding the assets that you would like to invest in or buy. Cryptos may be the easiest to deal with on Abra, owing to the fast transaction speed and the universal availability. With Abra, the funding methods are not supported equally in all nations. The ways that you can use to fund your wallet when using Abra include:
Cryptocurrencies – BTC, ETH, LTC, etc
Credit Card- Visa, MasterCard, American Express (for US citizens only)
Local Bank Transfers – USA  citizens can use ACH, EU citizens can use SEPA, Philippines citizens can use local banks
Wire Transfers – US bank wires supported only- There are plans to make expansions in the future.
It is clear that this platform had the US, EU, and Philippines customers in mind, in the way that it makes it quite easy for them to fund their Abra wallets through transfers made via local bank accounts.
When using the above modes of funding and fund transfers, you can expect to be charged the following fees:
Deposits
US ACH  – Free
Wire Transfer for the US – No Abra Fee
EU SEPA- 0.25%
AMEX Card -4%
Visa Card and MasterCard- $10 flat fee or 4%
Teller  Philippines- up to 2%
Crypto deposits – free
Withdrawing
US or Philippines – Free
Teller (Philippines)- Up to 2%
Crypto  – Network fee
Altcoins – Network fee
Exchange
The exchange between two currencies- free
Sending
Sending funds to other Abra wallets- free
---
Is Abra Legit or Is It a

Scam

?
In my own opinion, I think Abra.com is a genuine platform. With the reviews that are available about it, there is no doubt that this platform exists, and that it is out to serve the needs of its customers. Unfortunately, the customers who have used it have not given such positive feedback about it.  On Trustpilot for instance, this platform has a rating of (2.6/5) which is quite low in comparison to the ratings that other better-performing platforms in this industry have. At this juncture, I don't think I'd be very quick to recommend this platform until there is enough evidence that there is an improvement in the quality of its services.
Here is an alternative to Abra that you can trust
---
Pros and cons
Pros
Presented in the form of an easy to use mobile app
Works as an exchange platform and wallet ( on one app)
Several crypto and fiat options offered
Several funding options
Can be used for regular money transfers
Cons
Remittances are quite limited ( geographically)
Doesn't support native altcoins
Customer ratings quite low
---
Final Words and Verdict
Verdict: Legit (but not recommended)
Overall Rating:
(2.6 / 5)
Abra.com is a legit platform that has been around for more than half a decade now. It has been serving its customers, including those in the USA, by ensuring that they can send, receive, or exchange various types of currencies as they please ( provided they are supported). It, unfortunately, does not have such a good customer rating on online platforms, hence is one that I would not be very vocal about at this juncture. If you'd like to give it a try, you can do so, but I'd recommend that you compare what it has to offer with my recommended alternative and you can be the judge of which platform will best serve your interests.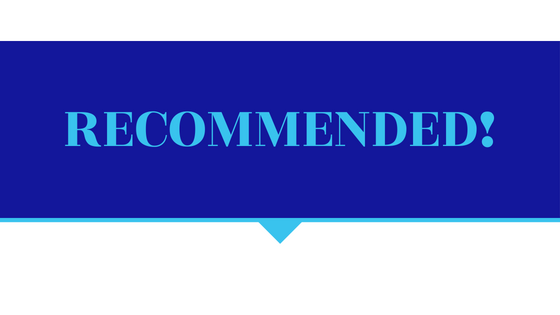 ---
That will be all for my review about what Abra.com is about. Any element about it that you would need me to expound on? Do not hesitate to give me your feedback in the comments section. Also, do not forget to compare Abra with my recommended alternative before you can settle on the best and most reliable platform ( from a personal perspective).
Your Friend,
Eric, investor, and blogger at Start Make Stop Waste!