Hi there, today I take a look at Ad Bunny for you. What is Ad Bunny all about? Is it a scam or a real legit opportunity? Is it as good as it sounds or should you pass? This one is going to be interesting so let´s jump into it!
Product: Ad Bunny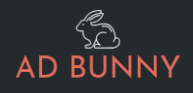 Website: Visit here
Owner: Nobody (it's yours if you claim it)
Price: FREE
Who is it for: People looking to make money online
Overall rating: 
(2.8 / 5) Not relevant anymore
---
P.S.
Update as of Mars – 2019
The Ad Bunny Funnel has been removed and is now not functional to be used anymore. If you want to check out a similar opportunity that won´t be removed (have been around for years) then:
==> check out this internet marketing superstars offer to you instead!
---
Introduction
You have (most likely) stumbled upon Ad Bunny on Instagram or Facebook, right? Personally, I found it on Instagram or did it find me, I don´t know lol! Anyway, the video grabbed my attention as I am an online business owner myself and know a thing or 2 about how to make money online.

I like to research stuff like this and in this short review I will present to you what I discovered.
---
What is Ad Bunny about?
Ad Bunny is presented to you in the form of a so-called sales funnel, it starts with a video that shows you some pretty impressive earnings from members of a network of 42,000+ people, and in the background, you hear a voice explaining short what its about and that you have to get in fast as the offer is time-limited.
Below you can see the video:
Sounds pretty tempting right? But how does it really work?
---
How does it work?
Ones you go to the link (that only works on a computer), so you have to type in the link that is placed in the description into your computer browser to get access to the "real funnel". Once you do, you will get access to another welcome video that basically explains to you what this is all about.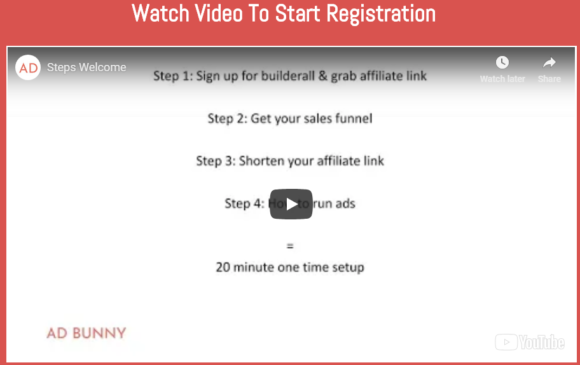 ---
What you get:
I was actually a bit surprised that when I clicked on the "Start Earning" button that it was absolutely $0 FREE to join, without having to leave out my credit card information or anything like that, there was actually no catch at all. I simply got access to the "members area" that only consists of 4 short videos on how to set everything up.


I went on and followed the instructions on each and every video, and it was very simple and basic stuff, at least for someone like me that have been doing affiliate marketing for years now.
Basically what you do is that:
1: Through the funnel, you get a special offer to sign up for a free 7-day trial to Builder All, (a well-known online marketing platform), there is no credit card needed on this stage either and that is always a nice thing (at least in my book).
2: You grab your personal affiliate link
3: You put your link in the same funnel that you have just gone through yourself
4: Voila! You are set, now you only need to start promoting your own (High converting) sales funnel.
---
P.S.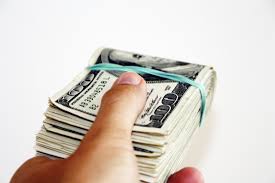 Something I like a lot with the affiliate program that you sign up to: is that first of all, it is something that can bring both yourself and anyone that you refer to it huge value, at least if you plan to continue to evolve in the "make money online world" but second of all, the affiliate program is a very lucrative one, first of all, you got monthly recurring commissions, your first month you also get a nearly 100% commission from the sale, then you get paid 50% on your referral each month for as long as they stay a member. 
But there is more, the affiliate program has a 2nd tier, meaning that if any of your affiliates decide to start referring people as well (hint hint: your funnel is promoting exactly that), then you will start to earn commissions on your referrals, referrals as well.
Do you see how this can quickly start to become very profitable for you?
One problem though:
However, my personal experience with this affiliate program is that many of my signups are not upgrading and purchase the $50 monthly membership, therefore I have actually stopped to promote Builderall and I have also canceled my subscription.
If you want to look into a similar way of making money online as AdBunny (and builderall) gave you then there are other ways, that have been around for years and won´t get "taken offline" all of a sudden like Ad Bunny strangely has been. The absolute best I can recommend is CB Passive Income as it will take care of all the "convincing" part for you, and also educate your referrals for you instead of you having to tell them how to do everything like the case was with Builderall.
==> Click here to check out my #1 recommended opportunity that you ONLY need to promote (by giving away free stuff)
---
Bunny a Scam?
So, is Ad Bunny a scam? No, it is not a scam, quite the opposite I would say after trying it out for 3 days myself now. You can feel safe moving forward, there is no risk involved.
I can understand why some people might be skeptical though, especially if you are a beginner to this kind of stuff and not educated enough in the area of marketing.
I mean, the claims that you can make $1,000 in 1 week, the countdown timer and so on, those are tools that scammers use very often. However, only because there is a countdown timer don´t mean that something is a scam.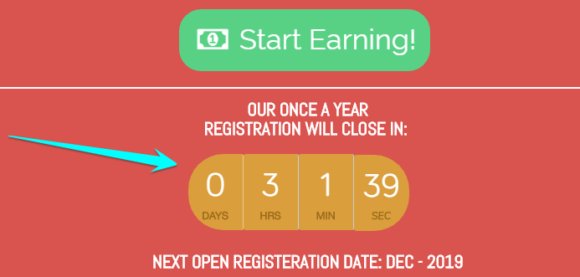 Here is the truth: A countdown timer is plain and simple marketing, if you read and educate yourself on the subject you will find that a count down timer increase conversions, its called scarcity, and is a very important component in the psychology of marketing.
so if you want to sell more, it might be wise to use one, right?

There is also a message at the top of the welcome page that due to high traffic load you might experience slower loading time. This is a marketing trick as well, but guess what, it is a very smart tactic, and that alone, putting such detail on a landing page WILL increase your conversions dramatically.
Ask any marketing pro and he/she will tell you the same. Marketing is A LOT of psychology, and if you are serious about making it lucrative you should educate yourself and know this stuff.
What about that the next registration date is December next year?
This is a marketing tactic as well, it is called exclusivity, or "limited availability" if you like. We, humans, work that way when there is less of something we want it more.
You should actually be glad that this funnel is packed with these marketing tricks, do you know why? Because it is fully 100% yours to use! You might not have the knowledge or technical skills to create such a high converting funnel on your own, right?
My personal results (after 3 days)
Personally, I love it, the idea is genius I would say and the funnel is very smartly done. I mean, first of all, you get it for free. Then, it is so simple to set it up and actually start to use it. You will get educated on how to promote it on Instagram, and that is exactly what I have done, however, I have also promoted it in some Facebook groups, on Youtube and of course, on my own e-mail list.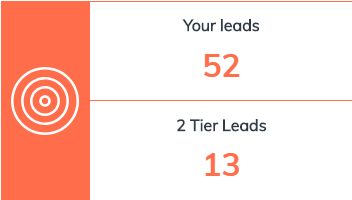 I have (in only 3 days) got a nice amount of signups, and as you can see some of my referral have started to refer people themselves as well. It has only been 3 days and I have honestly not even promoted it that hard.
I have only used the tactic presented in the video and done a few Insta promotions, 1 per day, posted in 3 Facebook groups, I bought a solo ad from Udimi, and I promoted it on my own e-mail list.
In short, there is more than one way to promote this.
However, as I have seen that the funnel converts very well I will, of course, continue to promote it, and it will be interesting to see how many conversions I get at the end of the week, not sure I will reach the $1,000 in 7 days but that´s fine, I understand the marketing behind that claim, and hey, it´s absolutely not impossible.
So far, 2 of my signups have already converted into sales (even if they got a 7-day free trial) and I have personally become a paid member myself for many reasons. The platform got huge value for someone like me that owns various websites, for example, you have a heatmap tool that you can place on any of your websites posts to see what actions people take on your particular page.
Also, you can kiss your old autoresponder goodbye as you can store your list here as well. You can build great looking (high converting) funnels in minutes, or why not build a website. There is a lot more of value inside and I would strongly recommend you to check this out, at least if you are an online business owner, or an aspiring one yourself.
---
Final words and verdict
Verdict: Not relevant anymore
Overall rating:
(2.8 / 5)
Ok, I think that sums up the overall picture of Ad Bunny pretty well, even if it do not exist anymore. You can potentially build up the exact same one, or even make it better yourself if you would like to continue to use that particular style.
In short, it is simply a sales funnel, that you could take ownership of yourself, and in my book, this is a genius thing.
Have you made money online before?
Ok, Ad Bunny is a great "funnel" and if you only bring the right traffic… Wait a minute, do you know what funnel and traffic even mean? If not, that is completely normal, that kind of language is not what people in general speak, and is of course not easy to understand if you haven´t learned some basic things about the make money online world.
If you want to learn how to make money online, how to build your own website (in minutes from now) and make money from it, then you might want to join me and 1,5 million of people from all over the world at the place that keeps educating people to become financially free since it first started back in 2005.
Below you can get a FREE funnel from a guy who is not anonymous like the guy from Ad Bunny (for some reason was) instead + get some other free bonus gifts from him and also me personally that I really think can help you to get where you want to be and start making a recurring passive income as fast as possible.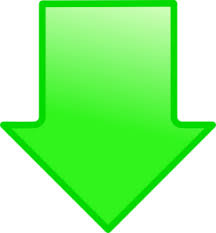 I hope you found this short review of Ad Bunny to be helpful and now you should have a better understanding of what it is and if it is something for you or not. Please, if you have used it yourself then share your experience below! Also, if you got any questions about this review I will be more than happy to answer them below!
I wish you success!
John
Founder of: $tart Make $top Waste