This is a review on Agency Analytics. What is Agency Analytics? How does it work? What does it have to offer you? How much is it? Are there better alternatives? This is just a few of the questions this short review help you answer!
Name of the product: Agency Analytics

Official Website URL: https://agencyanalytics.com/
Overall Rating:
(3.7 / 5)
Recommended? : Yes
P.S.
Learn about my #1 recommended SEO tool on this page (+ Get a 10% Discount coupon code on ANY plan you choose)
Intro
Agency Analytics strikes us a very reliable SEO software. How far can it go with the delivery of value? Let's find out by checking out the following elements about it:
–    What is Agency Analytics?
–    How does it work?
–    What features does Agency Analytics have?
–    How is it priced?
–    Is it legit?
–    Which is the best alternative to Agency Analytics in the market?
–    What are its pros and cons?
What is Agency Analytics?
Agency Analytics is the brainchild of Joe Kindness and Blake Acheson, who formed it in 2009 under the name "My SEO Tool". In 2015, the duo decided to change this name to "Agency Analytics", which they perceived was a better reflection of what the company was offering to its clients. Joe's and Blake's objective was to create a tool that would strongly focus on the very crucial aspect of every internet marketing campaign, i.e. the customer.
According to Agency Analytics, the market is currently flooded with apps and software that are quite complicated and technical. Such programs do not consider the relationship with the clients. This company, therefore, explores a different product provision strategy, in which the client is at the core of everything that is offered. This Toronto-based company has due to this managed to serve thousands of marketing consultants as well as agencies distributed all over the world.
Essentially, this company presents you with an all-in-one marketing dashboard along with an SEO tool that can effectively handle the needs of any agency.
How does it work? 
Agency Analytics brings in the much-required efficiency and time-effectiveness to every marketing agency. The main highlight about how it works can perhaps be viewed in the manner in which it saves many hours for you as you are trying to report to clients on a monthly basis with the very easy-to-use dashboard.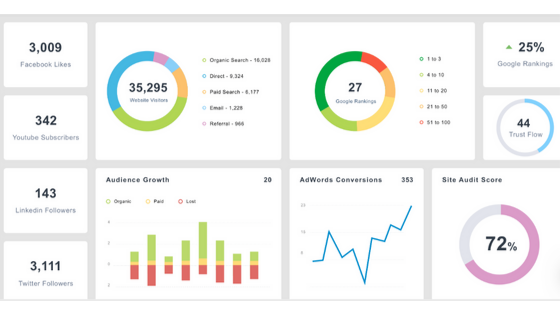 The drag and drop capability makes it possible for you to achieve a number of tasks quite easily, such as editing reports that you can then send automatically send to your clients.
There are several SEO integrations that you can use to track your ranking, to monitor your backlinks, and to audit websites. These are an addition to the 30 other possible integrations you can make with the Agency Analytics dashboard in order for you to have all your marketing channels in a single platform.
Features
Agency Analytics' reliability can best be defined by having a look into the features that it offers to its clients. Clients can access these features by purchasing any of the plans that are offered, as shown below:
Freelancer
–    You can use it for 5 campaigns
–    You can use it to rank up to 500 Keywords
–    You can use it to do 10,000 webpage audits
–    Grants you access to unlimited branded reports
–    All your staff and clients can be supported on this platform.
–    White-label dashboard
–    Grants you access to 30+ integrations
–    Allows you to track your ranking on a daily basis.
–    You can do scheduled site audits
Agency
–    You can use it for 15 campaigns
–    You can use it to rank up to 1500 Keywords
–    You can use it to do 30,000 webpage audits
–    Have all features provided on the freelancer plan
–    You get your custom domain and email
–    Client messaging features
–    Tasks feature.
–    Custom user permissions.
–    Ranking on multiple locations and in different languages.
Enterprise
–    You can use it for 50+ campaigns
–    You can use it to rank more than 4000 keywords
–    You can use it to do more than 100,000 webpage audits
–    It has all the features included in the Agency plan
–    Multiple White Label
–    You get access to multiple dashboards
–    PPC Mark-up
–    You get access to the API
–    White-Glove Onboarding
---
Pricing 
Each of the above-listed plans comes at a different price. You have the liberty to choose any plan that will suit your needs, and Agency Analytics can help you with making this decision. By specifying your current needs, you can actually get an overview of the costs you stand to lose or save by choosing a given plan using the price calculator on this company's official website.
You can also try out the 14-day free trial for which you will not be requested to submit your credit card information. Once you have determined whether this company is reliable, you can switch between the available plans by paying the following fees for each:
Freelancer – $49 per month ($ 39 when billed annually)
Agency- $149 per month ($119 when billed annually)
Enterprise -$399 per month ($319 when billed monthly)
---
Is it genuine?
Agency Analytics offers a legit platform that you can rely on to meet the various needs solved by the features it offers. Some of the main indicators that prove that this company is genuine include:
–    It offers a 14-day free trial, in which you can determine if the marketing dashboard offered is valuable.
–    It has a (5/5) star rating on Capterra (https://www.capterra.com/p/158746/Agency-Analytics/)  based on 82 reviews
–    It has a (5/5) star rating on G2 (https://www.g2.com/products/agencyanalytics/reviews) based on 66 reviews.
–    There are no major complaints about this company's ineffectiveness on consumer trust sites.
---
Better Alternatives?
If you think Agency Analytics does not accurately address your needs as an individual or agency, you can try out SE Ranking, which is a cloud-based platform that offers 35 tools that you can rely on to better your campaigns.
SE Ranking also comes to you with a free trial and at a cheaper price, hence you are bound to save more while you might still achieving better results.
==> Learn more about SE Ranking on this page (+ Get a 10% Discount coupon code on ANY plan you choose)
---
Pros and cons 
It might be smart to compare the positive sides against the negative ones to get a better overall view of something. As always in the reviews on this website you are provided with some clear points on both sides of the spectrum:
Pros
Has a 14-day free trial
Drag and drop
Customizable dashboard
Report exports
Automated reports
Easy to use.
Cons
No keyword suggestion and grouping tools
There are lower-cost options on the market (with more features as well).
---
Do you own or represent Agency Analytics?
If you are a representative, or associate of Agency Analytics and have found something not to be correct in this review please, feel free to tell and I will make sure to update the info on this post. The easiest way to do it is in the comment section below or by simply sending us an e-mail.
---
Final words and verdict
Verdict: Legit
Overall rating:
(3.7 / 5)
Ok, I think that sums up the overall view of Agency Analytics pretty good. It is a legit tool and not only that, but it is also one of the best one out there. You have to decide that yourself, of course, if it is something for you. I would recommend that you try it out for free first and see what results you get before you invest money into the paid version.
You made a wise decision to read this review and you are a smart person so I am absolutely sure that you will find the right SEO tool that suits your particular needs the most and that you also feel comfortable and easy to use!

(+ Get a

10% Discount

coupon code on ANY plan you choose)
---
I hope you found this review of Agency Analytics to be helpful and that you now have a better understanding of what it is and it is for you or not. Please, if you have used any of its services then share your experience in the comment section below! Also, if you got any questions about this I will be more than happy to answer them below!
I wish you success!
John,
founder of: Start Make Stop Waste