You have probably seen it everywhere online, me too. BeonPush.com. What is BeonPush.com? A scam or a legit opportunity? Can you really make as much money as it sounds like? Those are the questions this review will focus the most on. Ok, here we go!

Product: BeonPush
Website: www.beonpush.com
Owner: Ferki Demirovski                      
Price: Minimal investment is $20
Who is it for: People who want to participate in a revenue sharing program
What is BeonPush.com about?
The BeonPush.com website is a (hyped) site where you can make money from buying shares to participate in revenue sharing with the rest of the members or you can also make money simply by referring new members to the site.
Sounds pretty much like another of those revenue sharing sites where you buy ad packs, right?
The question is if it is the right choice for you or if it might be a good idea to try some other rev-share site instead if you are interested in participate in revenue sharing at all of course.
How BeonPush.com Works?
The investors (members) will get back 150% of the initial investment according to the BeonPush.com site.
The way the BeonPush works is (according to the site) that they buy advertising space online and later sell it at a higher price. The profit is later shared by the members of BeonPush. On the official website of BeonPush, you can see that they claim to be doing "real-time bidding" and I guess this is what they mean by that.
The more money BeonPusg gets to by advertising (this comes from the members depositing money into the program) the bigger the profits, and the faster their members will profit.
Right now the daily profit is between 0,5%-3,5% so that means it will take a while before you get your investment back (to start with) and start profiting… IF it happens.
Why I say, IF?
Simply because all revenue sharing sites works the same way, they work until they don´t work anymore. When people stop joining and putting money into the "sharing pool" it will dry out. When that happens the program collapses and nobody will get paid.
ALL rev share programs are a risk that way, some last longer than others but most of them collapse in a couple of months.
Can You Make A Lot Of Money With BeonPush.com?
The answer to this question is yes, you probably can, but, you can also lose A LOT of money. Just because a program can make you money don´t necessarily means it isn´t a scam.
Is BeonPush.com A Scam?
This is something I either going to say yes or no to. But I have to inform you that I have found a pretty strong "scam indicator" and that is the BeonPush FAKE "news video" or should I say Fiverr video 🙂
This guy you can find on the Fiverr site where you can hire him for $5 to record a "world news" video for you. Below is a screenshot from the fiver site where he offers his service 🙂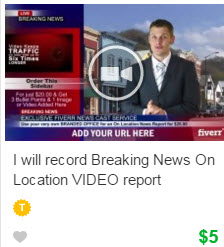 If you want to see him and other "news anchors" offering their services on the Fiverr site just click here
This is obviously fake, I don´t say it is a scam only because it uses a fake news video, it can of corse, only be some marketing tactic to attract "uneducated" members to the site. However, it feels a little suspect with this Fiverr video, to say the least 🙂
Why You Should/Should Not Invest Into BeonPush
It is of course up to you if you invest into this, but please, if you do, DO NOT invest more money than you can afford to lose. This is not a safe and solid way to make money online.
However, if revenue sharing is something you want to do there might be better options for you to try. Check out this review on the most interesting revenue sharing site I can recommend instead.
Just remember, never invest money you cannot afford to lose into ANY rev share site.
Final Words and Verdict on BeonPush.com
Verdict: Legit (for now)
Overall rating: 4/10
I have to call this legit for now, that verdict might change to scam later but for now I have to call it legit. The reason I don´t give it a higher rating than 4/10 is simply because there is much better options for you if revenue sharing is something you want to do. Also, the fake "news video" takes down the rating quite a bit…
Like I said earlier if revenue sharing is something you are interested trying out I recommend that you check out the review on the most interesting one I have found so far instead. You can read about that in the link below:
==>Click here to check out the review of a better rev share choice<==
Other Ways To Make Money Online?
Revenue sharing might be interesting, but it is far from a safe and solid way to make money online. It requires minimal effort and makes it possible for anyone to make money but also lose money if the program collapse.
There are of course safe and solid ways to make money online if that is something you are interested in you have to know that it will always require both time and effort before you will start making any money at all. On the other hand, it don´t need to be a lot of work when you have "set up" your online business. When you have done that it works pretty much on auto-pilot and you will make money literally when you sleep.
I can tell you it is worth it 🙂
To come to that point however you have to be prepared to sacrifice time to learn how and to apply what you learn in practice.
What I am talking about is Internet marketing of course. If you want to try and see if it is something for you the best place I can recommend is the Wealthy Affiliate program. It is the same exact place where I learned how to make a passive income online and I can assure you that it is not hard to learn, it only takes some time.
It is FREE to start and you will get step-by-step instructions on what to do and instant support whenever you need it. Interested to read more about that?
Ok, thank you for reading! I hope you found this review of BeonPush.com to be helpful and now you should have a better understanding about what it is and if it is something for you or not. If you have tried it yourself please share your experience in the comment section below. Also, if you got any questions about this review I will be more than happy to answer them.
I wish you success!
Thank you for reading.
John
Owner of: StartMakeStopWaste.com