Today we take a look at something named Bitcoin Code for you. What is Bitcoin Code? A scam or a legit opportunity? Can you really make $13,000 in 24 hours? Can you trust the program or not? The tactics being used on you exposed.
Product: Bitcoin Code

Website: www.bitcoincode.com
Owner: Steve McKay "Most likely a fake name"
Price: Minimum $250
Who is it for: People looking to trade Bitcoins on autopilot
Overall rating:
(1.2 / 5)
What is Bitcoin Code about?
Bitcoin Code is another one of those "ad-popups that you can encounter pretty much anywhere online, you might be streaming some sports event and then boom! The Bitcoin Code "opportunity" pops up like a gift from above.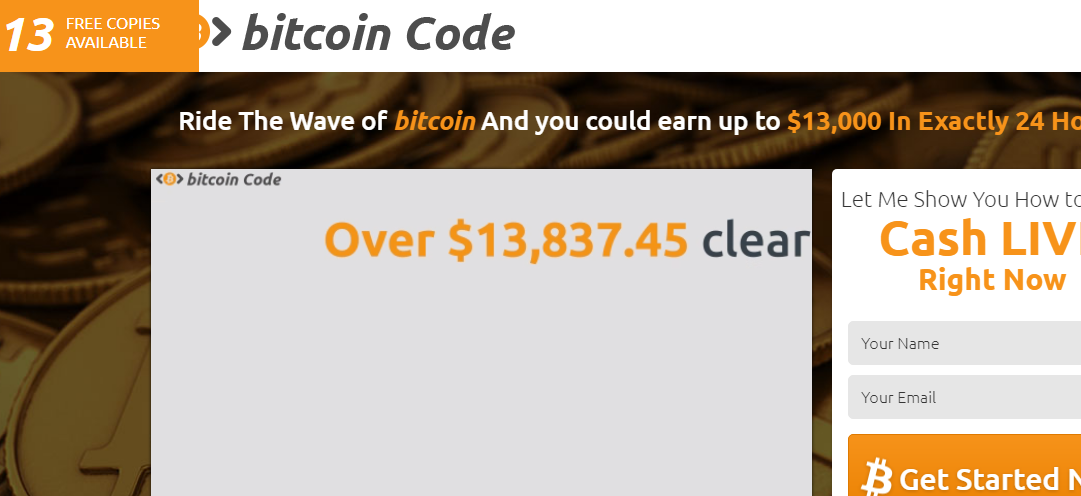 Or maybe you are reading some news online and there is an ad looking interesting in the corner, you click on it and boom! The Bitcoin Code "opportunity" sales video shows up…
In short, the Bitcoin Code is simply just a trading program that allows you to trade on auto-pilot.
It is far from the first using such a function… The question is, does it really work?
---
How does it work?
This is nothing more than a "software" that performs auto-trades for you on auto-pilot. This is nothing new as those kinds of "opportunities" have been around for a while now…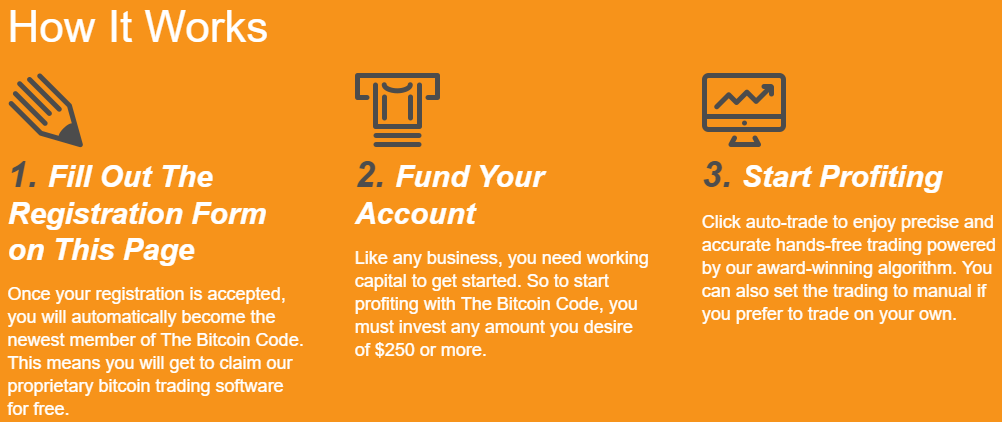 Oh, by the way, they all got one thing in common…
They NEVER work the way they promise and they ALWAYS leave people with the feeling of being scammed…
---
The product/service
First of all, an advise… When you land on the page where you can sign up for your "free loophole algorithm" Code cracking program… You might want to consider putting a fake phone nr in the box where your phone nr is required.
The reason I say this is because if you don´t, and put your own real nr, then you can expect to have some "hungry" sales representatives from the broker firm calling you DAILY…
Ok, with that being said…
The product you get for "free" is actually costing you a minimum of $250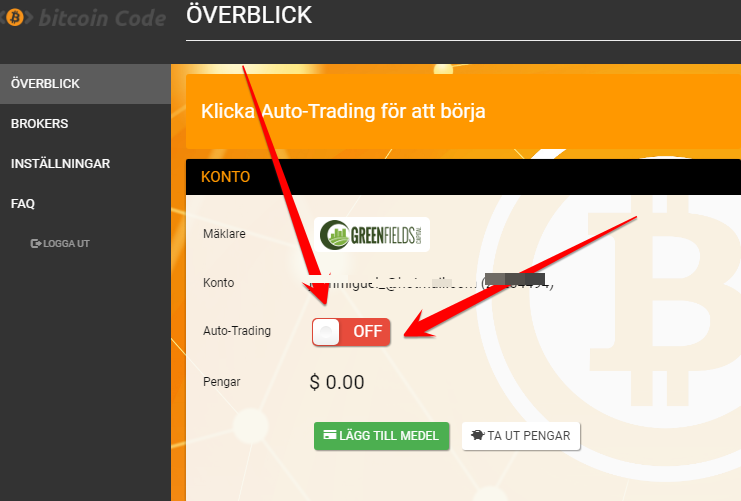 It is nothing more than a platform where you can put the button on auto-trade, or trade on your own.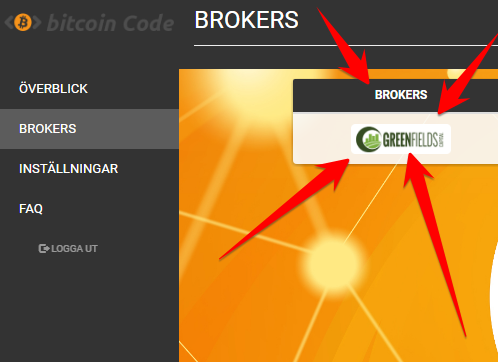 The broker is named "GreenFields" and is NOT the best broker when it comes to trading with Cryptocurrencies.
If you want to read the review of the broker that got voted the best Cryptocurrency trading option in 2017 then click the link below:
==>click here to read about that one (Awarded Best Crypto Trading Platform of 2017)
---
Who is the owner?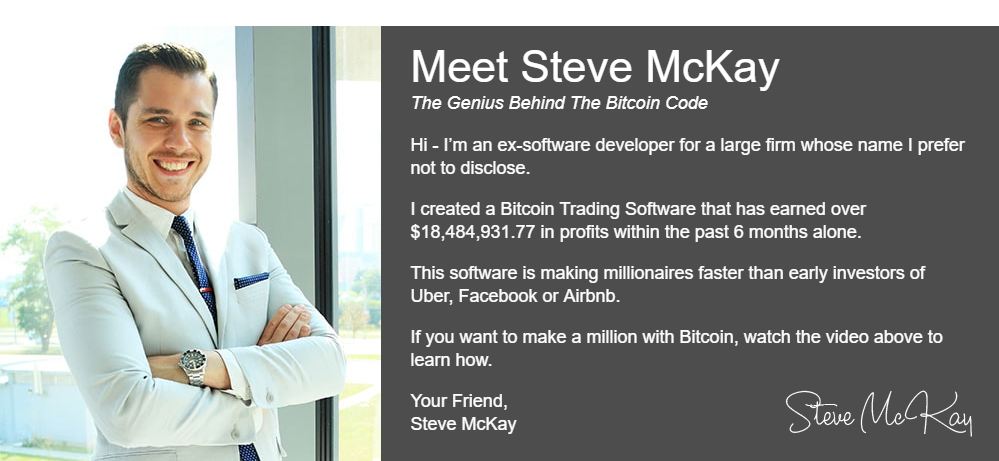 Who the h**l is Steve McKay? Try to do a Google search on him and you will find NOTHING, only very strong indications that he doesn´t even exist, at least not in the form of the "handsome successful guy" that they claim to be Steve McKay in the promo video for Bitcoin Code.
This is a very common scam tactic that has been used by scammers for a long time now.
They simply buy a stock image on a model, that they later have the rights to use to put a face on someone that clearly do NOT want to put its own face…
I mean, you will rarely find someone who is proud, and stand behind their product to a 100% not wanting to put its own face on the product. Very rarely a legit company uses fake faces for the owners…
---
Fake testimonials?
Same thing here, the guys leaving testimonials is an easy fix if you didn't already know.
You can hire an actor to record a fake testimonial for you (or record anything else) for as little as $5 on websites like fiverr.com for example.
So, please do not let the testimonial marketing tactic fool you, it has been used by scammers online for ages.
Many times I have seen the exact same person giving a testimonial on how they got rich in no time with one product, then the week after I see them saying the same thing on another video about a completely different scam…
Ironically they still work on Fiverr for only $5…
You get the picture, right?
---
The marketing tactics being used on you
The marketing tactics you are bombarded with on the Bitcoin Code sales page/video promo page is very obvious, at least once you have a trained eye to discover them.
It is not strange if you cannot notice it if you aren´t educated in marketing and the psychology behind it.
There is no coincidence that there is a countdown on the page, "make you stressed to buy" without thinking over it rational… That is exactly what the marketer behind this want.
There is also a logical reason why they are using this kind of tactics, it is because it simply works.
Please, do not stress though, you can visit the same page tomorrow, next week or even next year and the "limited spots" countdown will still be there with "a few" spots left.
Marketing tactics is all that is…
---
$13,000 in 24 hours?
Do you really think you can make $13,000 in 24 hours?

I do!
However, you will (most likely) NOT make that from Bitcoin Code, don´t get it twisted though, you might do it with Bitcoin Code, however, you are going to have to invest a lot more than the minimum $250 to have a fair chance of doing it.
Wouldn´t it be better to learn how day trading works instead and have control over your own trades? I mean you can make $13,000 or more per day, trading if you know what you are doing.
There are platforms that offer you a demo account, step-by-step tutorials, education, etc for FREE so you can practice before investing your own REAL money.
SimpleFX is a platform that offers all of the above for FREE, it was also recently awarded as the Best Cryptocurrency Trading Platform of 2017.
**Click here to read more about SimpleFX 
---
Is Bitcoin Code a scam?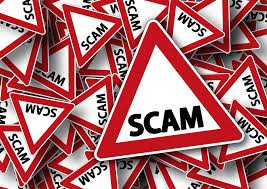 So, is Bitcoin Code a scam or not? Well, I don´t want to call it a complete scam, however, the promises of $13,000 guaranteed in 24hours, the marketing tactics being bombarded on you, the fake owner, etc, etc…
I would absolutely NOT recommend this, not even to my worst enemy…
Instead, I would recommend that you focus on things that actually work and things that are transparent about their owners, business model, income claims, etc.
If you want to learn what to look out for (would strongly recommend that you do) then you might want to read the post on how to avoid crypto scams, visit the link below to get educated and potentially save a lot of headache:
Learn to avoid Cryptocurrency scam Click here <==
---
Is Bitcoin Code for you?
One thing that is always wise to do to get a good overall picture of a company is to compare its pros against its cons. Below I have highlighted some pretty obvious points, to make this job easier for you:
The good
The sales video was not that long 😉
The bad
Exact income claims (never a good sign)
Fake testimonials
Fake owner
Same marketing tactics being used as 99% of scammers online are using
Final words and verdict on Bitcoin Code
Verdict: NOT Recommended
Overall rating:
(1.2 / 5)
Ok, I think I have made my point pretty clear on this one. The warning signs and red flags are all over this one, it walks, talks and acts just like countless of previous similar "auto-trading" scams that have passed.
Trust me, I have reviewed hundreds of them in the last couple of years.
If you want to make money by trading Cryptocurrency or anything else, you need to know that you can. However, you need to learn how to do it first.
Also, please do NEVER invest more money than you can afford to lose into ANYTHING!
Stick to that rule of thumb and you will be just fine.
If you are interested in learning how to trade, and even trying how to do it with "demo money" then check out the link below:
==> See the best LEGIT Bitcoin and cryptocurrency trading platform of 2017 <==
I hope you found this short review of Bitcoin Code to be helpful and now you should have a better understanding of what it is and if it is a scam or not. If you have used the "program" yourself please share your experience as it can help others. Also, if you got any other question about this review I will be more than happy to answer them below.
I wish you success!
John
Founder of: $tart Make $top Waste