Today we are going to take a look at booster.com and see if it maybe is something for you, or not. What is Booster.com and how does it work? You will also know if it is a legit way to make money, or if it is just another online scam. Ok here we go!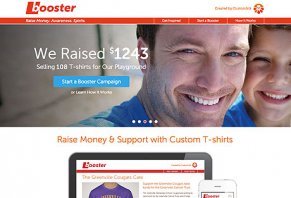 Product: Booster
Website: Booster.com
Owner: Customink
Price: $0 initially, but you will later pay from 2.9-6% of the total amount you raise
Who is it for: People who want to make money selling t-shirts online and also in the same time "help others" in the form of charity
What is Booster.com about?
Booster.com is a website that basically help you selling t-shirts online for a cause. It is actually a promotional organization that has been around since the year 1996, but really got into "the lights of the big scene" in 2013.
Booster.com claims that they have helped over 35.000 highschools, people and families during charity events. If that is true I do not know, but I belive it is possible.
So is it a scam? I have looked at this from all the scam indicator angles and I am almost 100% sure it is not a scam. First of all, it cost nothing to get started, so the only thing you have to lose if it will not work out for you is your time.
Can It Make You Good Money?
But I do not think booster.com is a great way to make a lot of money, if that is what you are after.
If you want to make money online the exact same way as internet millionaires are made you should check out affiliate marketing and if you think that is something for you I would recommend that you read this review. 
If you want to start selling t-shirts with booster.com there is a couple of positive things that you should know about and also some negative.
Pros & Cons of Booster
We start with the positive ones:
$0 to start up
No shipping needed from you
Money back guaranteed
You do not need your own design
You can get design support
You can promote your T-shirts within Booster.com
And the negative ones are:
Sometimes there is misspelled text on the t-shirts
The logos are not always centered
There can also be a mix up of the logos and the text on the t-shirts
The prints are not durable ( they will wear off after only a few washes)
Your money will be refunded if you do not sell at least 20 t-shirts
What really is good with booster.com is that they have a great customer support, and that is very important if you want to be with a company. It can also "compensate" the "negative" things if the support is good like it is on booster.com.
This is the 4 steps to start up a booster.com campaign:
Step 1:
You get asked to create your own design or you get help from booster.com through e-mail or phone to create your desired design.
Step 2:
You set up your account by filling in some basic info like your name, address, shipping alternatives, paypal info, etc
Step 3:
You tell them your story and "why" you do this fundraising. You also choose a name for your booster website (where you are going to promote your t-shirts)
Step 4:
When you have completed the 3 steps above it is time for you to launch your campaign. You get access to booster.coms tools (for sharing) that will help you to promoto your t-shirts and hopefully you will attract visitors to buy them and support (donate) your cause.
Final Opinion and Verdict
Verdict: Legit!
Overall rating: 6/10
The negative opinions:
The reason the rating is not higher is that it can (at least for me) sometimes be hard to trust "charity" because you might think that the money don´t go to the cause that you donate to. There are many examples of "charity" organizations that put the money in their own pocket. I have not found anything that indicates that booster.com does that, but it can always be good to keep that in mind anyway.
So I choose to believe in booster.com and if not any "hustle" from their side comes up on the table we have to believe that it is a great thing they do. At least, you will not lose any money trying things out…
Also, if you want to make a lot of money you should probably look for something else as I think it can be hard to make any significant amounts from selling (not so good quality) t-shirts.
The positive opinions:
I truly can find many reasons to recommend booster.com. First of all, it seems like a fun way to make money and at the same time doing something good for a cause. It is also free to start up and not many fundraising websites have that possibility. That means that anyone interested in building a fundraising campaign are able to do just that, no need for money.
This is awesome and I really hope more websites in the same category follow booster.coms example.
If you looking for the best way to make a lot of money online
If you want to make a lot of money online I would recommend you to try Internet marketing instead, after all you can donate more money if you have a lot of money (if you want to do something for others). Also, you can make money around any area you want. The possibilities are endless, you realize that when you learn more and more about it. It is also, just like booster free to start doing it.
I hope this review of booster.com was helpful and now you hopefully know what it is all about. If you have had any experience with booster.com please leave a comment below!
I wish you the best!
John
Founder of: Start Make Stop Waste