Today we take a look at something named Clickmagick, it is something every affiliate marketer should try. What is Clickmagick.com? Will it be for you? Are there better alternatives out there? This are some questions this review will help you answer! Ok, with that being said, let´s start!
Product: ClickMagick

Website: www.clickmagick.com
Owner: Patrick Kelly
Price: Depends on what membership you choose (see further down in review)
Who is it for: Affiliate marketers of all levels
Overall rating:
(4.9 / 5)
What is Clickmagick.com about?
Clickmagick.com is one of the best affiliate tracking software available in the market, based on the robust features that it possesses. The click tracking tool availed to clients allows them to conduct free analytics for their campaigns and to keep tabs on the performance of their ads.

It also takes care of other elements of your campaign and ads, such as allowing clients to test the price points, enabling various payment methods, the management of sales, and the enhancement of the page design. If you are all about how the conversion rates of your ads and campaigns affect your business decisions, this tool is one that you will most likely come across for its popularity in the market.
How to Use Clickmagick.com
Once you access the Clickmagick.com's website, you can begin relying on their services to get a better experience with your ads and campaigns by creating your free account. With a free account, you have access to 19 profit-boosting features for 14 days. Another important detail to note is that you can sign in and cancel your subscription any time you wish.
Essentially, the regular process that most clients follow to get access to Clickmagick.com's services is as outlined below:
Click on "log in." You will be redirected to a page on which the various plans offered by Clickmagick.com are displayed.
Select your preferred plan within 5 minutes. Be sure to specify the billing cycle (monthly or yearly)
Provide your name, email address, username and password to create a free trial account.
Provide your credit card details and then click on the "Start My 14-Day Free Trial' to begin accessing the features listed.
If you do not cancel the free trial within 14 days, Clickmagick.com will commence the effective charging process on the plan you selected.
What service is actually provided to clients?
Clickmagick.com has made its name in the market by establishing a unique combination of services that suit most clients' business needs. Much of what clients get to enjoy can be clearly defined by reviewing the main features that are availed for various clients, as shown below:
Split testing
Split testing avails you with data about which of the offers you have put up for your customers to access, is doing better, so that you can make the best sales decisions that are backed up by concrete knowledge.
Basic Link Tracking
This feature allows clients to track specific links, to assign the links to various groups and to cloak the same links if need be. This is a particularly useful tool for affiliate marketers since it provides relevant statistics on total clicks, unique clicks, flagged clicks, action, action conversion rate, engagement, engagement conversion rate, cost per click, cost per action, earnings per click and Return on Investment.
Advanced Link Tracking
This feature provides you with extra options beyond what is availed in "Basic Link Tracking." Options such as geo-targeting and the addition of pixel codes are only available under Advanced Link Tracking.
Basic Link Rotators
Link rotators are used to distribute links to several people and are due to this regularly used by solo ad sellers and co-ops.
Advanced Link Rotators
This has the same options as those availed under advanced link tracking, only that in this case, they are tied to the rotator.
Organic Traffic Tracking

P.S. Clickmagick provides you with a Free (MUST READ) Tracking Guide on this page
This feature enables you as the client relying on the Clickmagick.com software to rely on a small piece of code to track all the organic traffic that is coming to your website or websites from the various social media accounts and search engines. This essentially helps you keep track of all the traffic to your site that is not coming through the custom-made tracking links.
Pop-Ups
The pop-ups option enables you to show certain messages on a site or to collect leads on the pages that you do not own. For example, you can send out an affiliate offer for which you are not in a position to capture the leads, but with the Clickmagick.com pop up, you can get an opportunity to collect the leads.
MagickBars
MagickBars is a feature that helps you create your custom content such as a countdown timer for the offers and campaigns you might be planning to run for your business.
The services that clients who purchase the plans availed by Clickmagick.com are packaged as some or all of the above features. The listed features can, therefore, be viewed as the actual service that Clickmagick.com is out to provide to their clients.
The available packages
For those who perceive Clickmagick.com as a suitable service provider to help with generating more profit through the provision of access to essential features, several plans are provided for them. You can choose to be billed every month, or you can opt for a yearly basis. Those who settle on the annual billing cycle usually enjoy better discounts on the final price of the plan.
Below are the three plans that Clickmagick.com provides to clients:
I.) Starter Plan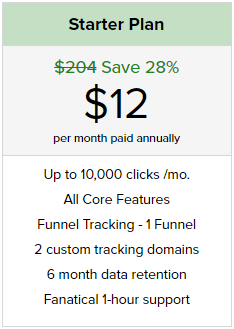 With this plan, you can are in a position to track up to 10,000 clicks per month, Organic Tracking for a single website, the capability to track two of your custom-made domains, data retention for six months, one funnel for FunnelMagick and Fanatical 1-Hour Support.
II.) Standard Plan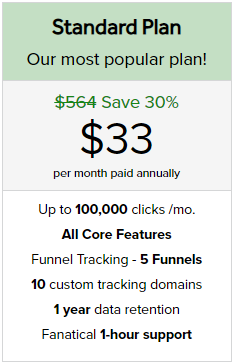 Under the standard plan , clients are able to track up to 100,000 clicks on a monthly basis, can do organic tracking for 5 of the websites that they own, have access to the Facebook Ads Integration feature, can track 10 of their custom made domains and can enjoy data retention for a period of 12 months. This plan also gives clients access to 5 funnels for FunnelMagick.
III.) Pro Plan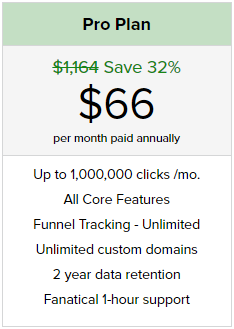 The Pro Plan gives clients the capability to track up to 1,000,000 clicks in a single month, the capability to do organic tracking for 5 websites, can access the Facebook Ads Integration Feature, can track up to 10 custom-made domains, gain access to 5 funnel for FunnelMagick, and can enjoy data retention for a period of 12 months.
How are the packages priced?
Clickmagick.com's pricing is determined by the billing cycle. The clients who choose to have the billing done every year usually end up paying way less than those who choose to be billed monthly. Below is a representation of how Clickmagick.com packages various plans:
Monthly Billing
Starter Plan-$17
Standard Plan-$47
Pro Plan-$97
Yearly Billing
Starter Plan-$12
Standard Plan-$33
Pro Plan-$66
You can pay for any of the above plans using all major credit and debit cards, including:
Discover
Visa
MasterCard
American Express
Customer Care and Support
Customer support at Clickmagick.com is done using three main approaches. The first approach is a searchable knowledge base. Here, you can query the Clickmagick.com knowledge base to find solutions to challenges you are facing be it in signing up or in using certain features.
The second approach is video tutorials. With these tutorials, you can learn many things about using this platform, as well as how to navigate around more easily and effectively. The third approach is the use of a direct messaging platform which you can rely on to reach out to Clickmagic.com's customer care team if the information you have obtained from the knowledge base and the video tutorials is not sufficient. The unique thing about the direct messaging approach that relies on a ticketing system is that clients usually get answered within one hour.
Is this site genuine?
Clickmagick.com is a genuine site, as revealed by the reviews available on several online review sites, along with those on Clickmagic.com's site. Clients on the Clickmagick.com website are quite particular about the features that appealed to them most, and there are images provided for each of the reviewers.
On Bloggerideas.com, Clickmagick.com has 9/10 rating (https://www.bloggersideas.com/clickmagick-review/). Deberoo.com rates Clickmagick.com 5/5 (https://deberoo.com/clickmagick-review/). As it comes up, clients have a very good opinion of Clickmagick.com, which is a thing that can be relied on to prove that it is a genuine site.
Also, there is a status page and a Facebook Support Platform. These two show recent activity related to Clickmagick.com, thus contributing to the overall assertion that this site is indeed genuine.
In short, this site is as legit as it can be, you are even backed by a full 30-day money back guarantee!

---
The pros cons
Listed are the pros and cons that clients encounter when relying on Clickmagick.com
Pros
Fast and effective in the setup of tracking links
Supports split testing
Quick support
Affordable pricing
Detailed knowledge base
Superior traffic analysis tools
Well-packaged plans
MUST Read FREE Tracking Guide (Get it on this page)
Cons
One has to learn a lot to use site features maximally.
Lacks live chat.
Lacks physical address.
---
What can be altered about this site?
Even with Clickmagick.com having a superior outlook and superb features, there are still several areas in which it is lacking, and which can be altered to make the site better. These include:
Including a live chat platform
Having a physical address for the company indicated where clients can see it.
Providing a telephone/cell phone number that clients can use to contact the support team
Alternative site
A suitable alternative to Click-magick.com that can be relied on to serve the same purpose is Redtrack (https://redtrack.io/). Redtrack has four plans, which is one plan more than what Clickmagick.com offers. The plans offered by Redtrack are however all priced above those availed by Clickmagick.com, making Clickmagick.com the better option for all businesses across the board.
Concluding Thoughts
Verdict: It is reliable, superior and HIGHLY recommendable
Overall rating:
(4.9 / 5)
Clickmagick.com is all about quality service to website owners. The features presented in the plans they sell is simply an aggregation of amazing tools which can be relied upon by sales and marketing facets of a business to study the performance of their offers and campaigns for them to make better decisions. Clients are also offered great support, which can be further improved by providing a live chat platform and a telephone number through which the support team can be accessed.


I hope you found this short review of Clickmagick.com to be helpful and now you have a better understanding on what it is and if it is for you. Please, when you have gone through your 14-day trial come back here and tell us your experience in the comment section below! Also, if you got any questions about this review I will be more than happy to answer them below!
I wish you success!
John,
Founder of: $tart Make $top Waste