Today we will review Crowdfire for you. What is Crowdfire? Is it a scam or a legit way for you to grow your Instagram account? Will it be something for you or are there better alternatives out there? These are some of the main questions this short review will focus on!
Product: Crowdfire

Website: www.web.crowdfireapp.com
Owner: Nischal Shetty (founder)
Price: FREE to use, got paid options also.
Who is it for: Anyone who uses Instagram and want to grow and save time
Overall rating: 
(4.7 / 5)
---
Intro –
Own personal quick review:
You have to be aware that this is NOT a program that you will find a 20-30min "promo" (sales) video on and maybe the good old saying in business have never before been so correct, ("if it is a good product you do not need good marketing"). Am ready to agree as I am a user of Crowdfire myself, it is actually my first choice to be able to use all of my Instagrams (yes I got many) and if I had to choose just one "tool" to keep I would definitely take Crowdfire before any other "helper" out there.
---
What is Crowdfire about?
Crowdfire is an app that you can use both on your phone or computer. It currently got over 16 million users (!) and it is easy to see why. It is made to save you a ton of time and to help you grow your audience and presence on the fastest growing social media platform there is Instagram. The good old saying "A great product does not need good marketing" seems to have never been as appropriate as in this case. Below you have a great video explanation on what the "app" is all about.
However, it works just as great for Facebook, YouTube, Twitter, Pinterest, Linkedin, WordPress, Etsy, Shopify, Vimeo, etc, etc.
---
How does it work?
To get started is very simple, you simply go to their website and sign up for a free account that allows you to connect one account and start using its services. You will get a "guided tour" as soon as you sign up so you know how to get started using the different functions.
You can also see a great explanation video that I have embedded below:
The above video demo explains it all very detailed and if you are eager to start right away I absolutely understand you 🙂
==> Get FREE account here <==
---
The services offered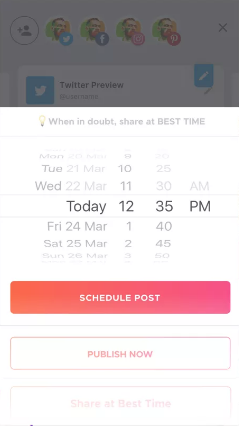 Crowdfire does not have the automatic follow/unfollow function that many other "auto Instagram programs got" and that is actually a good thing as they are being shut down one by one. Even worse is that your account can be banned and shut down too if you use them, same goes for prewritten auto comments and DMs.
The services offered to you are so many but below I have listed some of the ones I like the most with Crowdfire. (See below):
Find articles and images that your particular audience like (so you can repost them on your social media)
Schedule posts so you never have to worry about stress to find content to publish
Alarm function that goes of when it is the best time to post (this one is great!)
The engage function automatically (and more important strategically) find the ones you should engage with (like, comment, etc)
Customize your posts for ALL your social profiles, avoiding a time-consuming headache to create separate posts for each one
Monitor your account to find out exactly what you should do to grow, get more clicks, etc
Finds "content posts" you can publish right away so you do not need to write it yourself (it finds the kind of content your audience love!)
And much more!
---
How is the support?
The support you are getting is through e-mail for the moment, have only used it