Today we review CryptoHopper for you. What is CryptoHopper? A scam or a legit opportunity? How does it work and will it be something for you or not? Are there better alternatives out there? This is some of the questions this short review will focus on!
Product: CryptoHopper

Website: www.cryptohopper.com
Owner: Cryptohopper BV (company)
Price: FREE to try for 30 days (see further down in review for different pricing options)
Who is it for: people looking for a crypto trading bot
Overall rating:
(4.7 / 5)
---
Warning and some tips!
Your bot will be as good as you set it up to be. Even if the bot will perform trades on auto-pilot 24/7 for you it is also important to mention that you will want to adjust your settings from time to time depending on the market conditions.
Here are some basic tips:
Follow the step-by-step instruction videos to get started
When it is a bear market you might want to turn your bot of (you can set it up to make profit during a bear market also but it will also lock up money in coins that go down.
Check the forum for tips on settings, etc
Adjust your bot to the market conditions, if it is a bullish market you might want to increase your profit take percentage, if it is a bear market you might want to lower it, or maybe even turn the bot of completely.
For beginners it is best to trade pairs with USDT, once you get more familiar with the settings and the bot you switch to Bitcoin.
Learn techniqual analysis (for greater profits)
---
What is CryptoHopper about?
Cryptohopper is an auto cryptocurrency trading bot that performs trades for you 24/7 so you can focus on other things in your life with your valuable time. It makes it easy for complete newbies to start earning passively on crypto without any prior knowledge but it is also a tool for a trader with experience as it allows you to save a lot of time and making trades even when you sleep.
The physical address of the company is: Cryptohopper BV, Asterweg 19 C5, 1031 HL Amsterdam, The Netherlands
The website is (just like the crypto market) very new, however, it has gained a very good reputation already. Let´s look into the hopper bot a bit more.
---
How does it work – Beginner or more experienced?
The process of getting started is super simple. First of all, you got a 30-day FREE trial period (no credit card needed) so you can try out the bot for free and see what kind of results you get before and if you subscribe to the paid service.
Once you are inside the member's area you will be presented with step-by-step instructional videos that take you through the steps of getting your bot up and running.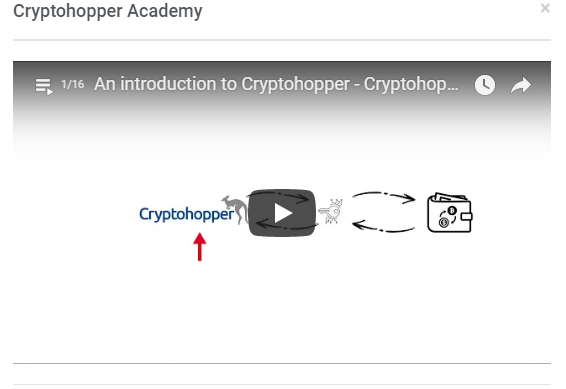 If you are a complete beginner there are bot templates for you to choose so you basically do not need to set up anything at all. Basically, the only thing you need to do to get started is to set your bot in "start mode".
If you are more experience you can tweak yourself and trade on technical indicators, or simply subscribe to signalers who send "buying signals"
P.S.
Keep in mind that the crypto hopper does not have any control at all over your money as it can only buy or sell for you, your crypto funds cannot be touched by anyone else than you, as they will always be inside your exchange of choice. 
---
What exchanges can be used with Cryptohopper for trading?
It is nice to see that Cryptohopper can be used on the most well-known and trusted exchanges like for example Bittrex, Kraken and the one I use most myself (Binance).
Below are the exchanges that are supported for the moment, there will be more added in a near future.

---
The different memberships
There are 3 different memberships to choose from once your FREE trial period is over if you decide to continue using the bot. You can, of course, choose any of the paid versions directly if you would want to, however personally I would recommend taking advantage over the 30-day free trial first, just to get used to the platform and make yourself a