Today we review CryptoHopper for you. What is CryptoHopper? A scam or a legit opportunity? How does it work and will it be something for you or not? Are there better alternatives out there? This is some of the questions this short review will focus on!
Product: CryptoHopper

Website: www.cryptohopper.com
Owner: Cryptohopper BV (company)
Price: FREE to try for 30 days (see further down in review for different pricing options)
Who is it for: people looking for a crypto trading bot
Overall rating:
(4.7 / 5)
---
Warning and some tips!
Your bot will be as good as you set it up to be. Even if the bot will perform trades on auto-pilot 24/7 for you it is also important to mention that you will want to adjust your settings from time to time depending on the market conditions.
Here are some basic tips:
Follow the step-by-step instruction videos to get started
When it is a bear market you might want to turn your bot of (you can set it up to make profit during a bear market also but it will also lock up money in coins that go down.
Check the forum for tips on settings, etc
Adjust your bot to the market conditions, if it is a bullish market you might want to increase your profit take percentage, if it is a bear market you might want to lower it, or maybe even turn the bot of completely.
For beginners it is best to trade pairs with USDT, once you get more familiar with the settings and the bot you switch to Bitcoin.
Learn techniqual analysis (for greater profits)
---
What is CryptoHopper about?
Cryptohopper is an auto cryptocurrency trading bot that performs trades for you 24/7 so you can focus on other things in your life with your valuable time. It makes it easy for complete newbies to start earning passively on crypto without any prior knowledge but it is also a tool for a trader with experience as it allows you to save a lot of time and making trades even when you sleep.
The physical address of the company is: Cryptohopper BV, Asterweg 19 C5, 1031 HL Amsterdam, The Netherlands
The website is (just like the crypto market) very new, however, it has gained a very good reputation already. Let´s look into the hopper bot a bit more.
---
How does it work – Beginner or more experienced?
The process of getting started is super simple. First of all, you got a 30-day FREE trial period (no credit card needed) so you can try out the bot for free and see what kind of results you get before and if you subscribe to the paid service.
Once you are inside the member's area you will be presented with step-by-step instructional videos that take you through the steps of getting your bot up and running.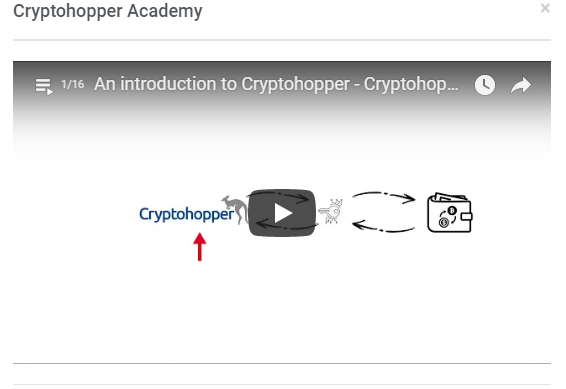 If you are a complete beginner there are bot templates for you to choose so you basically do not need to set up anything at all. Basically, the only thing you need to do to get started is to set your bot in "start mode".
If you are more experience you can tweak yourself and trade on technical indicators, or simply subscribe to signalers who send "buying signals"
P.S.
Keep in mind that the crypto hopper does not have any control at all over your money as it can only buy or sell for you, your crypto funds cannot be touched by anyone else than you, as they will always be inside your exchange of choice. 
---
What exchanges can be used with Cryptohopper for trading?
It is nice to see that Cryptohopper can be used on the most well-known and trusted exchanges like for example Bittrex, Kraken and the one I use most myself (Binance).
Below are the exchanges that are supported for the moment, there will be more added in a near future.

---
The different memberships
There are 3 different memberships to choose from once your FREE trial period is over if you decide to continue using the bot. You can, of course, choose any of the paid versions directly if you would want to, however personally I would recommend taking advantage over the 30-day free trial first, just to get used to the platform and make yourself a bit more familiar with it.
Anyway, below are the 3 different membership options you got and also their different features: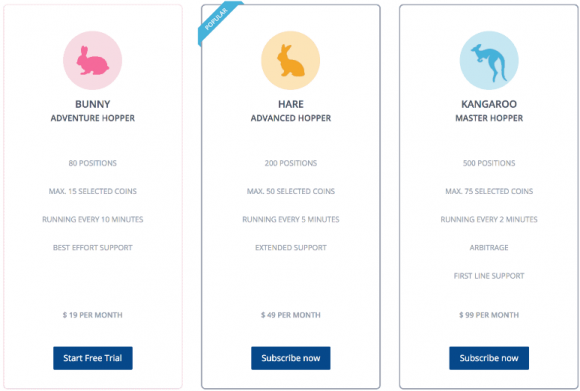 As you can see the prices are pretty affordable and the more you pay the more earning potential, nothing strange with that in other words. The BUNNY hopper is the one you get to try for free for 30 days.
---
Any fees on your winnings?
This is a good question as there are other crypto trading bots out there that takes a percentage of your winnings, in some cases around 20% so does Cryptohopper takes any percentage from your earnings that the bot makes for you? The answer is no, all your profit is yours to keep.
That is a good thing of course.
---
How about the support?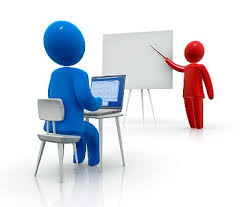 As mentioned above, you got the step-by-step instruction videos that will explain a lot. However, you also got documentation on every aspect of the Cryptohopper functions and services if you want to learn more and develop your bot for maximum earnings (and you should).
Other than that you also got 2 forums where you can interact with other users of Cryptohopper and even ask them to share their "winning formulas" and set up your bot the same way as they have.
There is also an option to submit a support ticket if you cannot find the answer to your particular question inside the documentation section.
---
Is Cryptohopper a scam?
So, is Cryptohopper a scam? No, it is not a scam. It is a legit cryptocurrency trading bot and you can feel absolutely safe using it as it cannot touch your money (your cryptos) in any other way than performing trades for you. Your funds are on the exchange of your choice and the only one who can send them somewhere else is you.
What its users have to say?
It is always good to look at what users of a product you are interested in have to say before you make up your mind. I researched this and found out that the users of the bot seem very satisfied by the results they are getting and they have a 4,1 out of 5 stars overall rating on Facebook: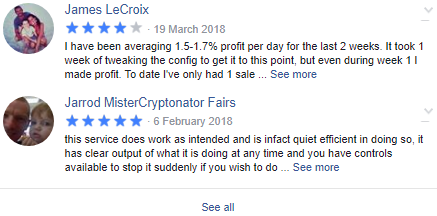 To see all of the reviews in more detail click here (opens in new window)
---
The pros and cons
As always when we review a product we make sure to point out both the positive and negative sides of the product to make this job easier for you. Below are some obvious points on both sides of the spectrum:
The good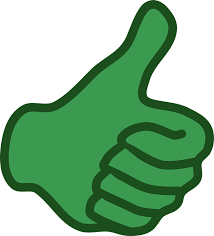 Offers a free 30-day trial
Prices are low compared to other crypto bots
positive reviews from real users (it creates good results)
Very simple to set up and start using (step-by-step tutorials)
The bad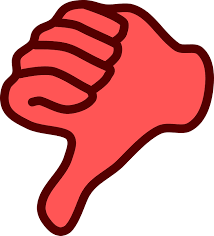 A few bugs have been reported from some of its users (nothing serious though)
---
Final words and verdict


Overall rating:
(4.7 / 5)
Ok, that sums up the overall picture of this opportunity pretty good I would say. This is a very interesting option if you are interested in creating yourself some passive income in the form of crypto trading (without performing any trades) and personally, I have to say that I love the fact that it is possible. Sure, it won´t make you rich overnight, however, it can make you a very nice income over time and as you build up your portfolio more and more the earnings can also increase over time.
Personally, I am taking the free trial right now and so far the bot has won every trade it has performed for me, am going to update this review in a near future to present more detailed what results the bot has given me. As I am on the free trial (with limited coins) I think I will upgrade to the kangaroo bot before the trial ends as I am sure it will bring better earnings, however, will stay on the free trial for at least 1 week first just to test it out for a test period.
Personal results!
Have to say that I am more than happy with how the bot has performed for me so far, more than 11% return on investment so far!  Below are my results after not even 2 days (!)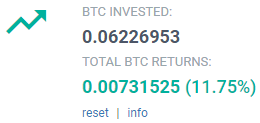 So far the bot hasn´t lost one single trade and here are a screenshot from the last winning trades the bot has done for me only today, (keep in mind I'm only using the free trial)
This is a great product in my opinion and I am more than happy with the results so far, if you want to jump on this with me then simply get started with your free trial and follow the instructions and you could start to see earnings like the ones above in just a couple of hours!
Update (June 1 – 2018)
Ok, I have now used the Cryptohopper for almost 2,5 months, I actually purchased the Kangaroo package after only 2 weeks and I have to say that I am more than happy so far, last week it made me a 20% roi on my total investment… That is, of course, more than good… I mean, where can you get such returns? If you know such a place (that is legit) then please tell me 🙂
Anyway, it hasn´t only been a pleasant experience as I was a bit naive and didn´t change the settings when the market changed from a positive (bull) to a negative (bear) market… That made many of my trades (money) get stuck in "bags" (coins who lose value).
That is also why I would recommend you to either change your settings during a bear market or even completely turn your bot off and then start it again when the market is more "positive".
With that being said, I have great settings right now and if you join through the link below I will share them with you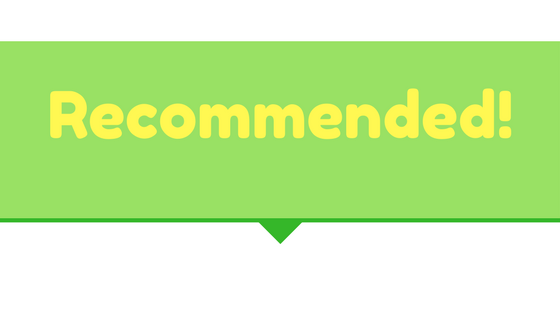 ---
I hope you found this short review on Cryptohopper to be helpful and you should now have a better understanding of what it is and if it is something for you. If you have used any of the bots yourself please share your experience with us in the comment section below as it can help others. Also, if you got any other questions about this review I will be more than happy to answer them below.
I wish you success!
John
Founder of: $tart Make $top Waste