Today's review is going to be about the Empower Network website. What is EmpowerNetwork.com? I am so tired of scams like this one, or, should I say ripoffs like this one. In this short review. I will explain why. Ok, here we go!
Product: Empower Network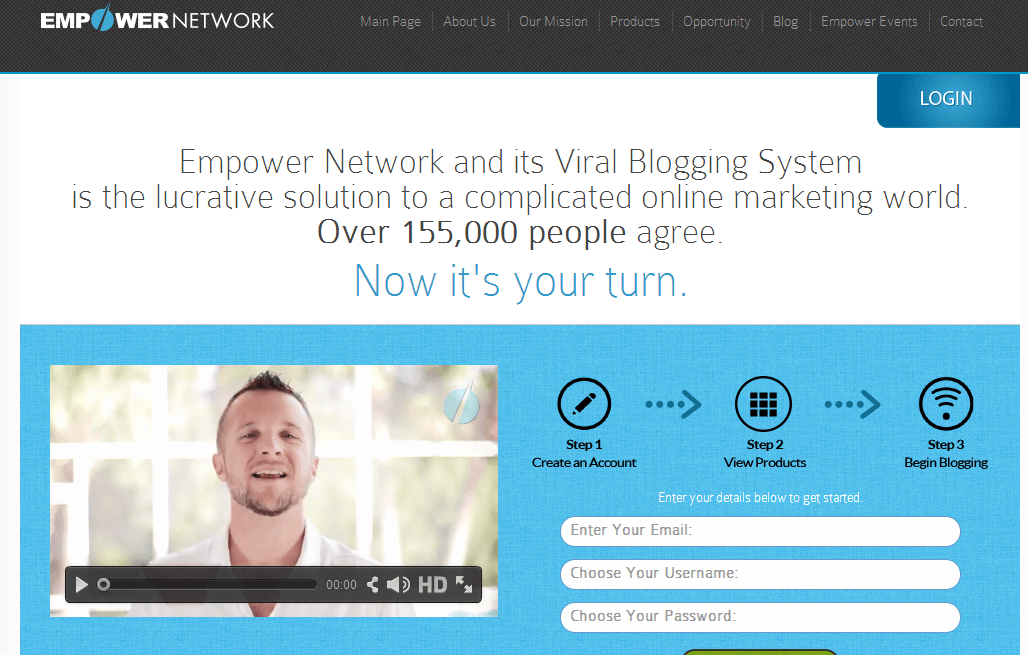 Website: www.empowernetwork.com
Owner: David Wood & David Sharpe
Price: $25/month (basic), $100/month (inner circle), $19 payment (upsell), $500 Costa Rica Intensive, $1,000 15K Formula, $3,500 Master's Retreat
Who is it for: Obviously for people that already got some money.
What Is EmpowerNetwork.com – The Product
The product is this: YOU are going to promote Empower Network to others… Hmm sounds a lot like a pyramid scheme…
Empower Network sounds in many places online like a real legit opportunity, that is because the BIG amount of marketing from the people who sell the product. Good to know then is that there are many (former) users of Empower Network that will tell you a whole different story. I will go through some of the reasons in this review, I will also help you to see why Empower Network is something you really should think twice (and twice again) before getting involved with.
First reason not getting involved:
Ok, this is the first example. If you compare Empower Network to other programs in the industry about the price for websites for example. You should know that you can get free websites (fundamental in an online business) through platforms like wordpress.com and also other hosts. There is a very low price to keep going from there and build you business further, you don´t have to pay BIG like you gonna have to with Empower Network.
In a few words, you don´t have to spend $1,000+ in monthly fees to create and grow an online business.
Any Good At All?
So have the Empower Network any pros at all? Sure, but it has a whole lot more of cons. The biggest problem is that there is nor real product behind the program, the product is YOU. Just like in any other MLM (pyramid scheme) the goal is to promote something and get the ones you recruit to recruit people to. Often in the pyramid business world, there is some sort of a product, this is something that Empower Network don´t have.
Pros:
You get your own empowernetwork.com blog
Cons:
It is a PYRAMID Scheme
No info on what the business is about or what you will be doing
You have to become an "aggressive" salesperson and promote EN to other people
FULL PACKED with "upsells"
Requires investment of minimum $140 per month!
Only to get paid you have to pay a fee of $20 (Wtf is this?)
An LOT of complaints online by their users (and former users)
No chance to try it out for free before buying into it
$5,000 Upsells !!
Who Is Empower Network For?
The Empower Network "team" claims it is for everyone, everyone will make money with little work, on auto-pilot!
Same old bullshit like most of the scams run with. That is FAR from reality with this program. But it is true that anyone can join.
The ones who could profit from this program are MLM or pyramid scheme enthusiast.

You are gonna have to work VERY hard to build a downline under you, also (in many cases) in an unethical way because you actually aren´t selling anything to people. You sell the fact that they are gonna sell the same thing you are selling.
Confusing? Yes I know, it is, and the more you try to understand it the more confusing it gets. But every single MLM or pyramid scheme works exactly the same way. The person at the top of the pyramid gets paid the most, Empower Network (just like any MLM pyramid scheme) has unlimited levels and the payouts are alwasys gonna be "passed up" to the people on top from the people on the bottom.
If you join this YOU are NOT at the top. Guess who is on top? The owners and the first few ones that joined this when it was still fresh.
If you are VERY good at aggressive recruitment and unethical selling to people of it might work for you… But if not, this is not going to be for you, you'll just gonna lose A LOT of money.
Tired Of Pyramid Schemes Like EN? Get Real Help.
Empower Network Training & Tools
There is many "levels" of training offered at EM. But to get to them you have to pay, each one of the training "levels" got an additional cost to unlock.
There is gonna be A LOT of "convincing" you to buy or upgrade once you become a member. They (the ones over you) are gonna call it "go all in" and your sponsors will (most likely) call you thinks like a "sissy" or other rude terms. Why you might wounder? Because if you don´t buy all the training, then you are not gonna be making money for the ones over you.
This is what it is all about. If you buy all the stuff ($5,000+ in total!) the money is going to the people above you in the pyramid and the ones above them. If you don´t buy, then they will not make any money off you and you can expect to be totally ignored by those "above" you.
If you are looking for a way to earn money online in a way that is ethical and can be applied to any niche, then Empower Network is not the community for you. Their primary focus is only gonna be, to train you how to promote Empower Network to other people.
Empower Network Support
You won´t get any support at all. Sorry, I take that back, you can get support if you pay an extra $100 per month. The support will be in the form of videos! No personal support at all, no live chat, just pre-recorded videos… Also there is no way of contacting the owners so you can forget about their help.
I would NEVER recommend a program that don´t offer personal and 24/7 live support.
** Checkout My #1 review on this blog, it got FULL support from experts, 1-on-1 mentoring and support and you can also contact the owners. Oh one more thing, it is completely FREE!
The Cost To Join Empower Network Is Ridiculous!
The price of Empower Network will end up on a lot more than it initially looks like.
This is what the scheme will cost you:
$25 a month for the basic membership, you get a blogging site.
$19.95 a month if you want to promote the EN products and earn commissions (lol)
$100 a month to join the inner circle membership (needed for success)
That´s NOT all!
There is also a couple of one-time payments you gonna need to do…
$500 for The Costa Rica Mastermind Intensive
$995 for The 15K Formula
$3,500 for The Masters Retreat
So, in total you are gonna have to pay $5,000+ and also $140 per month to get all the training and "access" to make money with the program… Not really like it sounds like when you get offered the $25 price when it is promoted to you.
So be aware of that before jumping into this expensive and VERY overpriced MLM pyramid "product"
==>And make sure to look at this review first! (Do not involve any MLM or pyramid scheme)
Final Words And Verdict Of Empower Network
Verdict: SCAM!
Overall rating: 2/10
The reason I call Empower Network a scam has nothing to do with the fact that you cannot make money with the program, because you can. But it has to do with first of all that it is promoted like a $25 a month product when in fact you are gonna have to pay $5,000+ and also $140 a month on top of that. I mean what is that? Just for being part of the bottom of a pyramid scheme…
That feels exact like being one of the slaves that built the real physical pyramids in Egypt and paid for it with their own lives! Ok maybe I over react a little here, but I think you get my point 🙂
But in short, The Empower Network is just like any other MLM (pyramid scheme) it is the owners and the ones who started first that are gonna make money. I, personally hate pyramid schemes and I don´t even think I would do it even if I was the first one joining one.
The EN product is basically you promoting it to others. You are gonna feel "shamed" into buying the many upsells cause your "sponsors" won´t give you any additional help if you don´t. If you ever say a bad word  or something negative about Empower Network you can be sure of one thing, people there are gonna jump on you!
There are very few members "inside" the Empower Network that for example have their own website or even understand the proper way to build an online business.
You will see MANY people promoting Empower Network to you, they do this ONLY because they are gonna earn money if you sign up "under" them, NOT because they actually believe in the product (although they might think they do)
I would stay far far away from Empower Network, it is simply just NOT a real opportunity!
I hope this review of the EmpowerNetwork.com website was helpful and that you know what it is all about. Maybe you have tried it personally and want to share your experience? If so, I would really appreciate if you could leave a comment below!
Thank you for reading!
John
Founder of: StartMakeStopWaste.com