Today we review something named FameSwap. What is FameSwap and how does it work? Is it a scam or a legit service? How much does it cost? This are just a few of many questions this short review helps you answer!
Product: FameSwap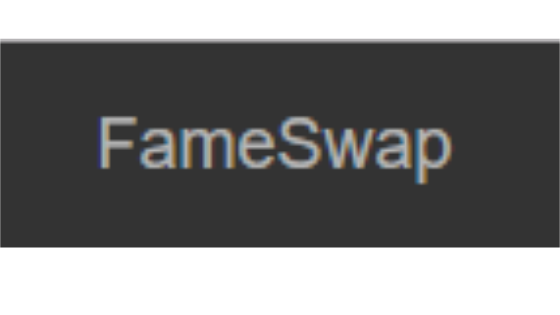 Website: www.fameswap.com
Owner: FameSwap
Price: Free to join, fees depends on what account you buy or sell (see further down in review)
Who is it for: People looking to buy or sell Instagram ,Youtube and Tiktok accounts
What is FameSwap about?
FameSwap claims to be the best marketplace in which you can buy or sell Instagram, YouTube, and Tiktok accounts. Most people coming to this platform are usually looking for well-established social media accounts, or are usually looking forward to receiving a huge amount of money for the accounts they are selling. Owing to the value and sensitivity of the information involved during the exchanges, it is crucial for those involved to have a guarantee that the transaction will not lead to any loss.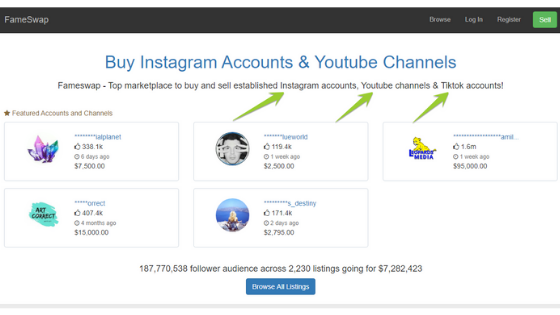 This is where FameSwap comes in to offer a safe platform where you can swap account passwords for money.
It is evident that FameSwap's main reason for existence is to give its users access to what is known as an escrow account, which we shall discuss in the next section.
---
How to use FameSwap?
FameSwap provides its users with an opportunity to purchase or sell social media properties. This means that they can accept payment safely, and purchase or sell social media platforms without facing any risk. The satisfaction of this platform's users is evidenced in the "Recently Sold" page, on which you can view their reviews.
How, then, can you use the FameSwap Escrow service to achieve the sales or purchase objective. There are four general steps that you can follow, as described below:
1.    Creating an Escrow
Buyers and Sellers agree to the set escrow terms. The buyer of the social media platforms funds the FameSwap Escrow account through the wire transfer payment.
2.    The Delivery Process 
Upon funding the FameSwap Escrow account, the seller of the social media accounts usually delivers the listing information to the creators of this platform. FameSwap then verifies that this information is accurate, and gives it to the person purchasing the account.
3.    Buyer Review 
The Buyer then inspects the account and releases the payment in the Escrow account. The buyer can also initiate a dispute if he or she is not pleased with the account.
4.    Seller Payout
The seller eventually receives the payment and the transaction comes to an end, as both parties walk away satisfied.
---
Which service is provided to clients?
In order to access the Escrow account, you are required to sign up. Once you have signed up, you can then proceed to utilize the various services, which include: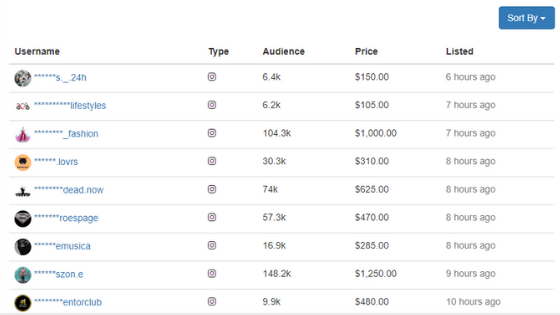 •    Buying Instagram Accounts
•    Selling Instagram Accounts
•    Messaging Sellers and Buyers
•    FameSwap Escrow
•    Live Account Statistics
•    Submitting offers
•    Buying and Selling YouTube Channels
•    Global Audience
•    Buying and Selling TikTok Accounts
All the above-listed services are meant to facilitate the timely and efficient exchange of social media accounts and money, which is actually a very viable service provision model. Unless you are dealing with a very trusted friend in such a sensitive exchange, you will definitely need such an Escrow Account service provider, and FameSwap is already proving to be one that you can trust.
P.S.
If you want to perform a search (browse) for Instagram, Youtube or Tiktok accounts you can do that on this page
---
The available packages
You can access FameSwap at any time and simply begin selling or purchasing social media accounts. Those who manage to actively use their accounts for a period of 2 months or more usually have the opportunity to rise to the "premium subscriber" level.
How much do you pay (fees) when using either package?
As a regular user of FameSwap, you are usually required to pay the following fees:
10% of the social media account listing price (Or a $50 minimum) whichever happens to be greater.
Only those people with transactions of more than $100 are eligible to make such transfers.
These fees can either be assigned to the person buying the account, or to the one selling the account. The two can also decide to split the fees equally, or any other proportion, provided the terms laid out in the escrow agreement are upheld.
For the premium subscribers, the following payment term holds:
You are eligible for lowered escrow fees (by 5% ).  These fees are usually issued in the form of a rebate, upon the completion of Escrow.
If you, for instance, spend $50 as a buyer, FameSwap will refund $25 upon the completion of Escrow. As a seller of the accounts, FameSwap will add $25 to the final payout you make.
---
Customer Care and Support
If you encounter general issues while using FameSwap, you can contact the general support team by clicking on the "Support" button usually located at the bottom of the "Contact Us" Page. You are only required to provide the following details:
–    Your name
–    Your email address
–    The issue at hand
–    Up to 5 attachments.
Note: The general support team does not address issues concerning specific escrow ids. If you want to access support for such issues, you should click on your escrow id, and reach out to the escrow support team.
This company has its physical address at 920 SW 6th Avenue, Portland, OR 97204, United States.
It is also important to note that FameSwap only offers support through email. You should therefore not trust anyone claiming to offer help or support through Facebook or Telegram accounts.
---
Is FameSwap a scam or genuine and legit?
Yes. FameSwap is a genuine Escrow service provider whose services you can bank on. This platform has an average of (4.5/5) stars on Trustpilot (out of 60+ reviews). More than 80% of the customers who have used FameSwap perceive it as being excellent. Most of these clients have actually talked about buying and selling the accounts for several years now, and the general impression is that FameSwap is definitely genuine.
If you want to read all testimonials on the Trustpilot website you can do that here.
---
The pros and cons
It is always recommended (and wise) to look at both the positive sides of something, as well as the negative ones as well, to get a better overall view, right? As always in our reviews we provide you with some clear points on both sides of the spectrum:
Pros
It is a global service
The payment options are all secure
It offers dispute resolution, where you can quickly and effectively handle any disputes.
Supports USD currency
24/7 support offered through email.
Impressive ratings on TrustPilot
Cons
Transaction fees may end up being high for those who are not premium account holders.
---
One tool that I always recommend if you want to make your Instagram (or other social media platform) endavours a lot easier is Crowdfire. It is free to use but also got some paid features if you like their service. I would however recommend that you try it out for free first to see if it is something you might find great value in.
**Learn more about Crowdfire on this page
---
Do you own or represent FameSwap.com?
If you are a representative, or associate of FameSwap and have found something not to be correct in this review please, feel free to tell and I will make sure to update the info on this post. The easiest way to do it is in the comment section below or by simply sending us an e-mail.
---
Final words and verdict
Verdict: Legit!
Overall rating:
(4.7 / 5)
Ok, I think that sums up the overall view of what FameSwap is all about. It is a legit service for sure, and not only that but also a very good one, if you are interested in this particular niche of course.
As always the decision is up to you to make, but remember it is free to sign up for an account and start browsing around for different acounts you might be interested in buying, or to sell an account yourself for that matter.
---
I hope you found this short review on FameSwap to be helpful and that you now have a better understanding on what it is and if it is something you might want to use. Please, if you have used their service yourself then please share your experience in the comment section below as it can help others! Also, if you got any questions about this I would be more than happy to answer them below as well!
Much success to you!
John,
founder of Start Make Stop Waste