Today we will take a look on GoldCore for you. What is GoldCore? A scam or a legit investment company? Will it be something for you or not? Are there better alternatives out there? These are some of the main questions this short review will focus on. Ok, here we go!
Company: GoldCore

Website: www.goldcore.com
Owner: Stephen-Flood (ceo)
Price: Depends on your investment amount
Who is it for: Precious metals investors
Overall rating: 
(3.5 / 5)
==========================================================
Important to mention before we go into more details of this review:
We always strongly recommend to do your research online before you choose a company to invest with. There are so many reviews online of clients being ripped of and scammed. So please investigate thoroughly before you make your decision.
To see all of the gold investing companies we have given the highest ratings visit this page<==
With that being said, let´s continue with the review on GoldCore!
==========================================================
What is GoldCore about?
GoldCore is a gold broker that was founded in 2003. It has been serving clients in the U.S. and over 130 countries internationally.
It got over 4,500 clients and over $130 million in assets under management and storage.
It´s physical "headquarter" address is: GoldCore Ltd, No. 1 Cornhill, London EC3V 3ND,  England and GoldCore Ltd, 14 Fitzwilliam Square,  Dublin 2, Ireland

How does it work?
It is a website where you can buy gold, silver, platinum, and palladium online.
It works in 6 steps:
Open your account
Scan your ID and application form and send it to GoldCore via email or post.
Fund your account by bank wire or credit card.
Decide what type of metals you want
Decide how to store your metals
Place your order online or by phone
The Products
The products offered are bullion in the form of coins and bars.
You can choose between gold, silver, platinum, and palladium
IRAs?
Do they offer any IRA alternatives for you? The answer is no, they don´t. At least not for the moment.
If you are looking for precious metals IRAs then I would strongly recommend you to check out Regal Assets instead.
***Click here to check out our #1 recommendation for IRAs
Can you get the gold (and other metals) delivered to your home?
Yes, you can get them delivered to you personally and store them wherever you want.
However, I could not find any info on their site on how long it normally takes to get your order, also there was not clear on their website on shipping costs and other fees…
Can you store your investment with the company?
No, you can not store your metals with the company direct.
However, they offer (with its partners) storage in Delaware, New York, Salt Lake City, London, Frankfurt, Zurich, Singapore, Hong Kong and Perth.
Can you sell back to the company?
This is another thing that is not mentioned on their website, so it is likely that you cannot do that. If you would be able to they (most likely) would have announced that a bit better on their site as their competitors are doing that proudly when they offer that kind of service.
Can anybody in any country use the service?
This is also something that is not really mentioned on their site. However, they do mention that they got clients in over 130 countries worldwide so they do at least offer it´s service to many countries.
Is GoldCore a scam?
So, is GoldCore a scam? No, it is not a scam, it is a legit company of course. It would not have survived since 2003 if it wasn´t.
It also got an overall good reputation online from real users. The website Ekomi.co.uk (opens in new window) got over 900 testimonials from users and the overall score is 4,8/5 stars (see screenshot below):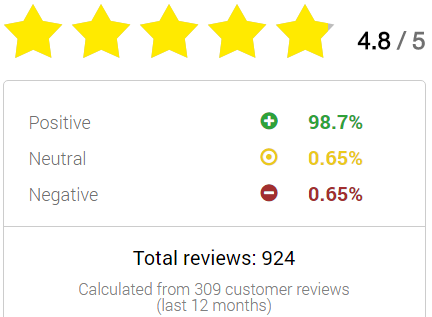 Are there any red flags?
Well, the only concerns I see is that even if it got great reviews on the Ekomi.co.uk site it is also the ONLY place where you can find reviews on the company.
That can be a concern. Why? Well, because pretty much all of it´s competitors got reviews and ratings from the more common (and bigger) sites such as: TrustLink, TrustPilot, RippOff Report, BBB, etc.
This is absolutely worth to mention and you should be aware of this.
How´s the support?
One thing I always put a lot of weight on when it comes to a companies support is if you got a live chat function to ask your questions directly on the website.
GoldCore does not have this and that takes the overall rating down a bit also.
The only ways you can contact them with questions is either through e-mail, normal mail or by calling them.
The Good
Been in business since 2003
Good reviews
The Bad
Website lacks a bit of info, for example, delivery costs and fees are not mentioned
Not that many reviews (only from ONE site)
No live chat function
Do You Own or Represent GoldCore?
If you are a representative, or associate of GoldCore and have found something not to be correct in this review please, feel free to tell and I will make sure to update the info on this post. The easiest way to do it is in the comment section below or else you got the e-mail on the about page.
Final Words and Verdict on GoldCore
Verdict: Legit
Overall rating: 
(3.5 / 5)
Ok, I think that sums it all up pretty good. This (GoldCore) is a legit company, there is no doubt about that. However, it is hard to recommend it as there are a few question marks around it, mostly in the form of lack of reviews and ratings online from some of the more common rating sites.
So the rating 3,5 out of 5 stars feels fair to give for now. This might change to a higher or lower score in the future of course. But for now, 3,5 stars it is.
As always, the choice is up to you.
Which Company Do You Recommend?
If you are looking for a reputable gold IRA custodian besides any other company, you should check out Regal Assets.
Regal Assets have ZERO complaints from A LOT of real users. Used by celebrities, respected by well-known publications, and websites.
And A LOT more benefits!
I hope you found this short review on GoldCore to be helpful and now you should have a better understanding of what it is and if it will be something for you or not. If you have used their service please share your experience with us in the comment section below as it can help others. Also, if you got any questions on this review I will be more than happy to answer them below!
I wish you the best!
John
Founder of: $tart Make $top Waste