Today we review the well-visited hirewriters.com website. What is Hirewriters.com? a Scam site or is it really as good as it sounds? This and everything you might want to know about the website and if it is for you or not, ok let´s start!
Product: HireWriters
Website: www.hirewriters.com
Price: "Low" (See further down in the review)
Who is it for: Internet marketers, Website owners, content marketers, etc
Overall rating:
(4.8 / 5)
What is Hirewriters.com about?
Hirewriters.com is a website platform on which clients, who in most cases are usually website owners, look for writers to write content for their sites. Essentially, website owners are usually tasked with managing a number of tasks that relate to ensuring that the website is up and running all the time. Since such sites need regular content created for those visiting their site to read, Hirewriters.com makes it possible for these site owners to get pre-screened writers who can write the required content at a fee.
Hirewriters.com boasts in the fact that they are in a position to get quality work done at some of the lowest fee rates in the market, and by quality writers.
How to Use Hirewriters.com
As a visitor to this site, you will probably have no problem getting your way around this site, and you can actually navigate through without requiring any help. Hirewriters.com makes it easy for you to register and to begin submitting the projects that you want to be completed as soon as possible. The steps that you are required to follow are as follows:
Click on "Register Now" button at the top-right corner of the website to register an account. You can also go to the "Get Content Written Now" section on the menu, to commence the registration process.
Wait for your account get approved.
Set up your preferred payment option and credit your account using the various payment options.
Begin submitting projects.
P.S.
Before you can submit a request for getting your job done you need to add funds to your account, you do that (as seen in the screenshot above from inside my own account) from the red "ADD MONEY" button in the top right corner.
---
What service is actually provided to clients?
Hirewriter.com pride themselves on being the best site to access talented writers who are well-equipped to complete a variety of tasks. The writers who take on the tasks are all native English speakers who are usually screened by Hirewriters.com to verify their capability to handle both small and huge tasks without displaying any sort of inconsistency.
Clients visiting this site are due to this guaranteed of having very simple and very complex tasks done, and they can only pay for them if they are satisfied. The team at Hirewriters.com is dedicated to ensuring that clients get the best user experience.
Their duty is to ensure that clients get access to the following services:
Blog posting
Rewriting/proofreading articles
Ghostwriting
Copywriting
Product listings/descriptions/ reviews
Email Auto-responder series creation.
Poetry
Transcription
Data Entry work
Facebook Fan page posts
E-books
---
The available packages
Hirewriters.com seeks to serve all clients across the board by creating suitable packages that more often than not end up varying in nature. This site allows the clients visiting to specify the nature of the task they want to be done, based on a number of features which end up determining the total cost that the client will incur. The features, or simply the project details, that a client should specify include:
Project Description-This is the information that the writers are going to see. A general approach to describing the project is usually writing a descriptive title such as "niche name + articles".
The category of the articles
Article length- this plays a crucial role in determining the final fee you pay. Most clients who own websites are usually looking for articles that around 500-1000 words
The Language-this site only accepts native English writers, hence clients can only get their articles written in English.
The writer's time limit- A client should specify the maximum time they want the writer to take to complete the project. More often than not, the urgent projects will require the client to part with a higher fee, but this is not always the case.
Writer skill level-the writers on this site are usually ranked as :
Beginner
General writer
Skilled writer
Expert writer
P.S.

You can also rely on the services of a quality writer at any rank by inviting that writer to work on a private project.
If you want your work to be done by an expert writer, you will part with a larger amount of money than you would have if you selected a beginner writer. The higher the writer is ranked, the more expensive it is to higher that writer.
**Join through this link (+ get 25% bonus after sign-up)
---
How are the packages priced?
The price that clients end up paying to get their articles done vary. As shown above, one is required to set up the general features of the project they want to be handled by the writer, and these features end up determining how much will pay. On Hirewriters.com landing page, however, a general fee structure is presented for visitors to view. Generally, the clients will be charged as follows:
150-300 word article -$1.50
700-1000+ word article -$5
150-300 word article rewrite -$1.25
700-1000+ word article -$4.25
Again, the point to note is that these fees are bound to vary considerably, based on the project features, hence clients should not rely on the above pricing suggestions to question the Hirewriters.com support team.
Hirewriters.com allows writers to pay for the tasks done using their credit and debit cards, and through PayPal. The most common credit cards that are allowed include:
Visa
American Express
Discover
MasterCard
(PayPal)
---
Customer Care and Support
Customer care and support issues are usually handled using a two-pronged approach. The first approach is relying on the knowledge base or the Frequently Asked Questions section. Since most processes on this site are simplified, checking through the responses given to the questions in the FAQ section will more often than not prove satisfactory. If you still have questions, you can contact the support team by sending them an email.
The "Contact" button redirects you to a page where you can fill in your details such as your email address, your name, the subject of your issue, and the message you intend to put across. You are also allowed to upload attachments if there are documents that you intend to have reviewed, in line with ensuring that your challenges are solved.
---
Is Hirewriters a Scam or a genuine site?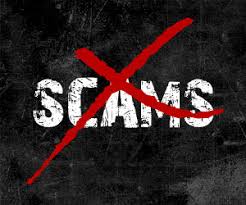 Hirewriters.com is a genuine site. The proof of this statement lies in a number of facts. First, this site was started in 2012 and has survived all through. If it was not a genuine site, it would have already been shut down. Second, the site has quite a number of reviews on-site review platforms. This site has received very varied reactions, ranging from very good responses to very bad responses. On Reviews Boss ( https://www.reviewsboss.com/hirewriters-com-review/), Hirewriters.com has a rating of 2/ 5, which is considerably low. Sitejabber ( https://www.sitejabber.com/reviews/hirewriters.com) rates Hirewriters.com 2.4/5.
On a site like Your Online Revenue (https://youronlinerevenue.com/what-is-hirewriters-a-great-place-to-outsource-your-content-or-to-earn-extra-income/ ), Hirewriters.com has a rating of 9.7/10.
The varying ratings are subject to the opinion of those who were involved in rating Hirewriters.com, but the fact that ratings were given is proof that the site is actually genuine and that it is the business of providing the services to clients.
Personally, I love Hirewriters.com and the service have made me more than happy every single time! And I order new articles every week from it… So from me, it gets a very high rating. It is actually my favorite place to order high-quality content from.
---
The pros cons
As a client seeking to get your tasks done on Hirewriters.com, you are bound to pick up a number of pros and cons from using this site. Below are the most unique benefits and drawbacks that you are likely to get or encounter:
Pros
It is easy to navigate
Easy to decide Niche, length, and quality of your content.
Offers some of the lowest rates in the market
Have an efficient knowledge base and support platform
Has videos to train writers and clients on how to use the site
Cons
No physical address is provided
---
What can be altered about the site?
Hirewriters.com's service provision model is quite efficient, and anyone wishing to have content written for their website can follow through the outlined process successfully and get their projects done. There are however a number of improvements that this site can make it better as follows:
Providing a physical address to build more trust with new visitors to the site.
Providing a Testimonials or "Client reviews section"
P.S. Only my own thoughts and advice for them, however, personally I love the service they provide and have only had good writers so far.
---
Alternative site
A suitable alternative to Hirewriters.com might be the Iwriter website. These two sites have business models that are quite identical, and a person who has used Hirewriters.com will more often than not find it very easy to use Iwriter.com.
Hirewriters.com is, however, more superior because it offers clients lower fee rates for a similar article. A client can part with as high as $80 for a 500-word article on Iwriter, which is too expensive in comparison with Hirewriters.com's fee rates.
---
My personal experience with Hirewritters:
I have been using Hirewritters for 3 months now and as you can see on the screenshot below I really like the quality I get, and also the low price I pay, till this day I have got 159 reviews and articles written on the platform and as you can see I have 19 in progress and 28 ones in open order.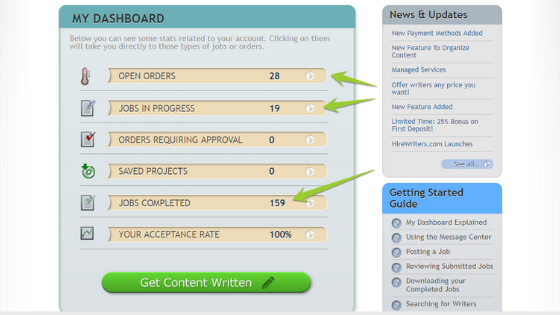 I have never paid more than between 10-15 bucks for an article on the platform and that have allowed me to get A LOT of work outsourced to a very affordable price through the website in the last 3 months… and I have no thoughts whatsoever to stop using it, it is (by far) the best platform I have ever used to find good writers.
---
Concluding Thoughts
Verdict: Legit
Overall rating:
(4.8 / 5)
This site is genuine and has an efficient working model. Recommended for content clients working with a considerably low budget. The site should, however, work on the reviews given on online platforms. Hirewriters.com is a site that makes it possible for clients to access writers who can create content for their sites.
Hirewriters.com prides itself in the way it avails the clients to a pool of qualified writers who are capable of delivering quality work at lower fees, relative to what is offered in the market. This site has varied reviews on online platforms, but this only proves that it is genuine and that it is in the business of serving its clients.
It a personal favorite and I encourage you to check it out!


==> Join for FREE through this link (and get 25% discount after sign-up) <==
---
I hope you found this short review of Hirewriters.com to be helpful and that you now have a better understanding of what it is and if it is something for you or not. Please, if you have used it yourself then please share your experience below. Also, if you got any questions about this review I will be more than happy to answer them below!
I wish you success!
John,
founder of: $tart Make $top Waste