Today we take a look at the program InstaEasy. What is InstaEasy? A Scam or a legit program for you? How does it work? Will it be something for you or not? These are some of the questions this short review will focus on. Ok, here we go!
Product: InstaEasy

Website: www.instaeasy.com
Owner: Luke Maguire
Price: $47 per month
Who is it for: People looking to save time and automate as much as possible on Instagram and grow their following
Overall rating:
(4 / 5)
P.S.
See my #1 Recommended Instagram Money Making Advice
---
Important update!
Instaeasy does not take on any new members at the moment.
If you want to read about another great (and FREE) Instagram tool that will allow you to save a lot of time then click here.
---
Introduction
Instagram has taken the world by storm and has grown tremendously in the last years. It is considered the social media platform that allows you to engage the most (by far) with our audience.
That is also why 90% of the major companies in the world use it. In short, if you want to be seen, Instagram is the place to be. It has over 500 million users worldwide.
What is InstaEasy about?
I am going to assume that you already know that it takes a lot of time to grow a following on Instagram (or any other social media), you need to engage, comment, like, follow, unfollow etc.. If you want great results you should spend hours EVERY day.
This is where Instaeasy comes into the picture and save you from losing that time. This is a tool that will do all that for you so you can focus on other things that matter more to you, it will work for you 24/7 365 days per year and growing your account for you.

Sounds pretty awesome if you ask me, I am always willing to pay money if it saves me time. Why? Because the time you will never get back, the money you can make again… Especially if you got alot of followers 🙂
However… Is it really that easy? How does it work?
How does it work?
Ok, when I came across this tool the other day I didn´t think twice, I just bought it right away. It was a purchase I made with PayPal so if it didn´t work for me I could easily get my money back (one of PayPal's benefits).
I was prepared to maybe have to read along "manual" and have to watch some hours of training videos to get it all set up.. but to my surprise, this was a lot easier and faster than I thought.
First I just created my username and password to log into the member's area.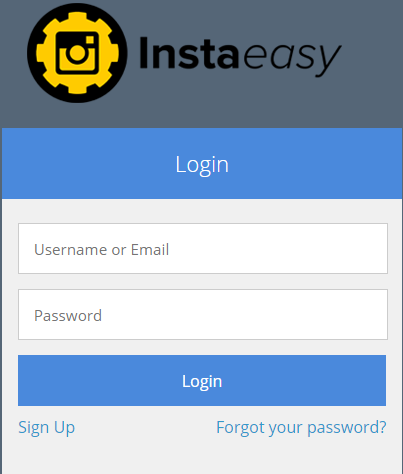 Then I actually got the "manual" and training videos… Those took around 5 minutes to go through and explained in an easy to understand way how to set everything up…
I watched them and then added 2 to my Instagram accounts.
Then I started setting up the program to like and follow etc on the type of accounts I would like to engage with #hashtags that I wanted to like, follow, etc.
That took maybe another 5 minutes… (Below is a screenshot from the setup inside the member's area)

After I had done that it was done!
Now it is working 24/7 and it likes hundreds of posts in the areas I want to like in and follows accounts in the "niche" that I have set it to follow and of course also unfollows the ones who don´t follow me back.
You can see a quick demo on how to set it up in the video below
That is simply amazing! I LOVE this tool!
Important to mention:
While you can turn off the software at any point it is important to mention that you should not like or follow anyone manually with your accounts that you have set to "run" and if you want to like or follow a certain account manually you need to turn off the service in the dashboard.
Two Different Membership Options
The price for this tool is either $47 per month or $347 for the whole year.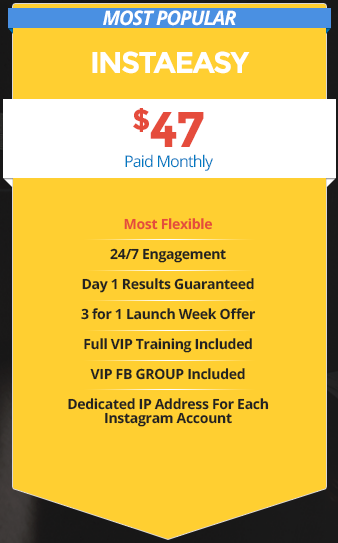 Both memberships offer the exact same functions and as you can see they guarantee results from day 1.
However, the yearly option will save you around $150 per year. Wich one you choose I guess depends on how long you are planning to use the service.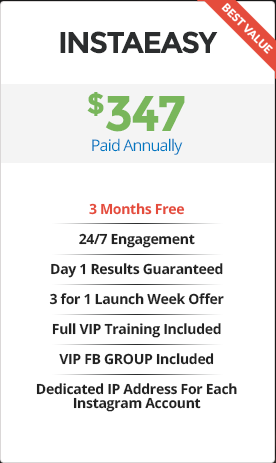 Is InstaEasy a scam?
So, is InstaEasy a scam? No, it is not a scam, of course not, it is a legit and also great tool for you if you are planning to get a lot of followers and also most importantly (at least in my opinion) to save time. This is a "set and forget" tool and it has brought me personally great results and already the first day I have got around 100 new followers on each of my 2 accounts that I have connected to the software.
Also, keep in mind that you can pay for this with your PayPal so you can be absolutely sure to get your money back if you for some reason not like what you get.
PayPal is for "the buyer" and the buyer has always right to get money back if the buyer wants from PayPal.

So when a program has PayPal as a payment option that also indicates that the program is absolutely legit as PayPal got strict guidelines on who they choose to work with.
How´s the support?
The support is good, you got a Facebook group and also a support email address where you can ask your questions, the only thing missing is a live chat…
However, I strongly doubt that you are going to have any questions as the whole thing is ridiculously simple.
The good
Huge time saver
Set and forget
Grows your Instagram account on complete auto-pilot
VERY easy to setup
The bad
You cannot manually like or follow anyone while the service is running… On the other hand… Wasn´t that why you wanted this service in the first place? 🙂
Why should you (or Should NOT) buy it?
Ok, if you ain´t got Instagram or aren´t planning to get one this is of course not for you.

However, if you do have Instagram and want to save a huge amount of time (that you can spend on other things) and grow a huge following this is absolutely for you. You won´t be disappointed.
Better Alternatives?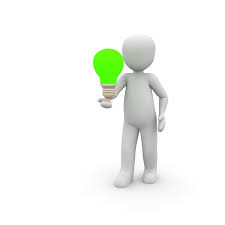 There are many similar services and tools out there, some bad and some good, some paid and some are even free, and I know about a couple of free ones you absolutely want to try and use before you start with paid services, as you might get just as good (or better) results than with a paid tool.
Do

NOT

buy a service like this before you know how to REALLY Max Monetize your Instagram audience
The absolute #1 recommendation I can give you is that you, first of all, learn how to run an online business and create a recurring income from using Instagram, or any other social media online.
==> Learn more on how (and what) to sell on Instagram on this page
---
Final words and verdict
Verdict: Legit
Overall rating: 
(4 / 5)
Ok, I think that explains the whole purpose of the tool and why you could benefit a lot from getting it. I am sure glad I found it and I am looking forward to seeing my accounts grow from using it.
There is no question that this is a legit product as I mentioned above and you can feel absolutely safe purchasing it.
There is also a 14-day money back guarantee from the product and as mentioned above it is a product supported by PayPal so you can be sure there is no "fishy business"
As always it is up to you if you buy it or not, I hope I laid out the benefits clearly, the time saving and effectiveness is what makes the rating such a high one. I would call this an investment as much as a tool.
The Instagram boat ain´t gonna sink in a while so make sure to take advantage of it now while it is smoking hot and keeps getting hotter!
Better alternatives? (my #1 recommendation)
There are many similar tools out there for you to choose from, some are better than others without a doubt, and more importantly safer than others to use, because the last thing you want is to get banned from Insta or having your account shut down, right?
The absolute best thing I can recommend is, first of all, to learn how you sell on Instagram because when you know that you won´t need as many followers as you might think, in fact, you can make money only with a few followers if you know what to do. Once you have an online business setup, Instagram will work A LOT better for you.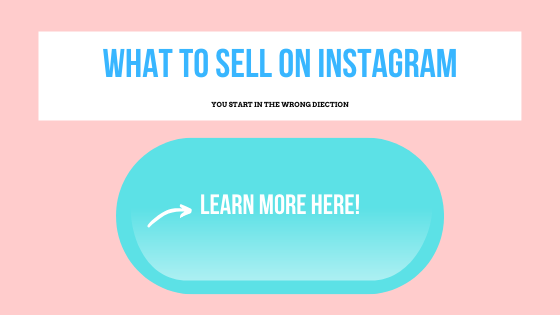 I hope you found this short review of InstaEasy to be helpful and now you should have a better understanding of what it is and if it is something for you or not. If you are currently using it please share your experience with us below. Also, if you have any questions about this review I will be more than happy to answer them below!
I wish you success!
John
Founder of: $tart Make $top Waste