This is a short review of JamesBux. What is JamesBux? Is it another scam or is it a legit opportunity for you? Can you make a lot of money or should you pass? These are some of the questions this short review will focus on. Ok, here we go!
Product: JamesBux

Website: www.jamesbux.com
Owner: ? (not mentioned on the site)
Price: Free to join (but requires a sponsor)
Who is it for: People who want to make money online with revenue sharing
What is JamesBux about?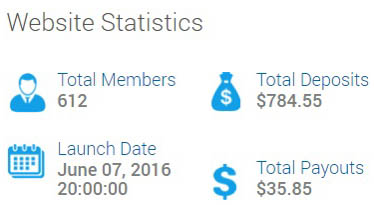 JamesBux is a brand new rev share site that was launched on June 7 and if you know what revenue sharing is all about, then you know what JamesBux is going to be about.
It is a new revenue sharing program where you buy ad packs, let them mature and make a profit.
It is also a PTC (paid to click) site where you can earn (tiny amounts) simply by clicking on ads.
How Does It Work?
First of all, you can only join JamesBux if you have been invited by someone, you are going to need a "sponsor".
It works the same way as pretty much all revenue sharing sites nowadays, you buy ad packs, assign them, then you wait for them to mature, when they do (on JamesBux) you have made a 124% profit. So for every $1 you "invest" you will get $1.24 back.
Max earnings per day are 1%
Is JamesBux A Scam?
So, is JamesBux a scam? This is a little to early to say, it can be, you never know with these rev share programs. Many are coming up, staying for a month or 2, then the owner decides to make a runner with all the cash.
If JamesBux is the same?
Guess we have to wait and see… Just because you can hire the beauty below for $5 to record a presentation on green screen for you on Fiverr.com it doesn´t mean it is a scam… It might simply just be low budget 🙂

Important To Mention!
Please, DO NOT invest more money than you can afford into JamesBux (or any other rev share). If people stop joining and putting money into the program, there will be no more money to share, that means: NOBODY will get paid…Keep that in mind please.
There are no refunds once you have made a deposit.
Why You Should/Should Not Go With JamesBux
Sure it is free to join and start making money by simply click on ads, you don´t have to invest a single dollar for that.If that is what you want you are (in my opinion) way better of doing that on the famous and well know ClixSense instead. You will make A LOT more money there, trust me.
If you (like most people who join this kind of programs) are in it for the revenue sharing aspects of things it might be something for you. However, I would wait a month or so to see how the program develops first. If you are eager to
If you are eager to get started in a rev share program there are other options, best one I can recommend is Eden Traffic.
Bottom line is, I do not recommend JamesBux for anyone, at least not this early in the life of it…
Final Words and Verdict
Verdict: Not recommended (at least not for the moment)
Overall rating: 4/10
I think I have made my point pretty easy to understand. Sure it has potential but for now I suggest caution.
The things I like with JamesBux is that the ad packs are very cheap, only $1 but on the other hand there is no point buying ad packs for a dollar if you want to make some decent money back from the revenue sharing pool. You are going to want to "invest" at least a couple of hundred dollars into any rev share. So I don´t see any point why JamesBux is better than any other.
Another thing I like is that there is no surfing required, in (most) other rev share programs you are required to surf 5 or 10 ads per day in order to participate in the revenue sharing the next day, it only takes about 1-2 minutes but it can be nice to know that you don´t have to worry if you would forget it someday.
Like always it is up to you…
But please remember: DO NOT invest more money than you can afford to lose into ANY rev share program.
My Best Recommendation To Make Money Online
There are much safer ways to make money online.
If you are after significant amounts you have to understand ONE thing. There is no super (or secret) program that will do this for you. PERIOD.
Things take some time to learn there is no exception online. If you want to learn how it works you are going to need easy to follow step-by-step training. You are also going to need support and directions.
I have a few legit programs listed on this site, all of them will lead you to make a recurring passive income online IF you stick to the program (any one of them). Just pick one and go with that one, please do not make the mistake of jumping from program to program if you ain´t making money your first months or so, things take time.
The best one (of all) I can recommend is Wealthy Affiliate. It is absolutely free to join and getting started with and is a program that I know works. The first thing they teach you is how you can take any interest you might have and turn it into a full-time income online.
If you are interested?
Click here to read the review about it!
Hope that helps!
Hope you liked this short review about JamesBux and now you know what it is all about and if it is something for you or not. If you got experience with the program please share it with us, it can help others making the right decision about it. Also, if you got any questions about this review I will be more than happy to answer them below.
I wish you success!
Thank you for reading
John
Owner of: Start Make Stop Waste