This is a review on LeadsLeap. What is LeadsLeap? How does it work? What can you expect from using it? Is it for you or should you pass on this? This is just a few of many questions this short review will help you answer!
Name of the product: LeadsLeap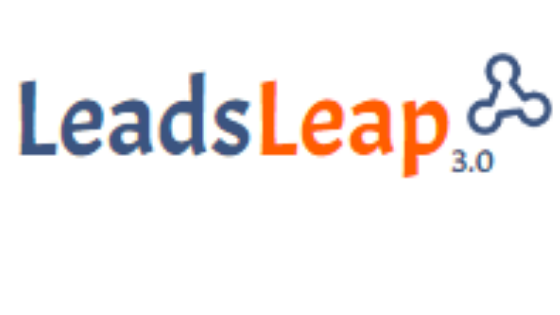 Website: www.leadsleap.com
Creator: LeadsLeap
Overall rating:
(4.7 / 5)
Recommended: Yes
Intro
What is LeadsLeap? Which of the features that it has can help you take your business to the next level? Today, we shall be addressing these two main questions in this review. This review will be of great importance in helping us all determine whether LeadsLeap is necessary, or it is simply one that we can do without. Let us dive into it without further ado.
–    What is LeadsLeap?
–    How does it work?
–    Is it genuine?
–    What are its pros and cons?
What is LeadsLeap? 
LeadsLeap is a platform that helps its users generate traffic or leads to their online content, as well as to build email lists effectively. Those who use LeadsLeap are usually presented with a variety of useful tools that help them to advertise their website and all their affiliate links, all for free. Regardless of whether you have a website or whether you usually advertise your business on other platforms, LeadsLeap can be valuable and beneficial to you.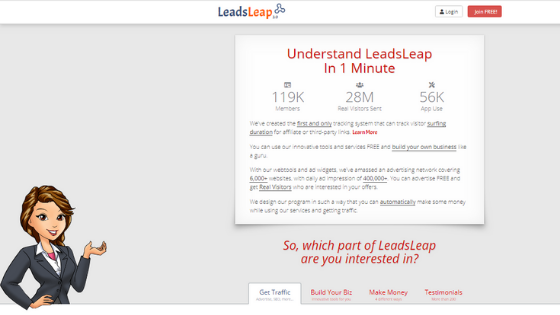 LeadsLeap has more than 119,000 members. All these members rely on LeadsLeap's tracking system that reveals the surfing duration and the activities of those visiting your site, for the affiliate and third party links. You can use the innovative tools and services presented to you to create an online business like you are an expert. With all the web tools and ad widgets, you can showcase your content in more than 6000 websites that have a daily ad impression of 400,000+. This means that you can advertise for free, and eventually get real visitors who can actually purchase your products.
LeadsLeap's programs are designed in such a way that you can earn some cash (automatically) while still using all the tools presented to you and as you get the traffic.
---
How does LeadsLeap work? 
As I have already highlighted, LeadsLeap enables you to make money as you rely on the tools offered to build your business, and generate traffic to your offers and content. All the activities that happen within this platform fall under three categories. These include:
1.    Getting Traffic
2.    Building Your Business
3.    Making Money
Getting Traffic
In case you are wondering how the creators of this platform make their income, then its good that you know that it is through traffic generation. They earn their money as they bring you the leads. This happens in 4 ways, as shown below:
1.    Advertising to LeadsLeap Members
Those people who have the LeadsLeap Widget on their website can earn credits by surfing the intended 3rd party and affiliate sites. The longer you surf, the more money you are likely to earn. This is not the regular traffic exchange program where one has to wait for 10-20 seconds while on an ad. Such a system leads to LeadsLeap members spending quality time surfing your ads ( and the 3rd party sites), which in turn leads to the creation of higher chances that these people will buy the products you are selling.
2.    Advertising to the rest of the world
LeadsLeap has a PPC Program that has an ad impression of 400K+ per day. Its ad widgets are shown on in more than 6000 blogs and websites, and it has more than 30,000 trackers in major traffic exchanges. If you are a business owner and you want your products advertised to the people who visit these websites and blogs, then LeadsLeap is the way to go.
3.    Search Engine Traffic
LeadsLeap has an SEO Social Review Directory, in which there are quality product reviews. This is a proven way to get traffic to your site and products. When you join LeadsLeap, you open up the possibility of getting real traffic through the product reviews you create on this platform.
4.    The multiplication of few leads in a couple of thousands
LeadsLeap has a 10-level network builder. If you, for instance, refer LeadsLeap to 10 people, and they all refer it to 10 people each, then you have a network of 100 people. This does not imply that LeadsLeap is an MLM. This program is free to join, and its affiliate program exists as a one-level affiliate program.
Building your business
This platform offers you several online business-building tools that give you an edge over your competitors. They include:
–    The real Tracker
This tracker enables you to track the time those visiting your site spend surfing the affiliate and 3rd party links. This way, you get to know whether your visitors are actually taking action and interacting with your offers. You can also insert an opt-in popup into all your links, even if you do not own the websites in which the ads will appear.
–    PopupXPert
With this tool, you can generate a variety of popups, including Lightbox, slideup, Onclick, Animated inline popups, Corner, and popup opt-in forms. These are responsive popups; hence, you can expect higher conversions.
–    List Manager
You can use the Autoresponder offered by LeadsLeap to build an email list, to send out mass mail, as well as to automatically send the welcome email with download links.
–    OTO List Builder
This tool comes with payment integration, an affiliate program, an autoresponder, and automatic newsletter mailer, a mass mailer and an OTO system.
Making Money
If you are only interested in making money, then this is that section you should have a look at. For starters, the money you make with LeadsLeap is not absurd and ridiculous, but it is consistent and recurring. How then do you make this money? In the following ways:
–    Participating in the LeadsLeap PPC Program (with or without a website) – This is where you get paid for sending traffic to advertisers' links. You can add an ad widget to your website, or you use the link tracker to track all the traffic you send to other platforms.
–    Becoming an active member – 10 ad clicks via the ad widgets on your site is enough to give you an income.
–    Converting the credits you earn into cash
–    Earning recurring affiliate commissions – LeadsLeap offers most of its services and tools for free, but there are several advanced features that are offered on the Pro Version. Every time a person you invited to this platform upgrades, you usually get 25-50% commissions that are paid on a monthly basis provided that person is still a member.
---
Is LeadsLeap a Scam or Legit and Genuine?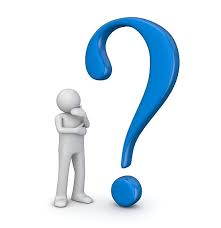 Yes. There are many testimonials and reviews that point to LeadsLeap being genuine.  This platform has been in existence for such a long time and would have been flagged or received negative reviews on consumer trust sites if it wasn´t legit.
Considering that the business model on which this platform operates is understandable and easy to comprehend, I would not have anything against LeadsLeap.
Leadsleap reviews and testimonials:
I joined this program years ago and forgot about it. I ran across an ad about it a month ago and thought I would check it out. To my surprise my log in came up. I then started to check it out and I seen just what a amazing site it is. I upgraded to pro on the spot. Not too many programs that I upgrade in. This site has so much going for it and I am glad to be back in it. Got to love the free tracker this site has….Five star all the way….

-Norman McDowell

I have been with LeadsLeap since May 5, 2008. I can only say wow Kenneth! I am really impressed with all the awesome changes you have made here. Its so much more user-friendly. Folks this is truly the best place to advertise and earn.

I love this new incredible Tracker. Finally I can see where I get the best Traffic and Signups from.

Thank you Kenneth for all that you do for us here, this is so exciting.

Monika Tuttle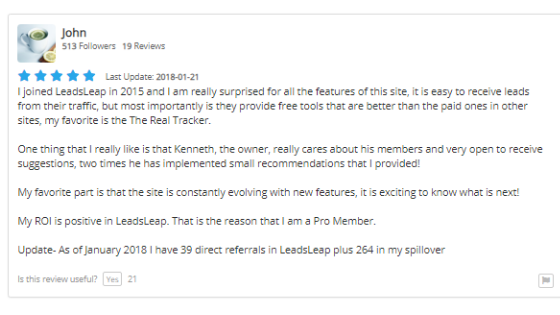 **You can read all reviews on their services on this page
---
Pros and Cons
It is always recommended, and a wise thing, to compare the positive sides against the negative ones to get a better overall view of something, right? As always in our reviews we provide you with some clear points on both sides of the spectrum:
Pros
It is free
Multiple Income streams are offered
Many tools to help you build an online business
It also has a Pro version that has more advanced features.
Has a widget that you can add to your website
Cons
Some people may perceive it as an MLM ( you can explain to them why it is not)
---
Are you an owner or representative of LeadsLeap?
If you are a representative, or associate of LeadsLeap and have found something not to be correct in this review please, feel free to tell and I will make sure to update the info on this post. The easiest way to do it is in the comment section below or by simply sending us an e-mail.
---
Final words and verdict
Verdict: Recommended!
Overall rating:
(4.7 / 5)
Ok, that sums up the overall view of LeadsLeap preety good, right? It is a legit opportunity for sure, and not only that but also a very interesting one. As always it is up to you if you join it or not, however, I would recommend getting a free account at least and from there explore what this can do for you, you might find great vale from it: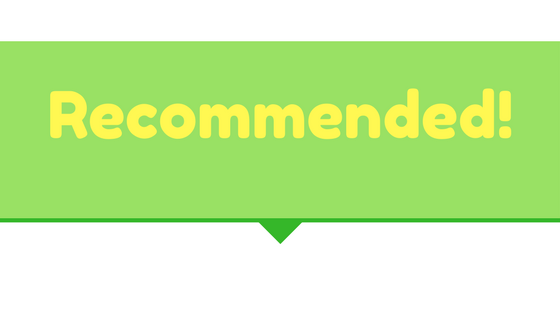 ---
I hope you found this short review of LeadsLeap to be helpful and that you now have a better understanding on what it is and if it might be something for you. If you have used any of their services yourself then please share your own experience in the comment section below as it can help others! Also, if you got any questions about this review I would be more than happy to answer them below!
Much success to you!
John,
Founder of Start Make Stop Waste