What is luno.com? How reliable is it? Is it one that you can look forward to using or not? This is exactly what we shall be trying to unearth in today's review. Here are some of the main elements of Luno that will form the fodder for our discussion: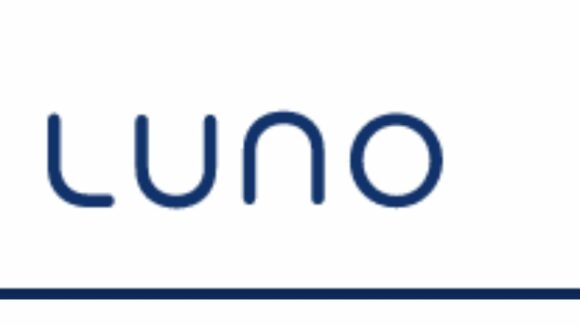 What is Luno.com?
Which services are offered by Luno?
What can you expect from the trading platform offered by Luno?
What is the Luno instant buy/ sell service – The brokerage service?
What can you expect from the Luno Mobile Wallet?
What is Luno for business?
Which are the currencies and payment methods that are supported on Luno?
Are there any definite fees that you should expect to be charged when using this platform?
Is Luno a genuine platform or is it a Scam?
Pros and cons
---
Name of the platform: Luno
Official Website URL: https://www.luno.com/en/
Overall rating:
(2.8 / 5)
Recommended: Not highly recommended
–You can, however, have a look at the following platform to see if it meets your needs–
==> Sign up and request for a crypto ATM card of your choice<==
---
What is Luno.com?
Luno is a crypto exchange that is mainly aimed at enabling those living in developing countries to exchange their coins. Nations such as Indonesia, Malaysia, and Zambia are some good examples of such countries.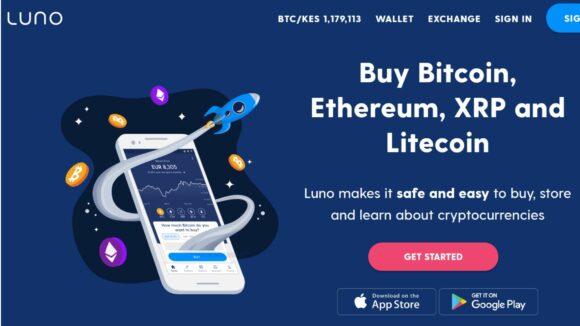 Luno was launched in 2013 as BitX, but was then rebranded to Luno after 3 years (2016). The company has succeeded in building 3 global offices to support its regional operations in the emerging markets. The offices are located in:
London
Cape Town
Singapore
The company currently serves more than 3 million users who are all distributed across 40 nations. Their needs and issues are attended to by more than 100 employees. The company's main operations are run from the UK, from where more than $13million has been raised from major investors, including Ventura Capital.
Which services are offered by Luno?
Luno offers a variety of services to its users, including:
Cryptocurrency trading
Brokerage services
Bitcoin wallet
API – mainly for the developers
You can access most of the accounts' features through the simple dashboard that lets you gain access to the instant buy/sell services or even the account reports.
What can you expect from the trading platform offered by Luno?
Luno has its own Bitcoin to fiat trading platform that customers can use. It offers them the main and necessary trading features such as:
Charting
API access – allows/ supports automated trading
Several indicators
Depth reporting
In my estimation, Luno's trading volume is still very small, in comparison to other well-developed platforms. This could mainly be as a result of the fact that the other platforms focus on the already developed markets which have more well-educated and knowledgeable customers.
What is the Luno instant buy/ sell service – The brokerage service?
As is the case with many other crypto exchanges in the world, Luno offers its customers a simple way to purchase or even sell BTC and ETH without having to rely on the complicated trading platform.
Luno offers a simplified buying process by selling customers the coins directly, then charging premium fees for access to the cryptos. It is hard to determine how much money they charge for the use of this type of transaction.
On the overall, the fees usually vary from one country to the next, and from one customer to the next one (based on the purchase amount), hence every transaction is bound to end up having different fees.
What can you expect from the Luno Mobile Wallet?
This platform also has its custodial Bitcoin wallet that the Ios and Android Users can pair up with their Luno accounts. The apps are meant to give customers greater flexibility to access their Luno accounts. You, however, do not control the Bitcoins using the mobile wallet, since they are all under Luno's control. Users do not have access to the private keys.  Quite a limited app in my opinion!
What is Luno for business?
This is a service that lets users to securely transact, trade, and store cryptos for their firms. It is aimed at making work easier for the trading companies, large scale miners, as well as startups which want to support the sending and receiving of cryptos with ease.
Which are the currencies and payment methods that are supported on Luno?
Luno supports the purchase and sale of cryptos which include the following:
Bitcoin
Ethereum
Ripple
Bitcoin Cash
Litecoin
Luno also accepts the fiat currencies listed below:
British pound – GBP
Ugandan Shilling – UGX
Euro- EUR
Indonesian Rupiah – IDR
Malaysian Ringgit – MYR
Polish Zloty – PLN
Zambian Kwacha – ZMW
Nigerian Naira – NGN
South African Rand – ZAR
If you are out to purchase cryptos on this platform, you can do so by paying for them using the following payment channels: Flutterwave (NGN), iDeal (EUR), Sofort ( EUR), EFT (ZAR), Cash deposit penalty ( ZAR), Debit/ Credit Card ( EUR), SEPA ( EUR), Paystack ( NGN), Card deposit ( NGN), Interbank Giro ( MYR), Bank Transfer ( IDR & NGN).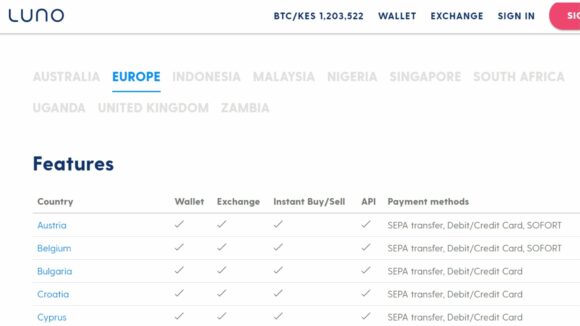 The one to note at this point is that the different payment channels have different fees for this kind of transaction, thus you should be sure to look at how much fees the channel of your choice charges before going ahead to make the deposit.
The most interesting thing though is that when you use your credit/ debit card to deposit Euros, you will not be charged any fees. The other platform will charge something close to 5%.
Are there any definite fees that you should expect to be charged when using this platform?
The main fees that you can expect to be charged when using Luno include:
Deposit fees
Transaction fees
Withdrawal fees
Sending & receiving fees to other crypto addresses.
The transaction fees are mainly those based on the taker maker fee schedule. Fortunately enough, makers do not incur any costs, but the takers can end up parting with 0.25% to 1%, depending on the currency that one is trading.
Different fees are charged for the "instant buy/sell" feature, depending on the amount one is purchasing or selling, and the country one is located in.
---
Is Luno a genuine platform or is it a

Scam

?
In my own opinion, Luno is a genuine platform. Those living in the following European Nations can access them: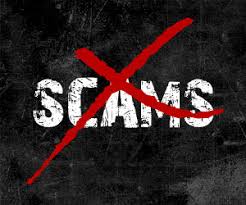 Austria, Isle of Man, Italy, Jersey, Portugal, Romania, San Marino, Czechia, Denmark, Estonia, France, Greece, Guernsey, Hungary, Iceland, Ireland, Latvia, Liechtenstein, Lithuania, Luxembourg, Malta, Monaco, Netherlands, Norway, Poland, Slovakia, Slovenia, Spain, Sweden, Switzerland, United Kingdom Belgium, Bulgaria, Croatia, Cyprus.
Those living in Indonesia, Zambia, Malaysia, Nigeria, and South Africa, can also access this platform.
What do the customers in these nations think about Luno? So far, the reviews presented on a platform such as Trustpilot, mostly point to the services being quite poor. Most of the customers have raised concerns about being locked out of their accounts or even not receiving their funds in a good time. Luno's support staff, however, seem to be keen to respond to some of the critical customer reviews.
On the overall, I would not be very excited about recommending Luno to anyone, since anyone can run into the same problems that other customers have raised.
You can, however, give this platform a try and see if it works for you. I've used it personally, and I know that it is efficient (in my own opinion).
==> Recommended Alternative To Luno.com<==
---
Pros and cons
Pros
The interface is easy to use
It is supported in developing nations
Recognized in many nations
Cons
Has a custodial wallet
Confusing fees structure
---
Final words and Verdict
Verdict: Legit ( Not highly Recommended)
Overall Rating :
(2.8 / 5)
Luno is a legit platform that is out to many help those in developing nations to exchange cryptos easily. The platform's features are out to make the exchange process very simple and manageable. Were it not for the fact that it has poor consumer ratings, i'd have recommended it right away.


 For now, you can have a look at my number one recommended alternative to Luno
---
That's all for my review about what luno.com is about. I hope you gained enough knowledge to determine whether it is one that is good enough for you or not. If you are not satisfied with it then you can look at what my recommended alternative has to offer. If you also have any questions to ask, then you can drop them in the comments section- I will respond as soon as I can.
Your Friend,
Eric, Investor and blogger at $tart Make $top Waste!