What is onlinenetjobs.com? is it a legit oppurtunity or is it just another online scam? You will have the answer in about 1 second… So what is it? It is a SCAM!  
Ok here we go with another review, this time onlinenetjobs.com is up for a closer look.
(at the bottom of this page I will also show you a video on how making money online really works)
Here is the onlinenetjobs.com review:
Product: OnlineNetJobs.com
Website: onlinenetjobs.com
Owner: Michelle McAllister (probably a fake name)
Price: $27
Who is it for: "McAllister" says for everyone, but in reality it is only for herself so "she" can make money on uneducated people who cannot see through this scam.
So what is onlinenetjobs.com all about?
I first came in contact with this OnlineNetJobs on youtube, it is mass promoted there and I have also seen it on a swedish soccersite. I see it everywhere online to be honest. I guess it is a popular marketing method people use to get traffic to their products without having to do any real marketing.
Well the creator of the onlinenetjobs.com product claims that she has the best strategy to make you email inbox FULL of the highest paid surveys in the world. She holds this "secret" but she will give it to you, if you pay her only $27.
I wounder how much money she will make by fooling people into this, $27 may not sound much but belive me my friend it will turn into millions when she have "lured in" thousands of people to buying into this scam.
You can do exactly the same, but you do not have to lie to people I will tell you how in the bottom of this page if you continue to reading.
Why you should NOT try this:
Do not fall for this bullshit offer, do not throw away your money (and time) on this! This kind of offers that claims you will make a lot of money without almost no effort at all, they are always scams.
You will not make the amounts of money that the fake testimonials in the promo video is telling you. The only persons who will be making money is the ones trying to sell this "oppurtunity" to you.
This photo to the right is supposed to be Michelle McAllister, but you should know that this photo is available for purchase at so called microstock sites. So the person on the photos name is probably something else than Michelle. 
Listen to this: I found something really intresting when I was investigating another online scam site. The same picture and the same name "Michelle McAllister" is used as the "owner" of another scam called Paid Survey Authority.
Do you trust a person who is dishonest about their identity?
The OnlineNetJobs landing homepage is full of fake testimonials and fake photos of people with fake paychecks. If you want someone to record a fake testemonial for you those people are easy to find on sites such as: Fiverr.com, Elance.com or oDesk.com etc.
Once you have signed up for a scam like this your e-mail will be listed by the "scammers" and they will continue to send you scam offers!
If you want to make money from taking surveys online there is much better alternatives (and also $0 FREE to sign up) out there.
But you will not make a full-time income from online surveys. You can only make a little extra pocket money. But if you think it is fun to take surveys and answering questions go ahead and do it.
Final words and verdict:
Overall Rating: 1/10

I think I have made my point clear on what this onlinenetjobs is all about. If you want to make "someone" rich by trying this scam then go ahead.
If you want to help stoping this type of nonsense, you can take a look at some of my recommended products instead and you can start building a legitimate online business. But, you have to know that you are going to have to put time on it before you see any money coming in your way.
There are totally free trials, as well as real owners that will help you with everything along the way. There is only a few products that I recommend, but you need to stop jumping from program to program. Any one of these programs will make you money, as long as you stick to the training and follow everything that you are being taught.
Update 10December!! There is a new VERY intresting Program called PaidSocial! It is FREE to join and you will get paid for very SIMPLE tasks. Click HERE to check out the review about it!
Interested in making a full time income online?
I want to say that you have made a very smart choice reading this review! Sometimes we know deep inside that things that sounds to good to be true also is to good to be true, and sometimes we just need some confirmation that it is like we was thinking.
If you want to make a full time income online you should know that you can but not from taking surveys.
Click the VIDEO below for a short (easy to understand) explanation on how making money online REALLY works: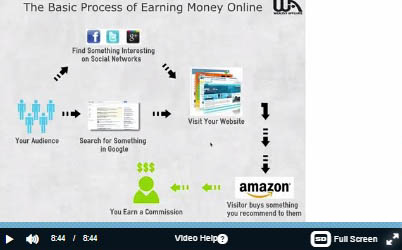 There is many ways to make money online and probably the most popular is as an affiliate marketer. It is the exact same method that have made me (and many more) able to quit my "normal" 9-5 job and it has also made MANY internet millionaires. You do NOT need to have any former experience at all, everyone can learn this.
It took about 6 months before I was able to quit my 9-5 and I have never regret that decision!
It works like this in short: You sell products that people are already buying on sites like Aliexpress.com or Amazon.com for example. It is absolutely legit and you don´t have to lie to anyone about your products, because it is what they are looking for in the first place. When someone buy something from Amazon you will get a commission from the product/products people buy after clicking on your link.
This way you can make A LOT of money, but it will take some time and work before you are able to make a lot of money like this.
Learn all about this (for FREE) and other (REAL) ways of making money online at Wealthy Affiliate.
I hope you found this review of OnlineNetJobs.com to be useful for you and hopefully you do not need to jump around from program to program, trying to make money online. Stay away from scams like OnlineNetJobs and you should be good to go. What more is it to say?
Yes one more thing :o)
If you have made some serious money from taking surveys online please tell us in the comment section below! I would love to hear about that :o) Also if you have any question or something else on your mind feel free to leave a comment of course :o)
To your success, cheers!
sincerely
John
Founder of: Start Make Stop Waste