Today we shall be answering the question, " What is Overbit?'. By answering this question, we shall have established whether it is one that can benefit you in any way or not, more so with helping you make some extra income in a legal way. Here are some of the elements about Overbit that we shall be looking at in-depth:
What is Overbit?
The services offered by Overbit
How does one deposit and withdraw funds on Overbit?
The fees charged on Overbit
Is Overbit Genuine or not?
Pros and Cons?
---
Name of the platform: Overbit
Official Website URL:https://www.overbit.com/en/
Overall rating:
(4 / 5)
Recommended: Yes
---
What is Overbit about?
Overbit is one of the most popular Bitcoin derivative trading platforms in the face of the earth. Overbit presents an innovative trading platform that allows cross-market trading. On this leveraged platform, Bitcoin is the underlying asset.
On this platform, traders that the chance to trade several other instruments in addition to cryptos, including forex and precious metals, using Bitcoin.  Overbit allows you to make deposits and withdrawals in the form of BTC and USDT.
Overbit has stipulated its mission as the maximization of opportunities that exist within the crypto industry. A brand new trading experience is offered, not only within the altcoin space but also the forex and precious metal instruments. On this platform, the main goal is to give traders a professional trading platform that helps them get into deals in not only a seamless but also a flawless way.
The Overbit website is run by a firm known as Abberton Trading Limited which is registered in Seychelles. The company's founders are Chieh Liu and Nathan Taku. Chieh Liu is the CEO, and Nathan Taku is the COO.
The services offered by Overbit
Overbit seeks to fill a gap in the market by providing forex trading opportunities to those who would like to use crypto deposits. Beyond relying on crypto assets, this platform also offers traders leverage of up to 100x, depending on the underlying instrument.
If you want to see if this platform is one that can work for you, then you can start with the Demo account and gradually get the hang of the trading activities.
The contracts on this platform work in a similar to CFDs ( Contracts for Difference) contracts that follow the same price movements as the underlying assets. This means that you can go either long or short, even in the large amount deals regardless of the amount of Bitcoin you had originally. You can do this not only with cryptocurrency assets but with USD and precious metals as well. All you have to do is to ensure that you have sufficient funds in the Overbit account to cater for the applicable margin.
Beyond the USD currency, traders can also trade against JPY, with their Bitcoin. The 8 altcoin contracts offered by Overbit are: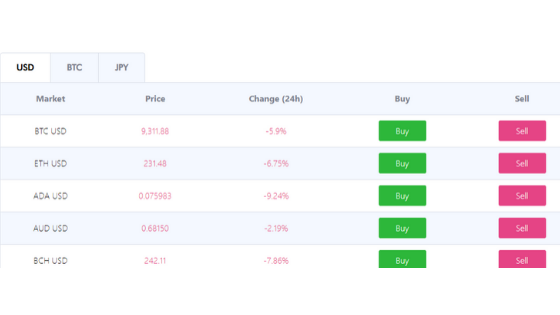 ETH
XRP
LTC
EOS
BCH
ADA
NEO
On this platform, Bitcoin is referenced as XBT. Every time you want to trade using your Bitcoin, therefore, you should look for XBT.
This platform also offers perpetual contracts, that are offered for the altcoins trading pairs against XBT. These do not have an expiry date. There is, however, a funding rate that is applicable for all the positions that are not closed on an intraday basis.
How does one deposit and withdraw funds on Overbit?
When you want to sign up on Overbit, you are required to submit details that include your first name, last name, email, password, and country. Upon verifying your email, you can then log in to the platform. A unique deposit address is then generated so that you can effectively deposit Bitcoins.
Currently, Bitcoin and USDT are the only deposit options that are allowed on this platform. The Overbit system usually waits for the first confirmation to appear on the blockchain, so that they can debit the balance to your account right away.
As much as you can sign up, deposit funds, and even start trading with your email address when it comes to the withdrawal of funds, you will have to pass the KYC requirements. To verify the account  you are required to provide:
Phone number
Date of birth
Address
Photo ID – in the form of a driver's license or passport
Proof of address ( utility bills that are not more than 3 months old)
You should see to it that you pass the verification before you can even accumulate a lot of money through the trading activities.
Upon verifying your account using the documents presented above, you have the liberty to withdraw the money you have accumulated. You can withdrawal in Bitcoin as well as USDT. There is no minimum withdrawal amount that you can set.
The fees charged on Overbit
No fees are charged to deposit on your Overbit account. The platform does not also charge fees on withdrawals except a network fee. The network fee is currently set at 0.002 XBT.
Overbit does not usually charge trading fees on trading positions. They are usually compensated for through the market spreads (the difference between buying and sell prices of the assets). The average market spread for XBT  and for other cryptocurrency instruments usually falls close to 0.6%. The average market spread for forex trades is 1-2 pip, whereas that of gold is 0.1%.
The spread is not fixed, so you should expect changes from time to time, more so during the volatile periods, in a bid to account for the minimum slippage when a trade is executed.
Is Overbit Genuine or not?
Overbit is a 100% genuine platform that is nicely designed to allow you to trade with high leverage, using Bitcoin. As much as the platform is not 100% anonymous, you can begin trading a few minutes after a successful signup. You can use the platform to not only trade in Bitcoin but to also trade forex and gold, with the Bitcoin deposits. No trading fee is usually applied to the trading positions since they are usually compensated by the market spreads.
On the overall, Overbit is a promising platform that has an effective reward system. It, however, does not have an online presence and reviews, but this is largely due to the fact that it is still new. The best thing, however, is that there are also no negative reviews about it, and that it has not been painted in bad light on other review sites.
Note that those living in the following nations cannot access this platform to trade:
Cuba
Iran
North Korea
Syria
USA
---
Pros and cons
Pros
No trading fees
Offers forex and gold trades too
No deposit fees (apart from minor network fees)
Cons
Low online presence
People in certain nations cannot access the platform.
---
That is all for today's review about what Overbit is. If you have some questions or remarks that you would like to put forward, feel free to leave them in the comments section. That will be all for today, my friends!
I wish you the best!
Eric.