What is pepperstone.com? How does it compare to its competitors in the market? Is it one that you can actually rely on or not? We are about to find out about that in today's comprehensive review that aimed at helping you identify to determine the viability of this company as a top choice for the products and services that it offers. Here are the main elements of the review:
What is pepperstone.com?
The platforms and tools that Pepperstone offers
Which is the best option to use, cTrader or MT4?
Account types you can choose from
How does one open a Pepperstone account?
How does one deposit and withdraw funds?
Is Pepperstone genuine or not?
Pros and Cons
---
Name: pepperstone.com
Official Website URL: https://pepperstone.com/en-af/
Overall Rating:
(4 / 5)
Recommended: Yes
Here is an alternative that you can rely on if you want to trade in cryptos
---
What is pepperstone.com?
Pepperstone exists as an Australian forex broker that is also popular for offering a variety of CFDs. It was established back in 2010. Five years later, Pepperstone opened an office in London to enable it to serve the European client in a better way. Brexit, however, affected the operations of this company in this region in a number of ways. All new European customers registering from the EU bloc, for instance, have to rely on the German and Cyprus arms.
Pepperstone is considered a safe alternative to many competitors in the market, owing to the fact that it is regulated by three strict financial authorities, namely:
Financial Conduct Authority –the UK
BaFin-Germany
Australian Securities and Investments Commission –Australia
---
The platforms and tools that Pepperstone offers
While Pepperstone does not have a proprietary platform, it delivers to its clients some of the most common third-party platforms that any trader would like to access, as explained below:
Platforms
Peppperstone lets its customers access MetaTrader and cTrader suites, such as:
MT4 (desktop &web)
MT5(desktop &web)
CTrader (desktop &web)
CAlgo
Customers can use any of their accounts with the above-listed platforms.
Copy-trading
Copy-trading has become quite popular in this industry. Pepperstone makes sure that its customers are not left behind by offering them the following platforms:
MirrorTrader
RoboX
MyFxbook
CTrader
DupliTrade (a minimum balance of $5000 is required for this platform)
---
Which is the best option to use, cTrader or MT4?
Pepperstone offers you both platforms, but you have to settle on one to achieve your trading objectives. While these two platforms support algorithmic trading, cTrader's web platform happens to come with a major advantage in that it offers a wide range of trading tools in comparison to the MT4 web platform.
Meanwhile, MetaTrader's desktop version has its algorithmic trading module. CTrader users, however, should have the cAlgo platform that should run in parallel.
---
Account types you can choose from
There are two account types that are offered by Pepperstone.com, namely: Standard and Razor.
Razor account
A Razor account can be used with MetaTrader platforms or cTrader platforms. This account has a commission-based pricing structure. You will therefore have to bear with commission fees, alongside prevailing spreads. As of August 2020, this account had an average spread of 0.16 pips (EUR/USD).
Standard account
Pepperstone's standard account is commission-free, but it also has higher spreads. It for instance had an average spread of 1.16 pips (EUR/USD) as of August 2020.
---
How does one open a Pepperstone account?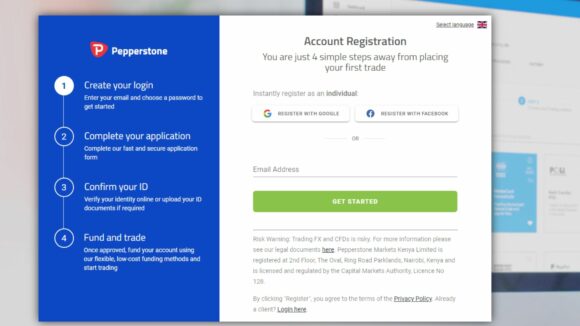 The account opening process is quite straightforward and fully digital. The process takes about 10-15 minutes. According to Pepperstone, the account approval can take anything between 1-3 days, but most accounts are usually approved in a single day.
To open your Pepperstone account, you should follow the steps highlighted below:
Register your active email and provide a strong password; confirm your email address; go to the Secure Client Area
Enter your personal details, then set the base currency for your account
Complete the trading expertise survey
Finally, upload a copy of your passport/ID as well as a utility bill or any other available proof of address.
If any problem occurs during this process, you can request help through email or live chat. The good news is that you can send the customer support team copies of your ID/passport for them to upload for you so that your account can be approved in the shortest time possible.
---
How does one deposit and withdraw funds?
Pepperstone provides its customers with many deposit and withdrawal options, as well as a reasonably wide selection of base currencies for either type of account. There are, however, high fees for bank withdrawals for customers living outside the EU and Australia.
Pepperstone allows you to choose from any of the following base currencies:
AUD
GBP
CHF
USD
SGD
EUR
NZD
JPY
HKD
Why does the base currency matter anyway?  For two main reasons, if you fund the account in the same currency as that in your bank account, you will not have to worry about paying conversion fees.
A good way to save on currency fees as a trader is by opening your multi-currency bank account at any reliable digital bank. This can give you the opportunity to take advantage of great exchange rates.
The deposit options offered by Pepperstone include:
Bank transfer
Credit/ debit cards
E-wallets such as Neteller, skrill and poll transfer, and PayPal
Note
There are no deposit charges
You can only deposit using certain methods in your region. Please confirm that your preferred method can be used in your region before opening your account.
The withdrawal options offered by Pepperstone are:
Bank transfer
Credit/debit cards
Electronic wallets
Note
There are no withdrawal fees when using a credit/debit card, and some electronic wallets
Skrill and Neteller withdrawals cost $1
Bank transfer withdrawals in the EU and Australia regions are free
Clients in other countries have to part with $20 for their withdrawals
It takes an average of 2 business days for the withdrawal process to be complete.
---
Is Pepperstone genuine or Is It A

Scam

?
In my opinion, Pepperstone is a genuine platform that has been around trying to accomplish what it has promised its customers. Customers can open any Pepperstone account to trade in forex and CFDs.
What have those who have used this platform said about it? Overall, this platform is quite decent and it has managed to satisfy most customers over the years. On a platform such as Trustpilot, it has an average rating of (4.2/5) stars, from the feedback given by more than 750 customers. Note that you can only trade in cryptos as CFDs on this platform. If you are looking for an account to start trading cryptos with, you can rely on my recommended alternative below:
Crypto trading platform (suitable for beginners, intermediary traders, and experts)
---
Pros and Cons
Pros
Regulated
Low spreads
MT4, MT5, and cTrader suites
No deposit fees
No withdrawal fees for EU and Australia clients
Cons
Can only trade cryptos as CFDs
High withdrawal fees for those outside EU and Australia regions
---
Final Words and Verdict
Verdict: Legit 
Overall Rating :
(4 / 5)
I think pepperstone.com is a platform that is doing a going job as far as enabling investors to trade in currencies and CFDs is concerned. The positive customer feedback and ratings are proof that pepperstone.com is one that you can rely on if you want to make money as a trader. That said, the platform does not serve the needs of crypto traders adequately. Those who are interested in crypto trading, have to switch to other alternatives such as the one recommended below:


---
That's all for this review on what pepperstone.com is all about. I hope that you enjoyed it and that you are well-informed about what it offers, as well as whether it is one that can help you make money as a trader in the country you are currently living in. Let me know what your thoughts are on this platform.
Your friend,
Eric, Investor, and Blogger at Start Make Stop Waste!