Today we review Post Gram for you. What is Post Gram? a Scam or a Legit service? Are there better alternatives out there for you? This is just a few of the questions this short review help you answer!
Name of the program: Post Gram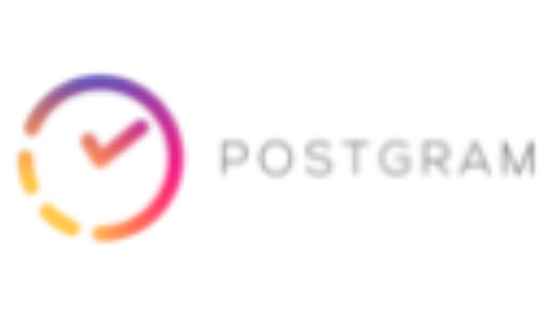 Official Website URL: https://www.postgram.co/
Owner: Postgram
Overall rating:
(3 / 5)
Recommended? : Not recommended (Seek consumer reviews before deciding to settle on it)
P.S.
See my #1 Recommended Instagram Money Making Advice
Intro
Have you come across Postgram yet? How much do you know about it? In this article, I shall be reviewing Postgram, in an attempt to make you have a general idea of what it is about and the benefits you can get from relying on it. I shall also bring to light any underlying drawbacks, just to ensure that I equip you with sufficient knowledge to help you make a wise decision as to whether you will set up and begin using a Postgram account or not.
What is Post Gram?
Postgram is an automation program that makes it easier for you to manage one or multiple Instagram accounts. The creators of this program had the "time saving" aspect in mind when they developed it. That is the main reason every process and activity on Postgram is all about automation. If you have thought about publishing your content automatically, then this is the right tool to rely on. The content can range from one photo only to several photos.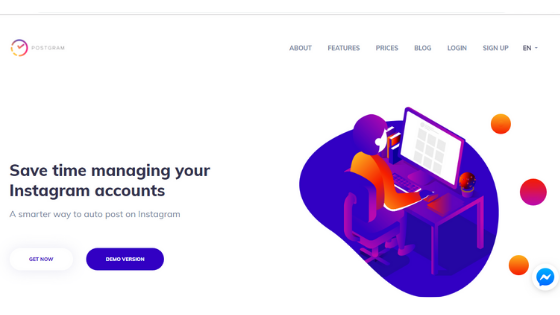 Postgram is created in such a way that its users can post to all their Instagram accounts quite easily. The 'schedule publications" feature enables you to schedule future publications and to have them posted for you automatically. As you can see, Postgram is all about the automation of the content publishing processes.
How it works
If you are a new client to Postgram, you are required to follow a few steps for you to commence reaping its benefits. The main objective is usually to have access to a Postgram dashboard through which you can manage your content publishing processes for one or several accounts. The steps you should follow are as follows:
1. Create a free Postgram account. You can simply sign up using Facebook or through your email account.
2. You will be redirected to your Postgram account, on which you are required to add one or several Instagram accounts.
3. You can begin using all the features on the dashboard, including adding photo and video posts, adding to your photo and video history, and adding an album. You can also begin scheduling posts to be published at a later date.
4. You can finally update your free account to a better plan with more features.
Features in the packages offered on Postgram
Postgram offers its users a number of benefits through its unique features. The general features that users access by creating a Postgram account are:
– Unique design dashboard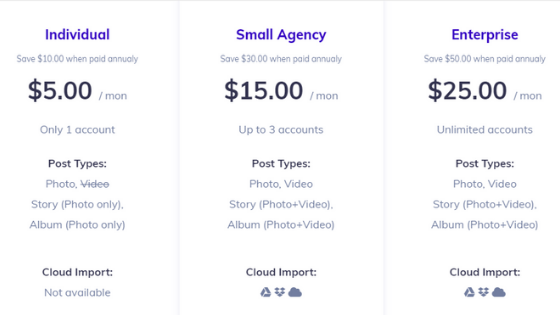 – Password security.
– Ability to publish content to several accounts.
– Responsive mobile.
– Autopost capabilities.
– Different payment forms.
– The capability to schedule publications.
– Compatibility with Emoji
These features are then bundled up into three packages as follows:
1. Individual
-Priced at $5 per month
-Save $10 when you pay annually.
-You can only manage 1 account at a time.
-You can only publish photos to your history and album
-No cloud import
-250 MB storage
2. Small Agency
-Most popular package.
-Priced at $15 per month
-Save $30 when you pay annually
-You can manage up to 3 accounts.
-You can publish both photos and videos.
-You can do cloud imports to your Google Drive, Dropbox, and OneDrive
-Spintax support
-500 MB storage
3. Enterprise
-Priced at $25 per month -Save $50 when you pay annually.
-You can manage an unlimited number of accounts on this platform.
-You can publish both videos and photos.
-Cloud imports to Google Drive, Dropbox and OneDrive are possible.
-Spintax support
-1GB storage.
Is it a scam or is it legit?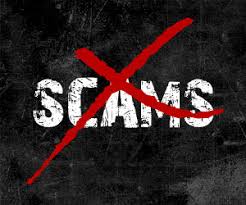 There are barely any reviews of Postgram offered on online consumer trust sites, thus it is not possible to determine what different customers are experiencing when using this program. The only reviews available are those given on Postgram's official Facebook page. The average ratings given so far are (4.5/5) stars (https://web.facebook.com/PostGramWebsite/reviews/).
Whereas the lack of reviews does not necessarily point to a platform not being genuine, more often than not the new customers will shy away from relying on anything that does not have customer reviews. It is therefore difficult to determine if Postgram is genuine or not, thus they should seek to have reviews about them done for people to establish if they can be trusted.
Income generating opportunities?
There are no income-generating opportunities offered on Postgram. Unlike other platforms on which you can get paid for the activities you do, you can never expect to have not even a single dime sent to you by or through Postgram. The only thing you should expect is to save your time by having your photo and video publishing process done automatically and to schedule your posts to be published at a later date.
Pros and Cons
It is always a good thing to compare the positive sides against the negative ones before making any buying decisions. As always in our reviews we provide you with some clear points on both sides of the spectrum:
Pros
-You can manage to publish on several Instagram accounts from one Postgram platform.
-You can schedule tasks.
-Several packages are offered.
-Fairly-priced packages.
-Cloud imports are possible in two of the three packages offered.
Cons
-Lacks reviews on online consumer sites.
-No direct contacts are provided.
---
Alternative to Postgram
There are many similar services and tools out there, some bad and some good, some paid and some are even free, and I know about a couple of free ones you absolutely want to try and use before you start with paid services, as you might get just as good (or better) results than with a paid tool.
Do

NOT

buy a service like this before you know how to REALLY Max Monetize your Instagram audience
The absolute #1 recommendation I can give you is that you, first of all, learn how to run an online business and create a recurring income from using Instagram, or any other social media online.
==> Learn more on how (and what) to sell on Instagram on this page
---
Do you own or represent Post Gram?
If you are a representative, or associate of Post Gram and have found something not to be correct in this review please, feel free to tell and I will make sure to update the info on this post. The easiest way to do it is in the comment section below or by simply sending us an e-mail.
---
Final words and verdict
Verdict: Not recommended
Overall rating:
(3 / 5)
Ok, I think that sums up the overall view of Post Gram pretty good. It is a legit tool, absolutely, however, if it is the best one out there for you and your particular needs is another story. You have to decide that yourself, Personally, I wouldn´t use or recommend it…
I would recommend that you look at different options and compare them to see what tool you will get the most value from.
You made a wise decision to read this review and you are a smart person so I am absolutely sure that you will find the right tool that suits your particular needs the most and that you also feel safe using!
Better alternatives? (my #1 recommendation)
There are many similar tools out there for you to choose from, some are better than others without a doubt, and more importantly safer than others to use, because the last thing you want is to get banned from Insta or having your account shut down, right?
The absolute best thing I can recommend is, first of all, to learn how you sell on Instagram because when you know that you won´t need as many followers as you might think, in fact, you can make money only with a few followers if you know what to do. Once you have an online business setup, Instagram will work A LOT better for you.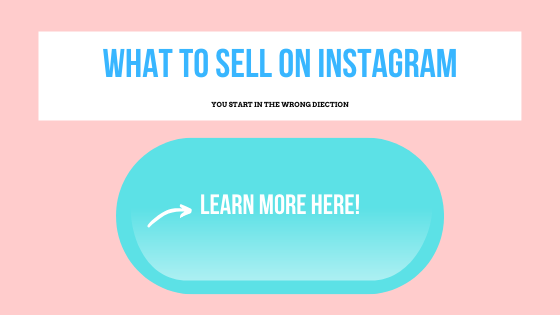 ---
I hope you found this review of Post Gram to be helpful and that you now have a better understanding of what it is and if it is something for you or not. Please, if you have used any of its services then share your experience in the comment section below! Also, if you got any questions about this I will be more than happy to answer them below!
I wish you success!
John,
founder of: Start Make Stop Waste