Stumbled across something named Project BreakThrough lately? What is Project BreakThrough? A scam or a legit opportunity? A pyramid scheme? For beginners or experienced people in the subject of making money online? These are some of the questions you will get answers to in this short review. Ok, Here we go!

Product: Project Break Through
Website: www.projectbreakthrough.com
Owner: Vick Strizheus (Founder) Jason Mcclain (CEO/Partner)
Price: FREE to start but the "upgrade" version costs $297 a month + upsells of thousands of dollars!
Who is it for: People who want to make money online fast
What is Project BreakThrough about?
Project BreakThrough is a video course education that has been launched recently, it is a 14 days "fast course" in a subject that is considered (by most proffesionals in the business) NOT being a fast process that you (as a newbie) can do in only 2 weeks. The subject I am talking about is to make money online in the form of Internet marketing.
The Project BreakThrough is a video course with the hosts Vick and Jason, they both are very successful marketers with a lot of experience.
They basically claim that if you follow this 14 day course then you can expect to:
Earn a commission online.
Understand how the process works so you can do it again.
Scale and multiply this process so you can be super successful and make up to $20,000 – $100,000 and more per month
Wow that is some very bold claims!
But, they also say that no earnings at all are guaranteed. In the same time, they keep saying that if you just follow the instructions this 14 days it will be impossible to not make a commission.
Who Are Vick And Jason? 
The founder Vick and his partner are two super marketers that got a lot of experience in the online world. Vick, by the way, has been deeply involved in Empower Network. If you haven´t hear of Empower Network before you should know that it is an MLM (pyramid scheme) business… That is not a good sign. I come to that later.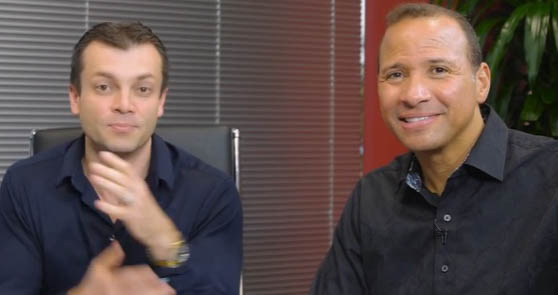 These 2 guys seem to be very nice guys and that is of course, important to a marketer, especially if the marketing going to take place in a sales video.
Worth to mention: The fact that someone have made crazy money online (or offline) don´t mean they aren´t a scammer. Someone who seems nice can of course, also be a scammer 🙂 I am not saying that this is a scam to a hundred percent but I just wanted to point those two things out:)
By the way, did you know that "Vick" used to go by another name and that he was sentenced to prison for insurance theft?
https://www.youtube.com/watch?v=6ZHRlAscJ6Q
He has also performed similar "opportunity" programs before…
https://www.youtube.com/watch?v=krwPUpYC7Vc
You can clearly see the white rental tag on the car keys. His house? Nope, if you want to hire it you can do that by clicking here.
Do I need to say more?
How This Kind Of Scam Works?
How do these characters perform their scams? Well, first they get you interested with some VERY bold claims. Like telling you that it is free for example, telling you that you will get rich, etc. But in the end, you have to pay some monthly membership fee or something of that nature… Then you will find out that the info you get provided with is not complete, you have to buy another thing (upsell), and so on.
THEN comes the problems with the program, you will get "excuse" emails why the system is not really complete yet. After some more time, the scheme is closed and the owner and his partners move on to the next project.
They will give you products to sell, you might even make a commission or two, but then they swap their affiliate ID with yours from time to time and simply just steal your commissions.
The traffic you will generate to the (scam) program (Project BreakThrough) builds THEIR traffic and makes it possible for them to sell to more people online. They will also on a regular basis take the lead emails you have collected and keeps them by themselves.
I cannot say this will be the case with this particular program but it has happened before, hopefully the history won´t repeats itself.
Vick has supporters that say that he have changed, he is now working in an ethical way and help people to make money instead… I guess all can change, I am not here to judge anyone by what t