Today we are going to take a look at Secret Shopper to see if it is a legit opportunity or a scam? What is Secret Shopper and does it work? How much money can you make? You will have the answer in this short review!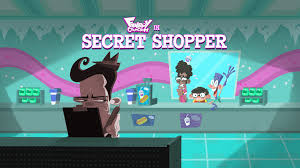 What is Secret Shopper all about?
You have probably heard about Secret Shopper and that people making money doing that, but how, and what is it really about?
It is basically companies that are hired by retailers to "investigate" qualities in their stores, for example in a specific product or service. The Secret Shopper is used to do this, the mystery shopper then reports back to the company about how he/she experienced the shopping. The secret shoppers "mission" can be for example: to order a dish at a selected restaurant, or go to a particular store and buy a selected product, etc.
Then they report back to the company that hired them about their experience. The product or service that the Secret Shopper bought are most times theirs to keep, and sometimes the Secret Shopper gets a small payment on top of keeping the products or services as well.
Most professional Secret Shoppers consider their work to be a part-time work at the best, they find these opportunities online where they are posted by the marketing research companies or the merchandising companies.
Important to mention: you will not make a living from doing secret shopping, it is considered as a part time job.
If you look for a full-time job online read the review on my #1 recommendation here.
is Secret Shopper a scam?
There is a bunch of scam offers out there in the secret shopper business , but there is also many legit opportunitys to. The trick is to know what to look out for to avoid the scams, and what to look for to find the legit opportunitys. One sure way to never get scamed, is to never pay money to "get the job", if it is a legit opportunity you will never be asked to pay anything, after all it is you who are going to get paid for your services and not the other way around.
The scam "secret shopper" promoters use ads in emails and newspapers where they give the impression that the secret shopping jobs are a "high paying" job opportunity and that you will work with highly reputable companies. The scammers also create websites where you can "sign up" for the "best" secret shopper jobs, but first they want you to pay a "start up" fee. DO NOT fall for that trick! it is most definitely a scam. You will never get anything of any value back from these scammers, and if you try to get a refund you will probably NOT get anything back.
One popular scam trick they use is that they "hire" someone who wants to be a secret shopper, then they give them their first assignment. The first assignment is to evaluate a money transfer service, like Western Union for example. Then the secret shopper gets a check (fake) with the instructions to deposit it into a personal bank account, withdraw the cash, and then wire it to a third party. The check is fake of course.
According to the law banks have to make the money from deposited checks available in a couple of days. But to uncovering a fake check can take weeks. First it will look like the check has cleared and that the founds has posted to the account, but later when the check turns out to be fake… Then the person who deposited the check and transfered the money will be responsible… 
DO NOT deposit a check from someone you do not know and wire the money back.
If you want to work with secret shopping there is lists of companies that hire secret shoppers for free, also there is legit secret shopper jobs listed online for free. 
If you feel that you want to be a secret shopper for a legit company you should know that you can, and it will not cost you anything. This is how you do:
Do some research on websites online, libraries, bookstores, etc. Online you can also find tips on how to do the job effectively.
Also search for reviews (and the comment sections) about secret shopping companies that accepts applications (for free) online. But look at more than one review (because there is also people who get paid to write positive reviews about shitty products)
Always remember that if it is a legit company they DO NOT charge people to work for them… They PAY people to do the job and not the other way around!
DO NOT wire money as a part of a secret shopping assignment!
IMPORTANT! DO NOT do business with secret shopper promoters who:
Advertise in the newspaper in the "help wanted" section,
Advertise by mail
Requires a fee for "certification" or "secrets"
Guarantee you a job as a secret shopper
Final opinion and verdict
Verdict: Legit (if you stay away from the scams)
Overall rating: 3/10
I would have give a much higher rating if you could make a lot of money from doing secret shopping but the truth is that you will most likely not make much money doing this.
If you want to make money online the exact same way like internet millionaires are being made, then the best advice I can give you is to try affiliate marketing then you sell anything you want, from amazon for example (you do not have to own the things you sell) and earn commision from that. This method have made many internet millionaires. If you want to know more about this read here.
If you want to lear all about it I also recommend you to check out my review on Wealthy Affiliate that is the place where me myself learned how to make money online.
I hope this secret shopper review was helpful and now you hopefully know what it is all about. Please leave a comment below and tell us if you have worked with this or if you have any question feel free to ask!
Sincerely
John
Founder of: Start Make Stop Waste