Today we look at SEMrush. What is SEMrush? How does it work? What will you get from using it? Is it for you or are there better alternatives out there? This are just a few of the questions we help you answer in this short review!
Name of the product: SEMrush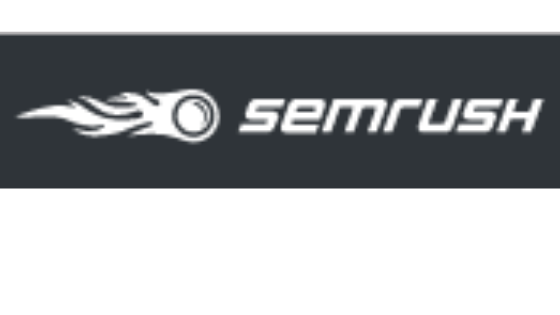 Official Website URL: https://www.semrush.com/
Overall Rating:
(4.8 / 5)
Recommended? : Yes
P.S.
SEMrush offer you HUGE free value as well, in the form of downloadable eBooks that you can find on this page 
Intro
In today's review, we shall be looking at SEMrush, which is perceived as one of the best software in the industry in which it is used. We shall be addressing some of the following issues:
–    What is SEMrush?
–    How does it work?
–    Which features does it have?
–    Pricing?
–    Is it genuine?
–    Which is the best alternative to SEMrush?
–    What are its main pros and cons?
What is SEMrush?
SEMrush is a very popular SEO tool that is presented to its users as a digital market intelligence software. It is offered by SEMrush, a firm based in Boston, USA. Oleg Shchegolev and Dmitry Melnikov are two men behind the existence of this software.
They created it with the intention of enabling online site owners to access intelligence data that they can use to enhance their effectiveness in SEO and SMM-related objectives. The main data that its users can access includes web traffic-related information, site audit reports, lead generation, keyword searches, and other SEO-related data.
The efficiency of this software has led to global firms such as eBay, Quora, HP and Booking.com gaining trust with it. Effectively speaking, you can, therefore, trust SEMrush with all your company's digital intelligence data needs regardless of its size and the quantity of data that you need to process. This also means that you can begin using SEMrush as a startup and continue relying on its services even after scaling up to a large firm.
How does it work? 
Currently, SEMrush is serving more than 4 million marketing specialists who are all distributed all over the world. The software that these marketing specialists gain access to holds more than 15 billion keywords and 580 million domains from which you can conduct clear analytics of what is trending in whichever niche you think about.
Most of the features of SEMrush are meant to serve firms that are found in the following categories:
–    E-commerce
–    Enterprise
The E-commerce package presented by this company is all in one solution that is meant to boost your online store's operations. You will be in a position to drive more sales with this software that aims to help with all your SMM and SEO needs. Your marketing team can rely on SEMrush to get more traffic with paid and organic searches, and this consequently builds a noticeable brand.
The Enterprise package is meant to support your boldest business ambitions and aspirations with data that you can trust. SEMrush makes it possible for you to access all geodata, industry-specific data and niche marketing reports that support your business decision making needs.
Features
SEMrush presents to you all that you need to perfectly position yourself ahead of your competitors. The main areas targeted by the creators of this platform are:
Analytics reports – These help you get a clear insight into what your competitor's strategies are by giving you a glimpse of their advertising, organic searches, paid searches, as well as their link building approaches. With such data, you can crush your competitors from any angle that you so, please. The main reports you get here include:
–    Organic Research
–    Advertising research
–    Display advertising tool
–    Backlinks
–    Keyword research
–    Keyword listing ads
–    Traffic analytics
Tools – With the tools presented by SEMrush, you can cross, combine, as well as visualize intelligence data in a bid to compare all the competitive domains, and estimate the difficulty of certain keywords with just a few clicks. SEMrush avails the following tools to make your work easier:
–    Keyword difficulty
–    Domain vs Domain to help you with side-by-side domain comparisons
–    Charts to help you determine competitive analytics
–    My Reports to give you all SEMrush data in a single PDF report
–    Keyword Magic Tools to help with keyword ideas
–    Cost Per Click Map to compare the average CPC in the niche you are in for every region
–    SEO writing assistant to help with the optimization of your content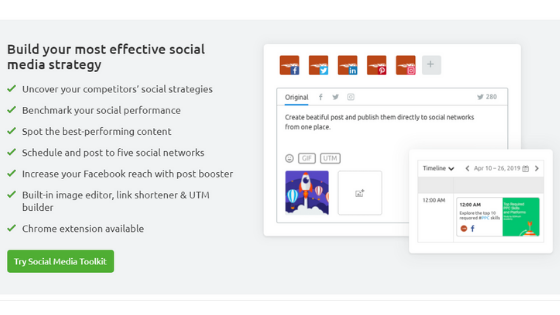 Projects- SEMrush makes it possible for you to launch global campaigns and for you to get all the metrics related to competitors, keyword rankings, as well as the on-page health from a single location. Managing your projects on SEMrush is, therefore, easier with:
–    Position tracking that helps you track the positions for your keywords and discover local competitors
–    Site audit that lets you look into your site's health with the available SEO analysis tools.
–    Social Media Tracker enables you to develop an effective social media strategy.
–    Social Media Poster to help with the posting of content into all your social accounts.
–    Brand monitoring to help you keep track of your brand reputation.
–    On-Page SEO checker to help you analyze Google ranking factors that directly affect the performance of your site.
–    Backlink audit tool to help with the discovery of all backlinks you need to find out about using the Search Console Integration.
–    Organic Traffic Insights
–    Content Analyzer to help with the assessment of your website's content
–    PPC Keyword tool to help with the collection, management, cross-matching and polishing of your keyword list
–    Ad Builder to help with Ad creation
Pricing 
SEMrush has several packages that it offers to its clients. The packages have different features and make it possible for organizations at every level of growth to access the features that are necessary for their current needs. The plans offered by this company include:
Pro – $ 99.95 per month
–    Suitable for freelancers and start-ups with a limited budget
–    Helps with SEO, PPC, and social media marketing projects
–    Has 28 advanced tools
–    Lets you know your competitors' sources of traffic, their ranking, and social media results.
Guru – $199.95 per month

Has all features in Pro plus:
–    Content marketing platform
–    Branded reports
–    Historical data
–    Extended limits
Business – $399.95 per month
Has all features in business plus:
–    White-label reports
–    API access
–    Extended limits
–    Sharing options
–    Google data studio integration
Enterprise – custom solutions
–    Custom keyword database
–    Custom limits
–    Unlimited website crawling for large sites
–    On-site training
–    Add-on features upon request
---
Is it genuine and legit?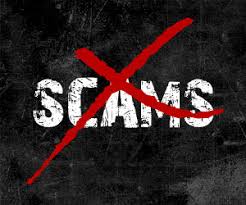 SEMrush's genuineness cannot be put to question. As already presented, this software is relied upon by huge firms such as HP, eBay, Quora, Booking.com as well as BNP Paribas. These are all genuine and multinational firms, and the last thing they would want is to be associated with a service provider that is not genuine, or even professional.
SEMrush also has a (4.5/5) star rating on Capterra, based on 725 customer reviews. Clearly, SEMrush is out to fulfill all its customers' needs without any bias or prejudice.
---
Lower Cost Alternatives to SEMrush?
If you are looking for a similar software to rely on for all your SEO needs, then SE Ranking is the most preferable option to go with. You can access all value-for your money features at starting at only $39 per month, which is way affordable than what SEMrush is offering as the most basic package. Also, SE Ranking has 35 tools that you can rely on to boost your effectiveness and to stay ahead of the competition.
---
Pros and cons
It is always wise (and recommended) to look at both the positives as well as the negatives to get a better overall view of something. As always in our reviews we provide you with some clear points on both sides of the spectrum:
Pros
–    Presents value for money
–    You can create a custom plan
–    Lets you get all information related to your competitors
–    Effective
–    Very easy to use
–    A free trial is offered
–    Used by reputable brands such as HP, eBay, and Quora.
Cons
–    Quite pricey in comparison to other software in the market.
---
Do you own or represent SEMrush?
If you are a representative, or associate of SEMrush and have found something not to be correct in this review please, feel free to tell and I will make sure to update the info on this post. The easiest way to do it is in the comment section below or by simply sending us an e-mail.
---
Final words and verdict
Verdict: Legit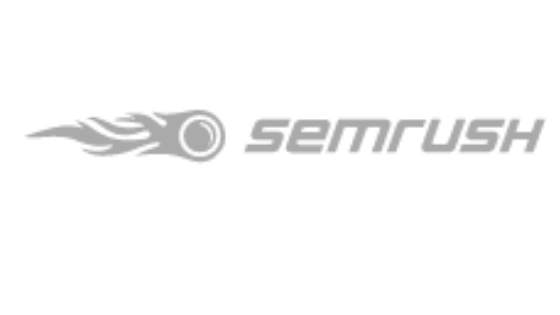 Overall rating:
(4.8 / 5)
Ok, I think that sums up the overall view of SEMrush pretty good. It is a legit tool and not only that, but it is also one of the best ones out there. You have to decide that yourself, of course, if it is something for you. I would recommend that you try it out for free first and see what results you get before you invest money into the paid version.
You made a wise decision to read this review and you are a smart person so I am absolutely sure that you will find the right tool that suits your particular needs the most and that you also feel comfortable and easy to use!

Or,
---
I hope you found this review of SEMrush to be helpful and that you now have a better understanding of what it is and it is for you or not. Please, if you have used any of its services then share your experience in the comment section below! Also, if you got any questions about this I will be more than happy to answer them below!
I wish you success!
John,
founder of: Start Make Stop Waste