This review is going to be about a website named SFI, the website is found on SFIMG.com. What is SFIMG.com about? Is it a scam or a legit opportunity? A pyramid scheme? Can you make a lot of money? These are the questions we are going to focus on in this short review. Ok? Here we go!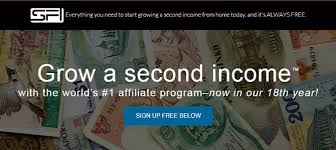 Product: SFI
Website: www.sfimg.com
Owner: SFI Marketing Group  (Founder: Gary Carson)
Price: "Free"
Who is it for: People looking to make money online
Overall verdict: NOT Recommended!
=========================================================
Important to mention!
Before we go into this review I think I might as well tell you right away that SFI is a pyramid scheme and (in my opinion) a straight out scam. NOT recommended, especially if you are a beginner, and absolutely not if you don´t want to participate in a pyramid scheme. If you want to learn to make money online in an easy to understand, step-by-step program I suggest you check out this review of the exact same place I learned how to make money online instead.
If you still are interested in SFI the review will continue below 🙂
=========================================================
What is SFIMG.com About? (According to their site)
SFI was launched back in 1998. It started with 1 product, only sold in th US, now it has more than 90,000 products and services that are sold in more than 190 countries.
SFI was created to make it possible for anyone with a computer and internet access to be able to make money. Anyone (over legal age) can become an SFI affiliate for FREE and there is no obligations to buy anything.
You will get provided with websites to start promoting the products of SFI online and also support and tools are included.
You can also earn additional commissions by building (and lead) affiliate groups. (MLM pyramid scheme description in nicer words, and without going into depth how it really works)

What is SFIMG.com about (according to me)
The SFI site looked like a legit one when I first came in contact with the "sales page" of it (never judge a book by it´s cover) but as soon as I got inside of it and started to look around my expectations droped to a very low level pretty fast.
They have made a pretty good job trying to hide the fact that it is a classic MLM (Pyramid scheme)
You know, those kind of "businesses" that suggests you to sell stuff to your friends and family and become that person nobody likes 🙂
By the way, did you know that many MLM companies actually got entire teams that work online to clean up the reputation of the companies online?
Yes they do, because they get so many complaints online that they need a whole crew to work on this. In fact I am sure I have been "attacked" by a few of them on this site before when I have made reviews of other pyramid programs.
It would not surprise me if they "attack" me in the comment section on this review also, I especially thought about that when I saw that SFI have gotten the "prize" Bronze Member of the BBB (Better Business Bureau).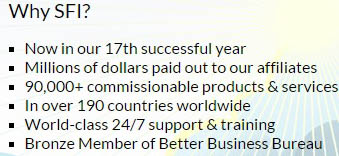 What that is? It is a website where MLM´s pay money to get some kind of fake award or a good rating. Yes, it is crazy that kind of websites exists, I know.
How SFI Works?
When I joined (for free) I immediately got the info that revealed their true colors, the MLM colors. I got the info (and steps) on how it was going to work.
First Step: You have to become an Executive Affiliate (and remain as one every month)
Second Step: Recruit at least 5 people to do the same thing as you
Third Step: Teach your recruits to do these 3 steps
It doesn´t get more MLM (pyramid scheme) than that!
SFI lures you inside with the "bait" of making you believe it is about affiliate marketing (you need to know it is a HUGE difference between MLM and affiliate marketing).
But in reality, what you will do at SFI is to start recruiting new people into it.
How To Make Money With SFI
There is four ways to make money within the SFI program (as listed below)
Accumulating VersaPoints
Generate sales at TripleClicks.com
Sponsoring and Duplication
Supplemental Additional Income Streams (Optional)
VersaPoints
You are going to need to earn a minimum of 1500 points each month to "get a cut" from the "money sharing pool". Exactly what that means I have no idea of as it is not explained on the site… That is a BIG warning sign, of course.
The only info you get on that is this exact text:
"A huge 40% of the Commission Volume (CV) on EVERY sale at TripleClicks.com goes into the TripleClicks Executive Pool. Share in this big, company wide pool with a minimum of just 1500 VP a month!"
How much money are we talking about here? How is it possible to get 40% and where does the money come from?
Those questions are left unanswered to you… Hmm? Smells like scam.
So, how do you make this VersaPoints? Ok, first month looks easy, you will get points just for signing up, liking SFI on Facebook, etc.
But how about second month? Looks MUCH harder (to reach those 1500 points).
Another BIG warning sign: You will be encouraged by other members to buy TripleClicks gift cards (for the cost of $60 every month), to be able to get 1200 points each month. Then you still need to get 300 additional points to reach 1500.
Those points you can get by promoting products on TripleClicks IF you make a sale.
Generate Sales At TripleClicks.com
Here you can "earn money" if you generate sales. TripleClicks is a self-proclaimed E-commerce site. Not a very good quality one (in my opinion). There is mixed products to be found here, not to talk about the sellers… I am not saying that my English is perfect (I am Swedish) but I come out as an English professor in comparison with many of the sellers you will find inside TripleClicks 🙂
It is of course, possible to make money inside TripleClicks promoting some of the products, but I would not go as far as calling it a very lucrative opportunity 🙂
Here is the beginner advice you get to make sales:
Try to sell to your friends and family
Buy gift cards and give them away to friends and family
Buy gift cards and leave them in the taxi, on the bus, or any other public transport
Print and post flyers
Etc.
Does that sound like an interesting online job to you?
You probably don´t want to be a pain in the ass to your friend and family in your quest to make money (from them) selling products.
By the way, 15% of all the sales you do is going straight to the owners of SFI.
Also your "sponsor" is going to take a cut from your sales earnings.
Sponsoring and Duplication
As some of your earnings is going to the people above you, also the people below you (your recruits) is going to make you money (when they make sales). This "matrix" is 12 level deep, that is pretty deep. This is MLM ladys and gentlemen and if you didn´t know it is always the people in the top (owners) and a small handfull of people who are going to make the big money. In any MLM (pyramid scheme).
Supplemental Additional Income Streams
If you want you can also recruit sellers to Tripleclicks and allow people to advertise on your site.
How Is The Support and the Training at SFI?
Before I signed up I was a little courious if they had the awesome support and training that the sfimg.com website claims. They don´t. The support is barely there and the small amount of training is (mostly) about how to sell the products on Tripleclick or how to earn more VersaPoints.
**Get REAL support and training HERE<==
Final Words And Verdict
Verdict: NOT Recommended!
Overall rating: 3/10
Sure, you can make money with SFI, it´s not going to be easy but you can. I call this a scam because SFI "pretends" to be about affiliate marketing and hide the facts that it is an MLM (pyramid scheme).
Also, it has A LOT of complaints online from former and active users, that is never a good sign.
I suggest you stay far away from SFI, I also suggest you stay away from any MLM in general as it is going to be very hard to make any sustainable amounts of money if you aren´t "in the very top of the pyramid".
What You Can Do?
Instead of joining MLM´s online I suggest that you start working for yourself and YOU only, with a solid and safe business model that also is proven to work.
I talk about Internet marketing that not involves pyramid structures.
To learn that you need, of course, find a place that has good support and step-by-step training that is easy to follow. The best place I would suggest to start is Wealthy Affiliate. It has been online since 2005 and I know that if you stick to that program you will make money online. Once you do that it is all about scaling your business, to make more, until you reach your goals. 
It can actually be a very fun thing to do as it teaches you how to build your business around anything you want.
Below I compare WA with SFI to clearly point out the difference.
I hope you found this review of the sfimg.com website to be helpful and now you should have a better understanding what it is all about. If you have tried it yourself please share your experience with us in the comment section below. Also, if you got any questions about this review I will be more than happy to answer them. 
I wish you success!
Thank you for reading.
John
Owner of: StartMakeStopWaste.com