This review is on a new program called the $100 System, found at theplrsystem.com url. What is The $100 System? Is it a scam or not? Something for you or are you gonna pass? These are some of the questions this short review will focus on. Ok, here we go!
Product: The $100 System

Website: www.theplrsystem.com
Owner: ?? Not displayed on the website (bad sign nr 1)
Price: $5 "admin fee" fee to join
Who is it for: MLM and rev share enthusiasts (that are great at recruiting people)
What is The $100 System About?
The $100 System is in short just another new rev share program to hit the market, with a slightly different touch. It uses a "company forced matrix style" hmm…?
What does that mean? Well, every time I hear the word matrix I think of the movie… no, I only joking.
I think of MLM and pyramid schemes, matrix sounds better, right? That is also why it is used instead of the other words.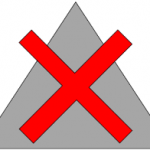 Something I hate with these programs and systems is that they (many times) claims to be a solid and safe income opportunity that will always be there…
Nothing can be more wrong, they will all "dry out" eventually, it is just a matter of time.
Add a beautiful (or sexy) women on that and some
cool music in a promo video and you will get many people to join a program that (in MANY cases) makes you lose money.
How Does The $100 System Work?
When you join yu will get an instructional video that will explain what to do, first thing is to deposit $5, the next thing is to deposit $20, $50 and also $100. So deposit a total of $175 and you are set to go?
Pretty much, you then purchase packs with that money and make some adjustments… Make sure you do it right though or else it can be some problems…
Below is the video explaining how it works:
I have to say I like the voice of the guy speaking, he sounds trustful. However, you know the good old saying "you should never judge a book by the cover".
Is $100 System A Scam?
So, is the $100 System a scam? Well, it might be, guess time will tell… But for now I have to call it legit as it is a revenue sharing program and has a product. If it didn´t have a product it would be a scam.
I also tend to dodge programs that hire Fiverr actors to help promote their stuff. It is not the first time I see this guy making reviews on "doubtful" programs 🙂
If you want to hire him, or the beautiful women in the other promo video you can do that here on Fiverr. There is no doubt it is the same guy if I say it like that 🙂
However, even if it is, or isn´t a scam it is without a doubt ABSOLUTELY a risk of losing all the money you put into it. PERIOD.
Why You Should (NOT!!) Join $100 System?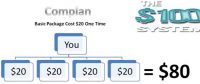 The problem is, and he said it himself in the video above, about the Amazing 5 program that was shut down recently. I also see other very "doubtful" programs being promoted, like Phoenix Power Rising just to name one…
That will eventually happen to each and every one of the pyramid structured rev shares and HYIP programs… and those kinds of programs is dominating the ad sections in this rev share and in pretty much all of the rev share programs…
Something For You Or Not?
This program might be a good choice for the serial rev share (or MLM enthusiast) that are great at building downlines in all they take on…
It will be good as long as it last I mean… For them…
For someone looking to join 1 or a couple of rev shares to make easy extra cash just by participating in revenue sharing, this seems a little bit "too much" because you are going to have to know how to recruit people the right way, you don´t do that by spamming your link on Facebook… if I say it like that…
If you want to try rev shares that don´t put so much focus on recruiting other ones to the program and also have other benefits I strongly recommend you to check out Ultimate Revenue Share and/or MXRevShare.
They are both 2 of the "hottest" ones out there and they also seem to be prepared for a long lasting life online.
They are also both cheaper, easier to use and don´t require you to recruit anyone if you don´t want to off course.
Final Words and Verdict On $100 System
Verdict: Legit (for now) but NOT Recommended!
Overall rating: 3/10
Ok, I have to call this legit for now even if I have a bad feeling for the future of the program. It is a revenue sharing program that put a lot of focus on you to recruit others to join the program, that way you are going to be making "the money"
I never recommend rev share programs, ever! Even if I am a member of some of them myself, why? Because they are not safe and solid, they always involve a risk and sooner or later each and every one of them will "dry out"
It is (as always) your choice.
Safe and Solid Way To Make Money Online?
Ok, I know I might be talking to a wall if you are one of those notorious MLM fanatics, or if you are someone that thinks money online comes easy and peacy (rev shares) and that is the solution you are looking for to be able to quit your job and be financial free…
But if you understand that it will take both time and effort to reach financial freedom and be able to make a living completely online, having so-called passive incomes.
-It´s nothing, you can thank me later 😉
I hope you found this short review of the $100 System to be helpful and now you should have a better understanding on what it is and if it is something for you or not. If you have tried it please share your experience with us, it can help others. Also, if you got any questions about this review I will be more than happy to answer them below.
I wish you the best and a lot of success!
Thank you for reading
John
Owner of: StartMakeStopWaste.com