It is time for another review of something called The Aussie Method. What is The Aussie Method and will it make you rich? This kind of scams are starting to getting on my nerves to be honest. Today I will explain exactly how they work, so we can shut up everyone trying to promote it.
Product: The Aussie Method

Website: aussiemethod.com
Owner: Jake Pertu (Fake name)
Price: Claims to be free but requires a minimum deposit of $250
Who is it for: Not for anyone! Made to make the scammer behind it rich (or richer)
What is The Aussie Method about?
The Aussie Method is just another binary option software scam that claims you will get rich by doing nothing. Just trust the "voice" in the promo video and the fake testimonials from fiverr actors and you will get rich!
Belive them when they say that it is free, until you have signed up and get informed that you have to deposit atleast $250 to start trading…
These kind of scams always uses the classic scam tactic of making you feel that you have to act fast, so you don´t loose out on the "opportunity" and The Aussie Method does that to. Come back next week, month, or next year. It will still be 20 spots left. What a surprise right? :o)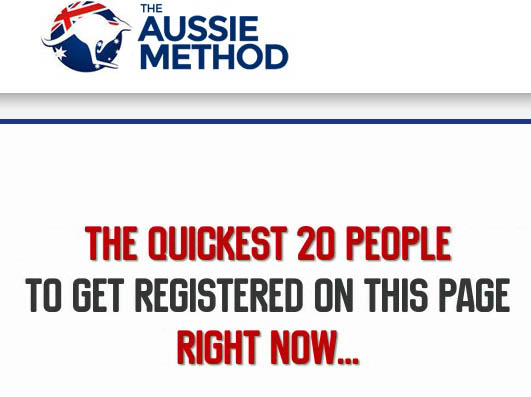 I have seen MANY binary options trading scams and it´s always the same old story… And sometimes even the same actors :o)
This pretty girl I have seen before
As soon as I landed on The Aussie Method ho