Today we take a look at Trafficforme.com for you. What is Traffic For Me? A scam or a legit Solo ad dealer? How does it work? Are there better alternatives out there? This is some of the questions this short review will focus on!
Product: Traffic For Me

Website: www.trafficforme.com
Price: Free to join (click packages starts at $250)
Who is it for: Online business owners, Online marketers, Newbies, etc
Overall rating:
(4 / 5)
What is Traffic For Me about?
Traffic For Me (trafficforme.com) is a platform where you buy solo ads, a form of online advertising service, there are many other solo ad platforms out there, like the most well-known and trusted one Udimi for example.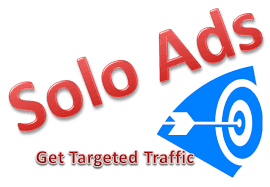 However, this particular one is a bit different than Udimi, mostly, because your minimum order is a lot more clicks than the minimum order on Udimi.
How does it work?
The platform is super simple to use, first of all, you have to sign up for your account and set up your profile, it shouldn´t take more than around 5 minutes. Once that is done you can order yourself some traffic.
P.S.
*Right after you are done on the FREE Sign-Up Page you can start to select your package and order right away.
The different packages offered to you
Their website is super simple to understand and use and you got 5 different packages to choose from, if you hover over them you will see exactly what kind of traffic and from where each and every one of the packages will get you.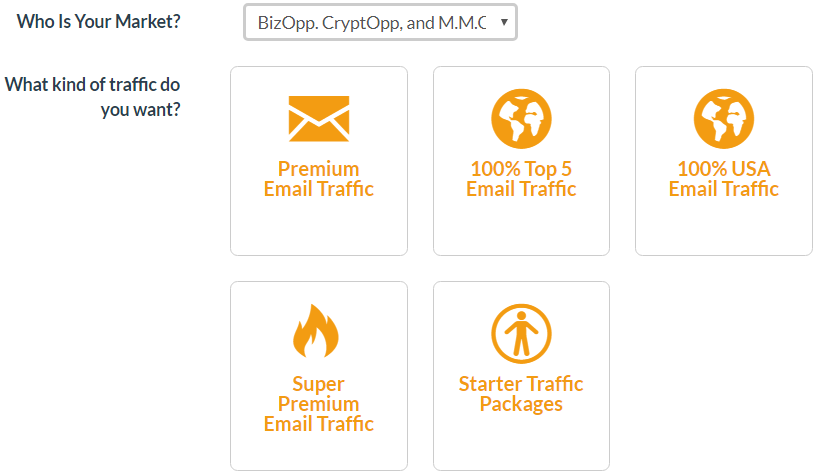 The different niches you have to choose from are:
BizOpp, Crypto, and MMO in general
Internet Marketing
Health and Diet
Personal Development
Forex, Bitcoin, Binary, Crypto
Survival and Preppin
**as you can see in the screenshot below that I took from inside my own account: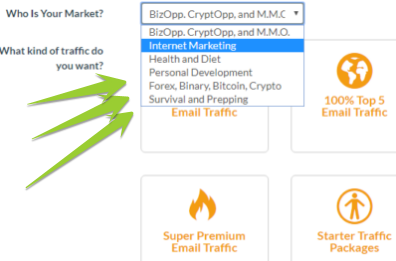 P.S.
You have to sign up for a free account to be able to log into the member's area and see the different packages full abilities.
---
What about the price?
It is a bit more expensive than some other services out there, mostly because you can not order a smaller amount like for example only 100 clicks, like on sites like Udimi for example.
Your minimum purchased amount of traffic on Traffic For Me is 200 clicks so that makes it a bit more expensive, plus on Udimi I think it is easier to find different prices of clicks as you have hundreds of sellers to review and compare against each other.
I have ordered from both Udimi and Traffic For Me and some other Solo Ad platforms and in my experience, they tend to vary in quality, sometimes you find cheaper clicks that show to have a good quality but not always, and same goes for more pricy clicks.
Another thing about the Trafficforme.com prices is that they tend to be a bit "higher" than you can find on Udimi but in the end, it depends on the quality of the traffic.
How good is their support?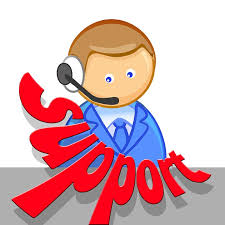 Something I always put a lot of weight on when it comes to the support system of a company is if they got a live chat function on their website or not. So, does Traffic For Me have this? Yes, they do! That is a plus (at least in my book).
Also, they got many informative videos on the site to educate you further on how to develop your skills in buying traffic in the form of Solo Ads. So, that is another big plus.
---
Is Traffic For Me a Scam?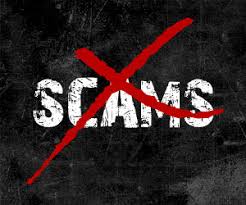 So, is Traffic For Me a scam? No, of course not. It has been online for many years now and they would not have survived this long in business if it was a scam, right? However, I looked to see what others had to say about this service, after visiting different forums online it seems like some absolutely love it while others are not that impressed.
P.S. "common mistake"
However, that is the case on pretty much all similar service providers in this niche of solo ads, as A LOT of buyers buys ads without having a working funnel in place, and therefore not making as many sales as he/she would if they had.
Other Traffic For Me online reviews and rating examples:
We looked to see if there was any info from some of the most trusted and well-known review and rating sites, such as Trustpilot.com just to name one, but there was not much to be found there or on another of the most well-known review and rating sites.
Instead, we had to look on other forums online and we managed to find a very mixed result.
You have that category of people, of course, then you got the other one that has spent time working on their funnel, and tested and found a formula, that works, …when they buy the solo ads they are, of course, happy as then they get good conversions.
We didn´t find much of the "worst" complaints on Traffic For Me, that most of its competitors have, that use to go something like
"This service sucks, you use bots and we can see it in Google Analytics"
That is true, you can see those things easily from Google analytics and we have all been there, at least I think so lol! That we have been tempted to order a lot of cheap (too cheap), fast traffic… And ended up with a laugh (or a cry) inside as we have seen the Google analytics reports.
Anyway, didn´t find much of those complaints so that is a big plus in my book as well.
The pros and cons
We try to always help the reader (you) to compare different companies against each other before making a decision to pick one, and also, compare each and every company against itself as well, to get a view of what the negative sides are and what the positive ones are, to get a better overall view.
The good
Been in business for a long time
Super Easy to Use
Many great reviews to be found online
Good affiliate conditions
Good Support
The bad
Might not be for the "smaller buyers" (financially) of traffic
Some complaints are about having to submit your id after payment to be able to buy clicks
---
Are there better alternatives out there? (depending on your budget)
Well, from the big, or "bigger wolfs" of Solo Ad buying platforms online, they are among the best alternatives I have both tried and seen from its peers a lot as well. They actually stand very good, when it comes to reviews and ratings online, from buyers of this type of services.
However, if you are on a smaller budget than trafficforme.com your best bet, in my opinion, the best one for you, in that case, is still the well-known (and well used) and trusted Udimi where you can start with a way smaller budget than you need with Traffic For Me.
==> Read more about Udimi here
---
Do you own or represent trafficforme.com?
If you are a representative, or owner and have found something not to be correct in this review please, feel free to tell and I will make sure to update the info on this post. The easiest way to do it is in the comment section below and I will reply back to you, or send us an e-mail.
---
Final words and verdict
Verdict: Legit!
Overall rating:
(4 / 5)
That sums it up pretty good, right? I have tried it out myself and it is less "noisy than Udimi but I like the simplicity of it a lot and overall I would consider it the next best alternative out there after Udimi.
How do you think?
I hope you found this short and overall review on Traffic For Me to be helpful and now you should have a better understanding of what it is and if it is something for you or not. Please, if you have used it yourself then share your experience with us below in the comment section, we would more than like that ?
John
Founder of $tart Make $top Waste