This review is going to be about Triple Threat Marketing. What is Triple Threath Marketing? A Scam or a legit opportunity? Is it possible to make a lot of money or is it only hype? These are the questions this review will focus mostly on. Ok, let´s go!

Product: Triple Threat Marketing
Website: www.triplethr3at.net
Owner: Ray Scott and Troy Fobbs
Price: $0 FREE to join, to participate in the revenue share costs $10 a week
Who is it for: People who want to participate in a revenue sharing program
What is Triple Threat Marketing?
Triple Threat Marketing is a fairly new revenue sharing program. Revenue sharing has become very popular lately and it is easy to see why, making money without much effort at all. Do I have to say more? 🙂
Triple Threat Marketing might actually be a good choice if you want to try a revenue sharing program and/or advertise your online business. Or at least it was, the program have started to get some "problem" lately.
The Problem
What problems? Well, people have been waiting for withdrawals for a VERY long time (myself included), the ones behind the program tried to solve the problem by making a $10 per week membership (instead of the previously per month)  but it hasn´t really helped the problem much… People are still waiting for cashouts, apparently some have got them… but to be honest it feels like it is the end of a program that worked good…as long as it worked…
There is a similar one but new and more stable, not as fast as TT3 was but on the other hand, it pays out fast. People want to get paid, right? The new one I talk about is URS and if you are into rev share you might want to check that one out.
Is Triple Threat A Scam?
So is Triple Threat a scam? No, it is not a scam. At least not yet… So what is Triple Threat about really? It is simply a revenue sharing program… Nothing more nothing less. Those are legit, but… That also involves a certain risk. A risk that I took and now it seems like I have lost about $300 🙂
Important To Mention!
There is a lot of people who makes a lot of money from revenue sharing programs, it seems to be very popular in the online world for the moment… But… Most revenue sharing programs don´t last very long, they tend to "dry out" in just a couple of months. The money you then have inside of the program when that happens will be lost, so a good idea might be to withdraw your earnings once in a while.
Really it is this simple: if no more people join and put money into the program nobody will get paid.
What Does Triple Threat Mean?
Why the name Triple Threat? The name is pointing to the 3 different services they offer. I have never seen this before and I actually like it.

Phase 1 – The subscription: To participate in the revenue sharing benefits of the program you have to pay a weekly membership fee of $10.
Phase 2 – Your Investments: Let´s be honest here, this part is why people join Triple Threat (or any other rev share). This is where you buy ad packs. I always recommend that you never buy for more money that you can afford to lose.
Phase 3 – Solo Ads: In phase 3 you get offered to buy Solo Ads. These are messages that are being sent to other members within Triple Threat.
You basically purchase the chance to get an e-mail in front of all the other members eyes. This can actually be a great idea because the advertising here seems to be very targeted, also, it is not expensive.
If you pay $25 (one time) you can send whatever opportunity you want to the thousands of members inside Triple Threat. This service will also help the program to last longer as it contributes to the overall "revenue pool" of the program.
How Triple Threat Works?
The way to participate in the revenue sharing is to buy (or invest in) "shares" in the form of ad packs.
At Triple Threat, they start at the minimum cost of $3 all the way up to $50
You simply buy ad packs, click on 10 ads every day and you will participate in the revenue share the next day. That´s it, that is how you will make a profit.
One thing I like with Triple Threat is that they have a "Daily Profit Limit" and that is actually a great idea. Why? Simple because it will most likely help the program to last longer.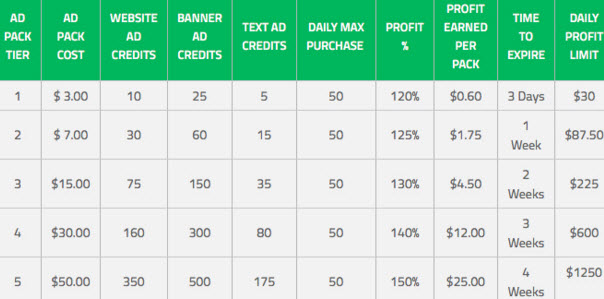 By setting a Daily Profit Limit you can, for example, if you reach Tier (level) 5 "only" earn a maximum of $1,250 per day.
That is a great way to keep the program alive for a longer period of time and let as many members as possible to make money every day. But… It don´t last forever…
Seems like the time has come for TT3 and the train has passed…
I have been a member on a couple of other revenue sharing sites and bought ad packs there and I can tell you that it took a lot longer for the ad packs to expire on those places. But that is not necessarly a bad thing…
This can of course change in the future if people stop joining and buying ad packs this process will also be slower. If more people join and buy it can be faster…
guess we will see how it develops in the coming months, I am actually going to invest a couple of hundred dollars into URS now instead and keep on buying ad packs until I reach my preset goal. Why? Because I can afford to lose the money and I also like the fact that it is so easy a child could do it 🙂
Why You Should/Should Not Try This?
Do only invest money into this (or any rev share program) that you can afford to lose.
Most revenue sharing programs don´t last more than a couple of months before the money sharing pool "dries out". When people stop joining and not putting money into the program anymore then nobody will make money anymore.
But if you are going to try this, I would say that Triple Threat sounds like the best alternative out there for the moment.
Final Words and Verdict
Verdict: Legit (for now)
Overall rating: 5/10
This is a legit business, the risks are there, and they are not hidden. The choice is yours! My best recommendation for you is that you DO NOT invest money you cannot afford to lose.
Right now there are about 40,000 members in total, 16,723 upgraded, and they have got almost 2,4 million dollars paid out I wrote this (Mars 14 -2016).

Just remember to not invest more than you can afford to lose, because you never know how long this will last.
Right now is not a good time to join TT3 because it has a lot of problems paying out, I recommend you jump on the URS train instead if revenue sharing is something you want to do.
In the end, it is up to you, only you are in charge of your own decisions if you want to jump on this boat and try things out click the link below and sign up for a FREE account.
Other Safer Ways To Make Money Online?
If you want safer ways to make money online there are, of course, solid alternatives. Revenue sharing programs are not safe and solid, on the other hand, they don´t require any effort to start making money.
If you want to make money online risk free you are going to have to be prepared to put in both time and effort before you will see any significant amounts coming in your way.
I can tell you that it is absolutely worth it!
Just make sure to avoid all the scams and you will be fine.
Most important is to find a good program that will teach you how and support you whenever you need help. There are legit programs out there and anyone of them will lead you to make money online if you follow the training and the tasks given to you.
The best program of them all is Wealthy Affiliate and is the exact same place where I learned how to make money online, it is absolutely free to join and start learning. There is also a paid membership but it is not necessary to start making money.
I suggest that you try it for free first and see if it is something you could see yourself doing.
I hope you found this short review of Triple Threat Marketing to be helpful and now you should have a better understanding on what it is and how it works. If you have tried it please share your experience with us in the comment section below! Also, if you got any questions about this review I will be more than happy to answer them.
I wish you success!
Thanks for reading.
John
Owner of: StartMakeStopWaste.com