This review is about Ultimate Revenue Share. What is Ultimate Revenue Share? Are you going to get involved or not? A scam or a legit program? Can you make money with it? is it something for you? These are some of the questions we will focus on in this short review. Ok, here we go!

Product: Ultimate Revenue Share
Website: www.ultimaterevshare.com
Owner: Tom Taylor
Price: $0 Free to join
Who is it for: People who want to make money by participating in a revenue sharing program.
So what is Ultimate Revenue Share all about then? Sure you can join for free and start making money on the site, simply by clicking on cash link ads and by recruiting people to join… But the way you are going to make the bigger money is by participating in the revenue sharing aspects of the program. This is also what Ultimate Revenue Share is all about.
How Does It Work?
To participate in the revenue sharing you are going to have to invest a minimum of $1 to buy media packs. Then you simply click on 5 ads (takes 1 minute) every day to participate in the rev share the next day. You will get back 110% on that $1 and it will be $1,10 in about 9 days. So you understand that you are going to have to invest a whole lot more than just $1 to make good money from this. You will also get back more in percent the more you invest, all the way up to 135%
You will get back 110% on that $1 and it will be $1,10 in about 9 days. So you understand that you are going to have to invest a whole lot more than just $1 to make good money from this. You will also get back more in percent the more you invest, all the way up to 135%
In the screenshot below from inside the members area, you can see the return plan for different (price) investment.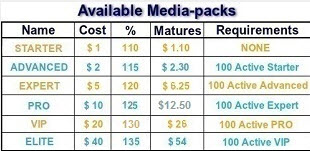 Important to mention here is that all investments are not refundable, so you won´t get any money back if you all of a sudden should change your mind.
So, is Ultimate Revenue Share a scam? No, it is not. So what is Ultimate Revenue Share really? It is simply just a revenue sharing program… Nothing more nothing less. Those are legit.. But remember, that also means that it involves a risk.
Important To Mention!
Many people are making a lot of money from revenue sharing programs, and it is very popular in the online world now. But, most revenue sharing programs don´t last very long, actually, they tend to "dry out" after a couple of months. If you then have a lot of money "in the pool" inside of the program you will lose it all…
Because the way how it works is that, if no more people join the program and stop putting money into it, then no one will make money no more… The money you will be making is the money from new members joining.
Ultimate Revenue Share (URS) got a lot of potential, to be around for a while, it gains A LOT of new members every day and most importantly, and something I like for a revenue sharing program to have is that you are going to have to reinvest a percent of your earnings.
This might, to some people seem like a bad thing but remember that it will sure as hell make the program survive for a longer period of time having this repurchase rule.
So, if rev share is something you want to do, Ultimate Revenue Share might be a very good choice.
Click here for a free account at Ultimate Revenue Share<==
Why You Should/Should Not Try This
If you want to become a free member at Ultimate Revenue Share and start making money (without investing) you can, of course, do that, but you won´t make any big money like that… If that is something you want then you are probably much better of by trying the famous ClixSense instead.
If you want to make money by investing and participate in the revenue sharing that URS has to offer, then I hope you already got some money that you are willing to (invest) risk.
Because it is a risk, it is no guarantees that the program will last more than a few more months or so… There are rev share programs that have lasted for a long time, but eventually, every single one will dry out… The question is when? No one knows…
A Good Idea
A good idea would be to set a goal (or a deadline) when to stop and cash out ALL the earnings. This is something that might be hard to do if you are making hundreds of dollars every day for example… That takes discipline. I am not sure if I would be able to do that..
Guess I will find out 🙂 I actually have invested $300 the other day as I think URS is going to last for some time, it gains around 1,000 new members every day now!!
It absolutely feels like the "hotest" rev share program right now and it is also so easy to use even a child could do it.
If you want to jump on this boat with me click here and check it out for yourself!
Another advice if you start with (any) rev share program is to make withdrawals once in a while when you start making money.
Personally, I am going to set a goal of how much money I want to reach, and stop when I reach that amount… IF I can control myself 🙂
Final Words and Verdict
Verdict: Legit!
Overall rating: 6/10
This is a legit business, the risks are obvious and well displayed on the URS website.
The rating 6/10 is a good rating to get on this site (StartMakeStopWaste) for a rev share program, I don´t think I have ever given a higher one. To get a higher rating it can´t involve the amount of risk that revenue sharing does.
If I would have put a rating on URS just as a revenue sharing program I would have given a high 8/10 because I think it is one of the best rev share sites I have come across, and I have seen many:)
The choice is yours! I am not going to either recommend it, or not recommend it. One thing I don´t recommend though is to invest money you cannot afford to lose.
As always YOU are in charge of your own decisions, if you want to jump on the boat and try things out go ahead. Just remember to not invest more money than you can afford to lose.
Try A Safe And Solid Way To Make Money Online Instead?
Sure, revenue sharing is interesting and very popular, I think the biggest reason for this is that it don´t require any effort and you will start to earn money pretty fast.
Faster isn´t always better…
If you want to learn a solid and safe way to make money online, why not starting your own online business? Do you know that you can actually start a business in whatever area you want online? For example I making money just by writing reviews like this one.
But… It requires both time and effort before the money will start comming your way, are you prepared to do that?
If you are, you really need to check out the review of the best place online that will teach you how to start your own money making business at the lowest cost possible. Click the link below to read more.
I hope you found this review of Ultimate Revenue Share to be helpful and now you should have a better understanding about what it is and if it is something for you. If you are a member please share your experience with us in the comment section below. Also, if you got any questions about this review I will be more than happy to answer them.
I wish you success in whatever you do!
Thank you for reading.
John
Owner of: StartMakeStopWaste.com