Today we got a very interesting review on a product named Instamate. How does it work? Is Instamate a scam or a legit opportunity? Will it be something for you or should you pass? Can you make a lot of money with it? These are some of the questions this short review will focus on. Have a feeling this one will be interesting so keep reading!
Product: InstaMate 2.0

Website: www.special.instamate.com
Owner: Luke Maguire
Price: $37 + upsells
Who is it for: People looking to grow their Instagram account fast and save ALOT of time.
P.S.
See my #1 Recommended Instagram Money Making Advice
What is Instamate about – "Another Scam like most stuff"
Instamate or more correct Instamate 2.0 is a software/app that will make you able to grow your Instagram account big and also doing it fast, it will also automate pretty much every part of the process and that is also why it is so popular nowadays. Instagram is proven to be the social media platform that engages the visitors the most BY FAR.
There is of course alot of potential in that for pretty much anyone. No matter if you are a private person or are running a business or company of some kind.
One of the problems (up until now) has been that you have to do it from your phone…
However, this tool or software or what to call it sound a little bit to good to be true, right?
A Scam like most stuff?

When I first got Instamate presented to me (in the form of a promo video) I got the "scam feeling" right away, the "movie trailer music" and the "flashy" landing page was enough… After having made reviews on hundreds of "make money online" products online I have seen that tactic before… However, I have also learned that you should never judga a book by it´s cover.
In fact, the reason why many are using the music, the testimonials, the limited offer" and so on is simply because it works!
What I mean with that?
Well, the product will simply get sold more, no matter if it is a scam or not… Great marketing sells and that is that.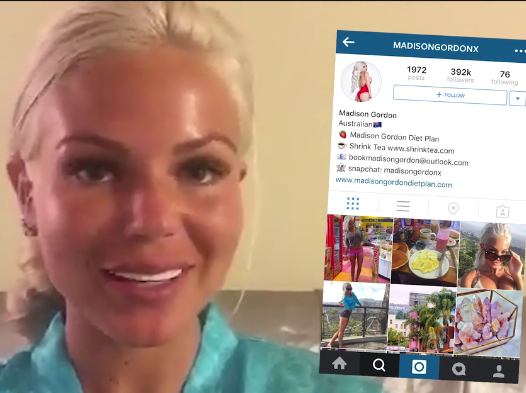 Anyway, after a while I got the Instamate software demonstrated to me and when I did see that I was actually interested and went on and bought it.
Not primarly for the fact that you can make money with the tool but for the fact that it could potentialy save me ALOT of time… and if it is something I am always prepared to do, it is paying to save time… Money you can get back but time is lost forever, right?
How Does it work?
The software will in short allow you to find the most trending content on Insagram, the most popular users, photos and tags and allow you to repost them on your own account with highest possible reach as you pick the best tags and add them to the best photos.
Then there is also other features that you can add (in the form of upsells) and some of them are VERY interesting, more on that further down, however, if you want to see the effectivity of the main software look below.
Click video below and see a quick (1 minute) demo of the product:

Are you currently using Instagram for business purpose? Or what do I know, maybe you are even using it only to become "famouse on Insta" I don´t know.
However, imagine how much time all that you did see in the video above would take doing on your phone. It would take some time, right?
If you are like me and post daily, then this would probably save you ALOT of hours in the long run, hours that could AND SHOULD be used for other stuff 🙂
P.S.
See my #1 Recommended Instagram Money Making Advice
The Main Product – InstaMate 2.0 (Luxury Edition)
This tool will alow you access into the dashboard of the program.
There you can find the most trending posts, add the best hash tags, find the influencers in your niche and post directly from your computer and handle all of the same thing you can do from your phone also of course.
This only will save you alot of time
The Upsells – (What you aren´t being told)
Once you have purchased the main product you will get an upsell presented to you straight away, that is pretty much alway the case when buying something online (or offline) and many times you can ignore them.
Personally I am not a big fan of upsells, however sometimes I accept them anyway just because I know it is a part of marketing and in some cases they are to good to say no to… Like in this case.
However, the Instamate upsells you are going to want to have, at least some of them.
Here they are:
Upsell 1 – Image and Video editor ($37)
This upsell unlocks an extra menu inside your dashboard that allow you to edit your photos directly inside the software.
As there is "time saving" involved in this I went on and bought that also
if you like to save time also I would highly recommend that.
Upsell 2 – Instamate VIP Training ($27)
This will let you "look over the shoulder" of Luke "the creator" and see how he have built and uses his different Instagram accounts to make 5-6 figures from them. I would recommend this upsell as "over the shoulder training" is great.
Upsell 3 – Link cloaker ($27)
This will open up a new menue tab on your dashboard inside Instamate and enable you to put any affiliate links you want inside of both Instagram and Facebook. Normally your affiliate links are getting blocked by Facebook and Instagram so if you are an affiliate marketer (OR want to start) I would absolutely recommend this upsell also of course.

Upsell 4 – Premium account ($37/month)
This upsell is a monthly reccuring cost and allows you to run background scheduling, allow an extra 5 accounts that works with your IPs (allows you to auto post with your computer turned off), makes the software mobile compatible, gives you early access to new features and requires no more extensions.
Even if this is a monthly recurring cost I would absolutely recommend this one also if you want to get real serious with Instagram.
Upsell 5 – Agency Licence ($298)
This is the upsell that I didn´t buy, however you might be interested in it. What it does is simply to give you the rights to re-sell the Instamate software in your name, that could of course be a great thing as it allows you to take credit for being "the person behind the software",  you get that licence for $298
Is Instamate a Scam?
So, is Instamate a scam or a legit software? It is absolutely legit and also a very great tool (in my opinion) as it can save you huge amounts of time and in the same time also bring you much better results than if you would go ahead and handle everything manually yourself.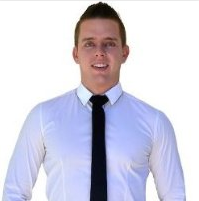 When I am looking on a product to see if it is legit or not I consider the owner to be one of the most important things to look at.
Scam products pretty much always have fake owners with both fake names and fake photos or even actors pretending to be the owner in some cases.
That is of course because they don´t want to stand behind the product… On the other hand, if a person is proud of his product, then he will also (most likely) always want to stand behind it.
Luke Maguire is a real person with a great product and it isn´t hard to understand why he stand behind it, it is simply legit. You can find him on Facebook and Linkedin.
Hi is a very successful entreprenuer and also the owner of Social Media Mansion.
How´s the Support?
Even if the software is very easy to use and understand in general there are good to know that the support is actually working very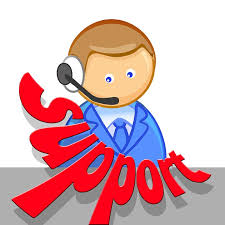 good. I contacted them just to try it out, asking about a thing that I later found the answer to inside the program.
However, I got the answer from the support just around 2 hours later, so I have to say that impressed me also.
Facebook group
There is also a Facebook group with Instamate users only that you are invited to if you purchase the software, there are over 15,000 members there and many of them have been a member for some time and there you can also ask questions and get them answered fast.
The good
Automate your posting
Optimize your following results
HUGE time saver
Works in different languages
Bonuses that teaches you how to make your Facebook page go viral
Good support
30 day money back guarantee
The bad
Why you should (or should NOT) buy Instamate?
Nedless to say, this is not for someone that aren´t planning to get Instagram 🙂
On the other hand, Instagram can alone make you money online, this tool is going to make the process alot easier and faster and also provide you with training on how exactly to do that… So you might want to consider this anyway.
Keep in mind that Instagram is the fastest growing social media platform and also the one with absolutely most engagement.
However, this is absolutely for persons that are either planning to get, just starting out or have an active Instagram account. It is for bloggers, internet marketers, e-commerce, etc.
Or anyone that are interested in saving time and grow big on Instagram..
Am absolutely sure that internet marketers will see the value here and as a great tactic among internet marketers (me included) is to reinvest our earnings into tools, courses, ads, etc this would be a great tool to add to your collection.
P.S.
See my #1 Recommended Instagram Money Making Advice
Are there any guarantees?
So, are there any guarantees? Yes in fact there is a full money back guarantee for 30 days.
So if you aren´t satisfied with your results after 30 days there will be no problem getting all your money back.
As Paypal is a payment alternative you can also be sure that the guarantee is hassle free, in case you didn´t know you are ALWAYS eligble to get your money back when paying with Paypal.
UPDATE – "Important Note"
If you want to know how simple it would be to cancel the membership you can see below that I actually cancelled and got a refund on ALL of the upsells and also the main product. It took 1 day and I got the money back on my PayPal account.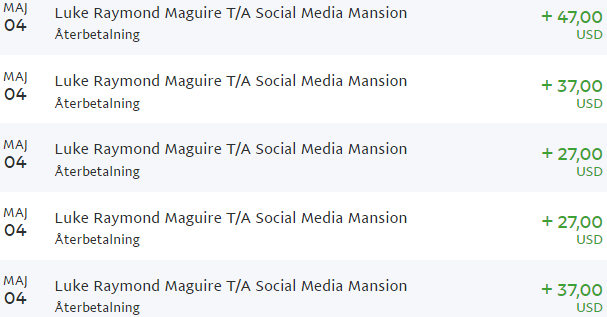 Why did I cancel?
It was NOT because it was a bad product, not at all, in fact it was a great product but it wasn´t for me.
I simply decided that I got other Internet marketing stuff in my mind to focus on at the moment. Also, the training provided on how to make money online from Instagram and such are things that I already know, however if you are a beginner in the subject I am sure you will find more value in that than I do.
P.S.
See my #1 Recommended Instagram Money Making Advice
Final words and verdict
Verdict: Legit
Overall rating: 
(4.8 / 5)
Ok, I think I have made my point pretty clear on this on, this is an absolutely legit product and also one that I really like and see huge value in. As I mentioned above, and also is kind of the slogan of this site ($tartMake$topWaste) to stop wasting time and start making money I feel I have to give the high rating 4,8 stars out of 5.
The only reason I don´t give a 5/5 is due to the upsells. However, nothing in this world is perfect though and if I going to be completely honest I would have bought this software/tool even if the price would have been the double, or even the triple.
I simply love saving time and I gladly pay for doing that every time.
P.S.
See my #1 Recommended Instagram Money Making Advice
I hope you found this review of Instamate to be helpful and now you should have a better understanding about what it is and that it is not a scam. If you are a user of the software please share your experience in the comment section below. Also, if you have any questions about this review I will be more than happy to answer them below!
I wish you success!
John
Founder of: $tart Make $top Waste