This review is about something called Creating Income System. What is The Creating Income System? A scam or a legit opportunity to make money? The answer is simple, it is a scam of course. Just like all the other bullshit products that claim you will get rich fast and easy without you having to do any work at all. I am going to reveal why this scam gets so many good reviews and how you can make money exactly the same way as the scammers do, so stay with me.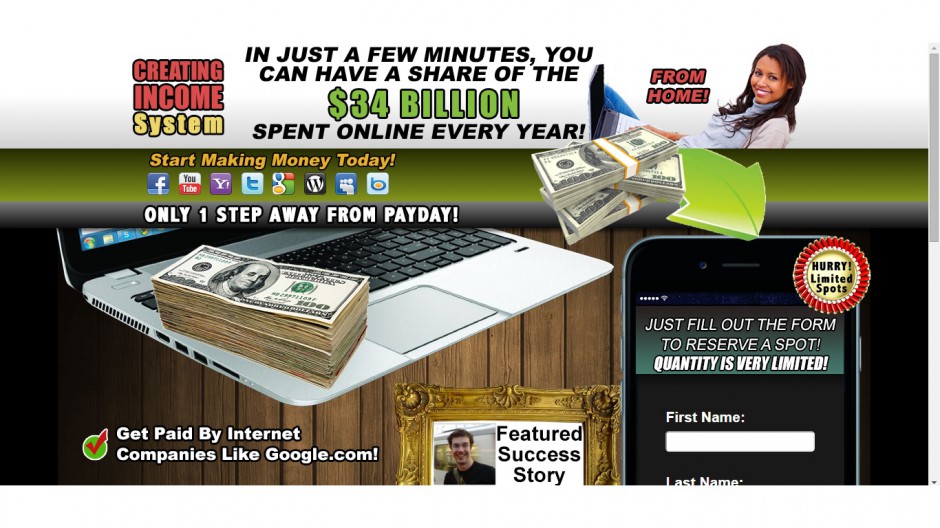 Product: The Creating Income System
Website: creatingincomesystem.com
Owner: ??
Price: $167
Who is it for: People who wants to make money online fast and easy
What is The Creating Income System about?
The Creating Income System is simply just another hosting scam. You get a free website, but you have to pay $167 (EXPENSIVE) for hosting and domain name registration.
On the Creating income website you will not get any idea of what it really is about, but I can tell you that they will give you a website that is going to promote the exact same scam that you just bought into.
Why this won´t make you any money
Sure you can make money with the exact same concept, but in order to do that you are going to need knowledge or training on how to drive traffic to the site for example. The Creating Income System is not going to give you any of that. They just want you to "trust" that they do all the work for you.
How this kind of scam works 
The program lures you in claiming that it is free and then immediately asks you to pay $167 for hosting and domain name. If you think it costs that much to host a website you need to do some research.
There is companies online that host unlimited sites for like $7 or something. So why do they want so much money?? Because that is how the scammers make money from you!
When you have paid for your very expensive hosting, you will be directed to the "training area" where you will learn yo promote the same scam that you just purchased. That´s it, there is no solid training with this program so what are you really paying for?
You will end up like the other "victims" that gave in to this scam and try to sell it, even if you know that the program don´t work.
How the Scammer make money
It is actually a very simple process and actually the same exact way to make money online, and is also how online millionaires are made for real.
How does it work?
When you buy into this overpriced hosting, Mr X (the scammer) makes a commission from every sale. Some of it goes to the hosting company and the rest goes to John Doe.
Maybe you think it doesn´t sound like a lot of money, but if he/she gets thousands of people to buy into this scam, that my friend will add up to millions! This is how the scam works and it is always the complete uneducated that fall for this kind of scams.
You can also do the same, but you can sell products that people are already buying on sites like Amazon.com or Aliexpress for example. It is totally legit and you do not have to lie to anyone about the products, because it is what they searched for in the first place. It is called affiliate marketing, and is the exact same method that has made many people able to quit their 9-5, and it has also made many internet millionaires. If you want to learn more, and how you can start click here.
Final words and Verdict
Verdict: Scam!
Overall rating: 1/10
I have made my point pretty clear I guess, The Creating Income System is a scam. I do not see any reason why you should throw your money away on something that do not even work.
When something sounds to good to be true it almost always is…
When claims are made that you will make A LOT of money fast and easy, when claims are made that you have to hurry before the spots are all taken… Then you know it is a scam.
I hope this review of The Creating Income System has helped you to understand what it is all about. If you have any experience from trying it please share with us in the comment section below, it can help others to stay away from this scam. If you have any questions about this review feel free to ask!
I wish you the best!
John
Founder of: Start Make Stop Waste