What is Bitwala.com? Is it superior to its competitors? Does it offer anything unique that you should not be missing out on? Let's find out about that in today's review. To cover more details about it, the review will take the following structure:
What is Bitwala?
Which services does Bitwala offer?
The currencies and payment methods that are supported on Bitwala.
What fees and limits can you expect when using Bitwala?
The countries supported by Bitwala
Is this platform legit or is it a Scam?
Pros and cons
---
Name of the platform: Bitwala
Official Website URL: https://www.bitwala.com/
Overall Rating:
(4 / 5)
Recommended: Yes (If you are living in Germany or the EU zone)
==> You can use this alternative if you want more crypto and fiat options & if you live outside the EU<==
---
What is Bitwala?
Bitwala is a popular German crypto platform that has established its position in the crypto industry by presenting the best of the blockchain-based financial systems, and the regular traditional financial systems that are well known to all of us. Bitwala, the company that runs this platform, is based in Berlin, from where it serves the clients who are in need of BTC and ETH wallets and access to an efficient trading platform.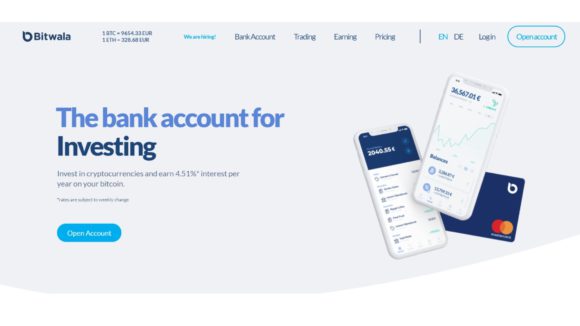 The users of this platform can buy and sell BTC and ETH through the fast cash options offered. The Bitwala wallets can be linked to the users' bank accounts, making it convenient for one to make the cash transfer transactions. The bank accounts are offered by a popular German partner bank, thus you will not have to worry much about the safety or security of your funds.
Bitwala has managed to thrive in the crypto industry due to having the backing of popular investors including:
Earlybird
ALSTIN Capital
Digital Currency Group
Global Brain
Coparion
Sony Financial Ventures
Which services does Bitwala offer?
Bitwala's main objective in the marketplace is to bridge the gap that exists between the traditional financial systems that we have all gotten used to so far, and the fast-spreading block-chain-based systems. Bitwala does this by offering the following services to its customers:
Bank Accounts
You can get your own German Bank account from Bitwala, which will give you all the functionality that you have been getting from the fintech banks near you. The bank accounts can enable you to send and to receive cash daily, and to pay for services and products very easily. The account can only be likened to an online Euro Bank Account that has SEPA functionality.
The Bitwala Bitcoin Wallet
You can get your Bitwala Bitcoin wallet that you can easily link with the bank account. This makes it very easy for you to execute money transfers by the touch of a button. With this wallet, you can get some of the most common features offered by crypto wallets, including: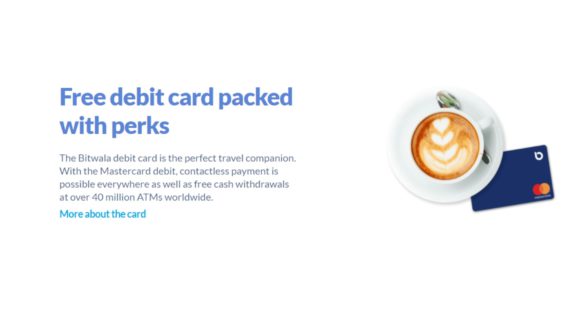 Sending cryptos
Receiving cryptos
Storing cryptos
Trading BTC
The wallet also supports fiat to crypto exchanges, as well as the crypto to fiat exchanges.
The Bitwala Debit Card
Bitwala offers a German Bank Account along with a MasterCard-backed debit card. Once you have the debit card, you can load it with Euros through your bank account ( website platform or the Bitwala app). MasterCard is responsible for the provision of user support and security to all holders of the Bitwala Debit Card.
The currencies and payment methods that are supported on Bitwala
The three main currencies supported on this platform are:
The Euros you own are stored in the bank accounts offered by the German bank partner. The account allows you to deposit, withdraw, as well as spend in Euros at your convenience. The cryptos are however stored in a dedicated wallet that has public and private keys. You can deposit or withdraw the ETH or BTC with this wallet very easily, more so if you have previously used a crypto wallet.
What fees and limits can you expect when using Bitwala?
The one very good thing that Bitwala has done for its customers is being transparent about the fees and charges one should expect as they transact on their platform. The fees charged are very fair if one is to compare them with what is already being offered by competitors in the market. The banking services will barely cost you any fees, thus you can open an account, get your card and transact at negligible to no fees.
With Bitwala, the card transactions are free if one is using Euros. Trying to use other foreign currencies will lead to you incurring some transaction and exchange fees. These are fees that MasterCard predetermines, so they are bound to change at any time.
Bitwala charges a standard 1% fee on the amount that you trade using the trading platform. Whereas this rate is not the lowest in the market, I think it is quite reasonable. The fact that Bitwala offers connectivity to the banking platform and lets you trade efficiently could be more than enough reason for you to get your Bitwala account and enjoy the current trading fees.
The BTC and ETH transactions are free, but you should expect to incur some network fees during money transfers. Bitwala does not have control over the network fee rates.
The countries supported by Bitwala
As you can already tell, Bitwala is a European-oriented service provider, in the way it only supports Euro-based fiat transactions. Not forgetting that the bank accounts linked to this platform are offered by a German bank, thus Bitwala is best-suited for those who are living in Germany. SEPA transfers work seamlessly in European nations, hence Bitwala can also serve those who are in the other European nations. In addition to that, the Bitwala debit cards are only offered to its customers who reside in the European Economic Area (EEA) and Switzerland.
---
Is this platform legit or is it a

Scam

?
All the evidence I've collected points to Bitwala being genuine. The services it is offering in the market are valuable, and it is doing an impressive job at satisfying customers so far. Its products and services have presented a fine blend of the traditional financial systems and block-chain based systems, thus enabling convenient and efficient fiat to crypto exchanges and crypto-trading.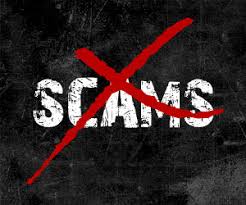 A look at how the customer service department delivers its support services and how it provides insightful information to customers shows that Bitwala is out to make the use of cryptos quite easy. More than half of the clients who have been using Bitwala already consider it an excellent platform on Trustpilot. The transactions have actually been seamless and effective for most regular customers on this platform.
==>My Number One Recommended Alternative To Bitwala ( With More Crypto Options) <==
---
Pros and cons
Pros
Valuable customer service is offered on this platform.
The transaction fees are quite low.
Excellent customer service reviews.
Cons
It only supports two cryptos
Best for those living in the EU mainly.
---
Final words and verdict
Verdict: Legit
Overall rating:
(4 / 5)
Bitwala.com is delivering the promised services to its customers, and I think it is doing a pretty good job at that. If you are looking for a simple platform to help you do fiat to crypto exchanges (Euro to BTC/ETH), then Bitwala is a suitable option. If you, however, want more options, then you can go with the platform I have recommended below: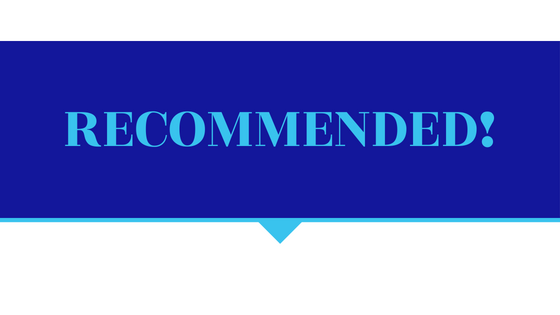 ---
That's all there is to my review about what Bitwala.com is about. I hope it was enjoyable and that you got the information that you were looking for. If there something that you feel was not addressed within the review, then you can drop it in the comments section and I will get back to you ASAP. I wish you all the best.
Eric,
Blogger,  Bitcoin Investor, and team member on Start Make Stop Waste!