This review will look at Capital 7. What is Capital 7? A scam or a legit? A good investment for you? Can you make a lot of money? These are some of the questions this review will focus on. Ok, here we go!

Product: Capital 7
Website: www.capital7.cc
Owner: Marvin Peterson
Price: Free to join, to make investment you have to make a minimum deposit of $25
Who is it for: People looking to invest (and take a risk)
What is Capital 7 about?
The Capital 7 website is a brand new website, it has been around for a very short amount of time, as it was launched on February 7, 2016.
It is an investment company where anyone can join for free but to start investing you have to deposit at least $25.
Sure it is free to join, but if you join you are probably in it to make some money and then you have to invest. That´s it, nothing more nothing less. Sounds like a good website, right?
Make Money On The Capital 7 Website Without Investing
My guess is that most users of Capital 7 are in it for the investment, of course. However, it is worth to mention that you can make money from the site without having to invest a single dollar. How? By recruiting new (investing) members to the site, if you do that Capital 7 will pay you money. So even if you aren´t interested in investing yourself you might have friends who are for example.
Capital 7 Has 2 Investment Plans
If you are going to invest money n the Capital 7 website you are going to get to (options) investment plans to choose from:
1: The C7 PLAN (Most profitable)
2: Weekly Plan (Safest)
You can see the 2 different plans benefits in the screenshot below.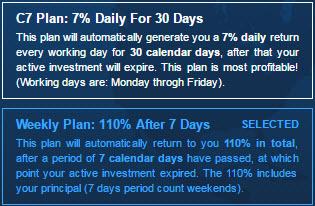 How Does It Work?
The Capital 7 is