Have you been invited to try something called My Cash Bot lately? What is My Cash Bot all about? I can tell you that it has all the scam signs, and that almost always means that it also is a scam. In this short review you will understand what I talk about.

Product: My Cash Bot
Website: mycashbot.com
Owner: "Albert Glenn" (most likely a fake name)
Price: $250
Who is it for: People who wants to get rich trading binary options without putting in any effort.
What is mycashbot.com all about?
The mycashbot.com website is just another one of those binary options trading softwares, that claims it will do all the work for you and calculate the best trades for you, and make you rich in no time.
Why you should/should not try My Cash Bot
I can not find any reason to try this, the scam signs are everywhere. First of all they claim that you will get rich without you having to put in any effort, and that alone should really be enough to stay away from this.
On the mycashbot.com website there is also a countdown that shows you it is only 22 spots left for this "super opportunity". This is also a classic scam marketing tactic, it is used over and over again by fake products.
The countdown started at 22 and as I watched the video it goes down all the time, to stress you into buying into this scam. But there is no need to be stressed, just visit the website again (from another computer) and it will start at 22 again… What a surprise! In fact check back next week, month or year and it will STILL be at 22 free licences available.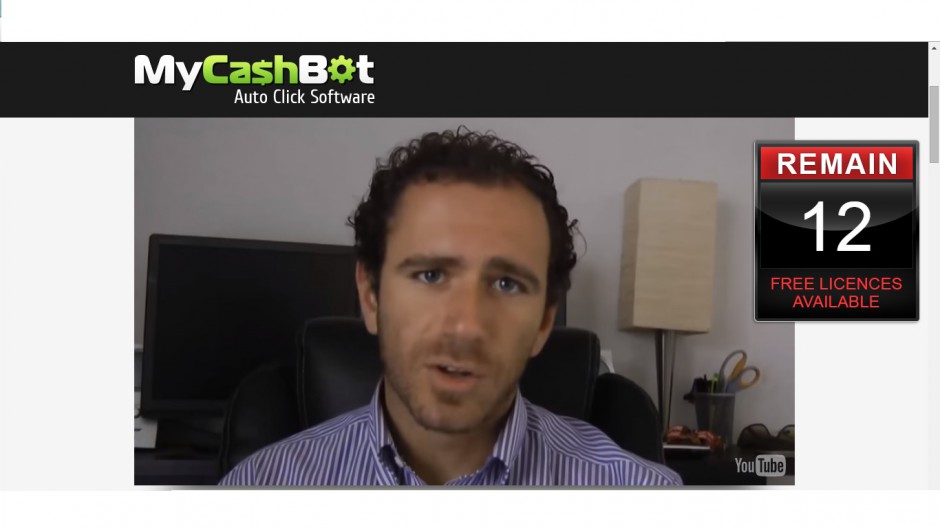 Want proof that this guy in the screenshot is an actor?
If you want to hire cheap "actors" like this guy for example, then visit fiverr.com, they say anything you want them to say for $5.
When I watched the promo video for My Cash Bot promo video I found this guy (again). I have made many reviews on scams and watched many bad actors talk bullshit, and this guy above I watchen in another scam called The Millionaire Maker very recently. Click here to see him giving fake testimonials in different clothes.
Do I have to go on why this is a total scam and why you should not give My Cash Bot any more attention?
Final words and Verdict
Verdict: Scam!
Overall rating: 0/10
My Cash Bot is a scam. PERIOD.
If you Want to make BIG money online:
You have made a smart choice reading this review and I know you are a smart person that can see the difference betwen right and wrong, between dream and reality…
There is many people making big money online, sure some of them does it trading binary options (but they do it manually and they have a lot of knowledge). It is also a very risky business and you can easily end up loosing everything.
If you want a safe way that also can make you rich and the ability to make money on auto-pilot you have to know that you will always have to put in the time and effort before you will see any money. The best method I can recommend is called affiliate marketing and it is the exact same method that are being used by many people online, that has also been able to quit their normal 9-5 jobs.
It has also made many internet millionaires and is by far the safest and most profitable way to make money online. If you want to know how YOU can start doing this click here.
The only people I have seen failing in this business are the ones that give up, or quit.
It takes a little time before you learn how making money online works for real, but if you are willing to put in that time, the rewards can be mind blowing!
But nothing comes without effort, if someone says something else they are lying to you.
If you want to know how I make money online and also other ways to get started click here.
I hope this review of My Cash Robot was helpful and now (hopefully) you know what it is all about. If you have tried it or any other binary options trade software scam please share your experience with us in the comment section below. It can help others to avoid this kind of scams.
Thanks for reading!
John
Founder of: Start Make Stop Waste