Today we review My Passive Trades for you. What is My Passive Trades? A scam or legit opportunity? How does it work? Worth your attention or not? This and more questions you get help to answer in this short review!
Product: My Passive Trades (MPT)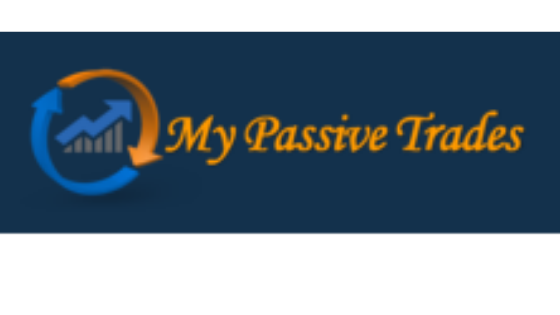 Website: www.mypassivetrades.com (**Traffic bonus gift through this link only)
Owner: Andy Colquhoun (CEO)
Price: FREE to join
Who is it for: Internet marketers and/or people looking for an easy extra passive income
Overall rating:
(4.7 / 5)
---
Note: Please do NOT invest more money than you can afford to loose into this investment opportunity or into any other investment opportunity as well for that matter. Past performance do not guarantee future results. Also, the success of other do not mean you will have similar results.
Ok, with that being said, let´s continue with the review of MPT!
---
What is My Passive Trades?
My Passive Trades is an online opportunity that you can join as an affiliate member and make money by the opportunity that the company offers. Polaris Universal LTD is the company behind My Passive Trades, they are also the company behind Chatabox, EurekaX and the Eureka Blockchain.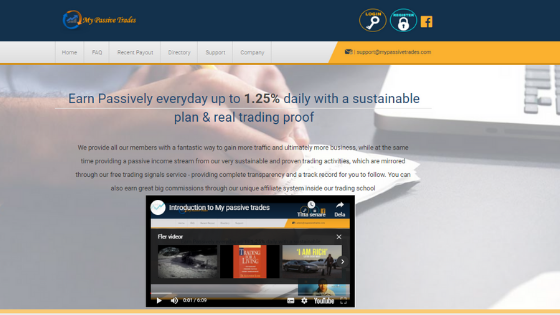 The company is located in the UK. MPT offers the members an opportunity to gain traffic to their online business and at the same time earn a passive income from the company's business activites as f.ex crypto and forex trading.
How does it work?
You buy advertising packs that cost $5 each, which also give you advertisement credits to be used on the page. You will see returns every day (about 1% daily), 7 days a week. In about 125 days the packs will expire after giving you 125% return (your money + 25% profit). Bitcoin and Perfect Money are the payment methods used inside My Passive Trades.
There are strategies to grow your returns even bigger and the most used is by compounding.
There are many strategies when it comes to compounding your earnings, and you should find the one that suits you best.
You might wonder what compounding your earnings mean?
short explanation: It is buying more trading packs from your earnings instead of withdrawing direct.
Many businesses rely on taking money from one member to pay another member, in other words, they need new members so that the older members can be paid what was promised. That model works for a while, but when new members stop coming or growth slows down, hell breaks loose when there is not enough money to make a profit and pay the older members. That kind of business collapses leaving a handful of happy members and a majority of frustrated and angry members completely stranded.
MPT is not built that way.
MPT has a team of some of the best crypto and forex traders who trade the market. The members participate in the profits by buying passive trade packs. Each day you get a return of up to 1.25%.
The rest of the winnings are kept so the business wont dry out. The trading account is getting bigger each day and the increasing members just means that more people will benefit.
The service/products you can purchase
The product MPT offers is advertising and a trading school. You buy advertising packs, and the audience you will reach out to is an audience which is familiar with spending money online and many of them might be interested in other moneymaking opportunities online.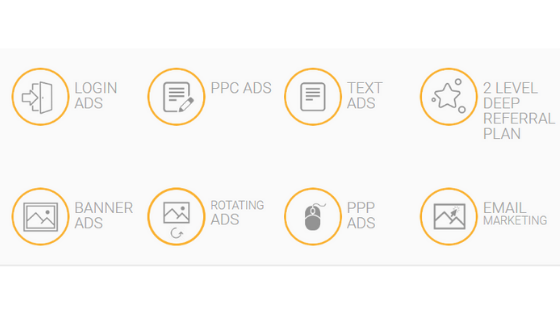 Each pack you buy gives you both login-ads and banner-ads which can be used for your own business or as many do, sell the traffic as a service for others. The ads will at this date reach out to 40.000 people.
How you make money with MPT?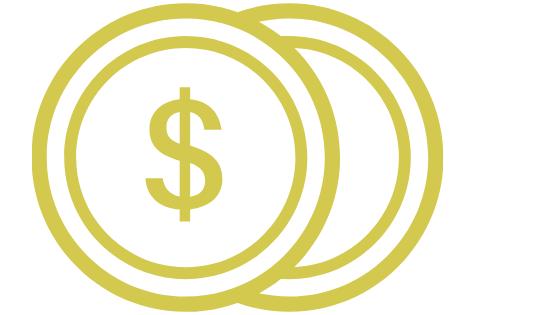 You will make money from your advertising packs. The earnings shared with you from the company comes from both crypto and forex trading and sales revenue, and can be mirrored through their free trading signal service.
You will also be able to earn commissions from personally recruited members and their personally recruited members when they buy advertising packs, 8% in the first level and 3% in the second level. I consider this as a bonus and personally I do not put a huge effort into recruitment.
Another way of earning money here is by reselling the traffic you get from your advertisement.
P.S.
Important to mention here is that this is not to be confused with MLM as there is only 2 levels, and that´s it. The levels won´t go deeper than that like in classic MLM´s pyramid schemes, ponzy HYIPs, etc.
My own personal insider experience
I have been with this company for over a year now, but before joining I sat on the fence and did my due diligence before joining. The urge of earning fast money by doing as little as possible have taken me into dodgy programs before, ending up with losing money instead of earning or having any value at all.
You will not get rich over night with MPT, but by preparing a good strategy of compounding your earnings, this can be a good income for years to come. Spending money in online programs will always involve some risk, but with this company I have no reason to doubt they will be here tomorrow as well.
Payments are made within hours and I have never met any issues. That said, I would never recommend anyone spending more money than one is able to lose. You can also follow the trading signals given on Telegram.
Q&A
Q: Do you have to watch ads to make money with this program?
A: No, you do not need to do that, however, you can do that aswell and earn extra ad credits that way.
Q: How do you deposit or withdraw money?
A:You can both deposit and withdraw with Bitcoin or Perfect Money
Q: How long time does it take to break even on my initial investment?
A: That depends, andonce again, there are no guarantees here but if everything continue to work as it has for me then it took me around 4 months to break even on my 200 bucks initial invstment. From that same initial investment I now earn 10 (USD) per day on auto-pilot… So you do the math, for example if I had initially invested 2000 bucks instead I would now make 100 USD per day… Again, it depends on your budget and how much you can invest.
---
Is MPT a Scam or Legit?
So, is My Passive Trades a scam? No, it is not a scam, it is a legit and genuine product. However, it is important that you understand how it works.
MPT generates real revenue from Polaris Universal LTD and does not depend on new investors coming in paying old investors with no product. MPT pays out rewards from the revenue that Polaris Universal LTD makes from purchasing their advertising services and the Trading school.
No investments are made, we buy advertising and are rewarded from Polaris Universal LTD´s earnings, that way the business is legit and no scam. Owners are transparent in this company, unlike businesses which turn to scam where no owners are shown.
Below is an interview with the CEO of MPT:
(P.S. Traffic Bonus gift through the link above**)
---
The Pros $ Cons
The transparency from the owner's side where they invite us to see how the business is done for the company was a huge pro for me. They have an open Facebook-group where you can meet up with both the owner as well as the staff.
Another is the quality of the advertising bought, I have had direct sales and signups for my other business.
The login-ads are extremely effective.
Earning money in my sleep will be my third pro, never before have I been able to do so and when doing withdrawals, they are made fast in just a couple of hours at most.
No cons?
The only con I can think of is the website's design and navigation, I looks kinda "made by a kid", but it is functional.
---
Final words and verdict/rating
Verdict: Legit!
Overall rating:
(4.7 / 5)
I give a high 4,7 rating for MPT as I see it for what it is, this is not your ordinary course or program but rather something you can do on the side with very little time effort from you part.
If you are looking for a great program to advertise your offers/business with great benefits attached to it, MyPassiveTrades should be of your consideration. The company was registered January 2018 at Companies House, Cardiff, UK.
Real people running the business, no hidden secrets and valuable advertising, that is what you get with a transparent company. My verdict is that by experience so far MPT got more Pros than Cons and they have done everything they have said they would do till this point. I am happy with it and will probably be the coming years.
Note: Please do NOT invest more money than you can afford to loose into this investment opportunity or into any other investment opportunity as well for that matter. Past performance do not guarantee future results. Also, the success of other do not mean you will have similar results.
(P.S. If you join throuh the link above I will give you a bonus traffic gift**)
**To get your free traffic bonus gift simply join through any of the links on this page and then send an e-mail to john@startmakestopwaste.com
---
I hope you found this short review on My Passive Trades to be helpful and that you now have a better understanding on what it is and how it works. Please, if you have used it yourself then share your experience in the comment section below as it can help others. Also, if you got any questions about this I would love to answer them!
I wish you success!
John,
founder of Start Make Stop Waste