What is Netcoins? I s it one that you should look forward to relying on? Does it come with any unique benefits or does it offer what is already common in the market? Let us find out about all that and more in today's review about Netcoins. I hope by the end of the review, that you will be in a position to decide whether it is one that you can bank on or not, and whether it is one that you can recommend to your colleagues or not. Below are the main elements of the review: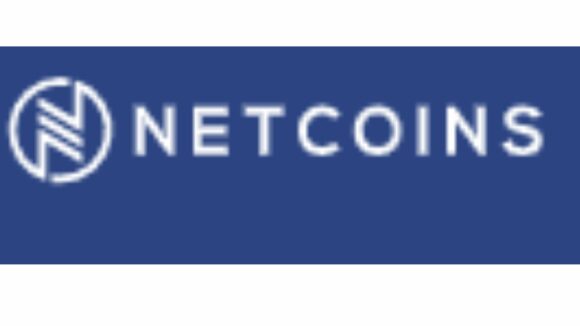 What is Netcoins?
What are the main features of a Netcoins account?
How does one go about the registration and verification process?
Fees can you expect to get charged as you use a Netcoins account?
Does Netcoins have a mobile app?
How is customer service on this platform delivered?
Is Netcoins Legit or is it a Scam?
Pros and Cons
---
Name of the platform: Netcoins
Official Website URL: https://netcoins.ca/
Overall rating:
(3.8 / 5)
Recommended: Yes (mostly for those living in Canada)
Those living in other parts of the world can try out my number one recommended alternative to Netcoins
---
What is Netcoins?
Netcoins exists as a Canadian crypto exchange whose aim is to make crypto transactions less mysterious and complicated for those living in Canada. This platform lets you purchase and sell some of the well-recognized cryptocurrencies, including BTC, ETH, USDT, BCH, LTC, XRP, and QCAD. Netcoins accounts are designed to make everything easy for their users, and that includes the manner in which they deposit fiat currencies and the way they convert them to cryptos.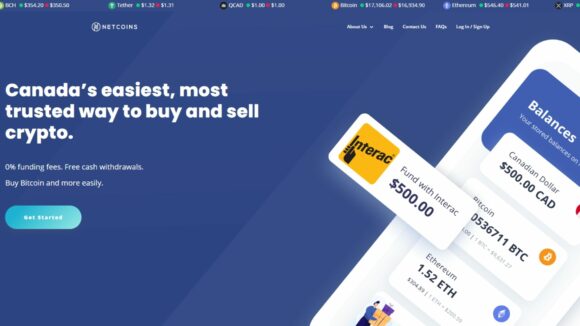 This platform allows its users to purchase cryptos using their bank accounts, through the built-in Simplex integration.
What are the main features of a Netcoins account?
Netcoins claims to be an excellent exchange for quick, regulated, and affordable crypto trading. Once you have purchased your cryptos, Netcoins makes it easy for you to move them to your private crypto wallet, or to even sell them to other people.
Some of the key features that you get to enjoy with a Netcoins account include:
Purchasing cryptocurrencies with USD & CAD– With a Netcoins account, you can hold both USD and CAD in the same account, and this makes it even more convenient for you at the time you want to buy cryptos. The platform claims to charge fairly low deposit and withdrawal fees.
Access to the 7 main cryptos – This platform lets its users access the 7 main cryptos, which include: BTC, BCH, ETH, LTC, XRP, USDT, and QCAD.
Making non-custodial cryptocurrency purchases through Simplex Integration– for those who are not Canadians, or those who cannot verify their identity, then there is a way in which you can use the Netcoins Simplex Integration to purchase cryptos right from your bank account. You will, however, still have to satisfy some terms and conditions for this to happen.
An easy and straightforward onboarding process – The registration on this platform usually takes just a few minutes. The verification phase also takes a few minutes and is also seamless. This platform is a FINTRAC regulated platform, and Netcoins has the obligation to verify a person's identity if they want to rely on what the platform has to offer.
Beginner-friendly interface – Netcoins exchange is quite a user friendly. It is a platform that is quite easy to use, even for the newbies. The experienced members have an even easier time with this platform.
How does one go about the registration and verification process?
Netcoins has its simple user verification process that sticks to the Canadian KYC and Anti-Money Laundering (AML) policies. For one to start purchasing cryptos through Netcoins, they have to:
Set up their account
Verify their active email address and their phone number
Upon completing step 2, you can begin purchasing cryptos right through the Simplex Integration ( from your bank)
Verify your identity by providing details such as your full names, your physical address, and copies of your ID or permit.
Upon verifying your identity, you can start funding your account and begin trading cryptos.
The owners of this platform claim that the verification process takes around 5 minutes
In case you are not a Canadian and you are not able to verify your identity with Netcoins, then you can still purchase cryptos via Simplex, which may also request that you still verify your identity. This means that it is good for you to be prepared to verify your identity anyways since it one of the ways through which fraudsters and scammers are reduced in the crypto-verse.
Fees can you expect to get charged as you use a Netcoins account?
Netcoins currently charges its users a flat fee of 0.5% per trade. It does not charge any deposit or withdrawal fees. Crypto withdrawals are, however, going to incur very minor network fees. If you decide that you will make the crypto purchase into your external wallet through the Simplex Integration, you should be ready to part with Simplex fees. These can be as high as 7% of the amount that you are transaction at a given time. This, therefore, means that purchasing your cryptos directly via the Netcoins platform is the most affordable option for you. Not forgetting that the minimum amount of cryptos that you can purchase through the Simplex Integration is 71 CAD or USD.
Does Netcoins have a mobile app?
Unfortunately, this platform has not created a mobile app as of yes, though their official website can be accessed from any smartphone browser. By simply visiting the official website, you can log in to your account and begin doing your transactions. You can actually perform all of the operations that you can go about on your computer with much ease, on-the-go.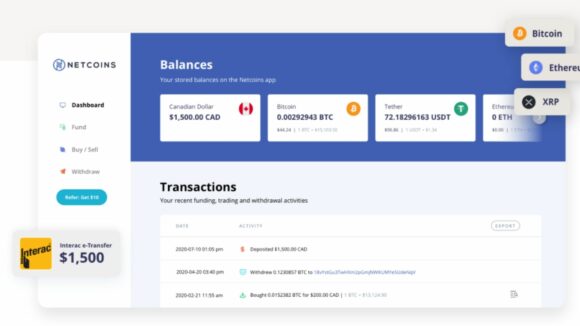 How is customer service on this platform delivered?
Netcoins has a couple of responsive avenues through which you can seek help from the support team. The channels include:
Livechat support offered through the official website.
The Contact Us form on the official website
Telephone number – +1-844-515-2646
Email support – support@netcoins.ca
Their social media platforms: Facebook, Instagram, and Twitter
The customer support staff are available to serve users from Mon through Friday, from 0900hrs to 1700hrs.
---
Is Netcoins Legit or is it a Scam?
In my own opinion, I think Netcoins is genuine. There are a couple of reviews about it on the internet, and they also all allude to the same sentiments. There are unfortunately no reviews about it so far on consumer trust sites such as Trustpilot . It also has a very low following on its social media platforms, which I think does not do it any good in terms of proving its legitimacy. It is, however, known that this platform has been around since 2014, and has been serving its customers since then, without there being any major issues regarding mass scamming.  On the overall, I think the owners of this platform need to work out a way in which they can make the customers trust their services more.
Here is an alternative that I have used and found to be quite effective so far
(Read the full review about its features and unique benefits)
---
Pros and cons
Pros
The platform is user-friendly
There are no fees for making deposits
Low trading fees
Various avenues for customer support
Cons
It offers a limited variety of cryptos
One has to complete verification for fiat trades.
Few trading options
Lack of reviews to support its credibility
---
Final Words and Verdict
Verdict: Legit
Overall rating:
(3.7 / 5)
Netcoins is a legit Canadian crypto exchange that is trying to simplify the processes involved in the purchase and selling of cryptos for its customers who are mainly based in Canada. I like the fact that have made it an easy to use platform that is also quite secure, and one that those living in Canada can enjoy. Unfortunately for those living beyond the national borders of Canada, the fees can be a bit expensive, more so if you cannot verify your identity on Netcoins. I would therefore just recommend that you try the recommended alternative below, which actually has an app that you can rely on (as well as a crypto ATM for even greater efficiency).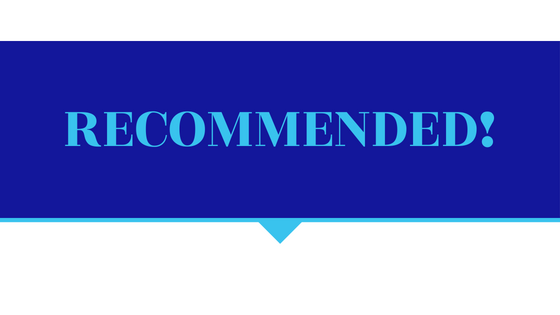 ---
That will be all for my review about what Netcoins is about. I hope that you found it educative and that you will now make a solid decision about whether or not you will use it, based on what it has to offer. You can actually share what your sentiments are about this platform in the comments' section. Let me also know if you have any other concerns or questions to raise.
Your friend,
Eric, investor and blogger at Start Make Stop Waste!