This review is going to be about a new product called Online Sales Pro. What is Online Sales Pro? Is it a scam or a legit opportunity? Is it worth for you to try it or who is the program really for? These are some of the questions this short review will focus on.

Product: Online Sales Pro
Website: www.onlinesalespro.com
Owner: Vincent Ortega Jr.
Price: $0 Free trial for 1 week, after that it costs $37 a month
Who is it for: For Network Marketers (Nicer word for MLM, aka pyramid scheme)
What is Online Sales Pro about?
Online Sales Pro is a new lead generating system that is going to help you collecting leads and build your downline in whatever MLM business you are in. It is basically a system that will help the user of it to "be seen" online.
The owner is a successful MLM (pyramid scheme) marketer that actually sounds like a nice guy (most MLM people don´t sound very nice), especially not if you say something negative about MLM lol!
How Does It Work?
You will be provided with training and tools such as:
Sales Training
Social Media Training
Landing Pages (choose from over 500 designs)
Sales Funnel
Auto Responder
Custom Domains
Client Support
Community Pages
Team Training
An App (to manage your account)
All of these things are good to have, however I miss a couple of things here as I am NOT a big fan of MLM (pyramid schemes)
How about the most important thing and the REAL foundation of a successful online business, your website?
Who Is Vincent Ortega Jr ?
Vincent Ortega Jr is a very successful online marketer, exactly how and what he have done to make it to success is something you can find out on YouTube for example. Here he is with another program called Traffic Authority:

Is Online Sales Pro A Scam?
So, is Online Sales Pro a scam? No, at least I don´t think so but some of the claims in the program have scam tendencies. As you can hear (in the Traffic Authority video) he is saying that this business will generate in $10,000 a month minimum.
That is also some of the claims for Online Sales Pro.
Those claims ring my scam warning bells. When people make "guaranteed" income claims it can actually be a sign of a scam.
Just because a product have some value don´t mean that it is not a scam.
I am not at all saying it is a scam, I am pretty sure you can benefit from the Online Sales Pro program if you are into MLM marketing.  
However, if you are not into it, or if you are a beginner in general, I would NOT recommend that you get involved.
Network Marketing (MLM) works in a way that it is the ones "in top of the pyramid" that will make the significant amounts of money, the owners, and the ones who join first are the ones who will benefit the most.
The Free Trial Of Online Sales Pro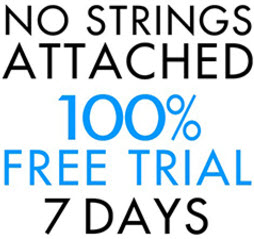 You will get a 7-day free trial (no strings attached) with Online Sales Pro so if you don´t like the program you don´t have to buy it.
One thing I didn´t like with this "free" trial is that you have to insert your credit card information to get access to it… Also, the monthly fee of $37 will be withdrawn automatically (when your 7 free days expire) from your card if you not cancel the membership.
How easy it is to cancel I have no idea about but I would say that the other way around would be a better way, that if you WANT to continue you give your credit card details and start paying for your membership instead. 
**Want a free trial of a program that won´t require any credit card and also don´t involve you in MLM? Click here for the review about that program<==
Why You Should/Should Not Try Online Sales Pro
First of all, the training and tools you get you can get on other places, most of it for free. However, it might be nice to have it all "collected" in one place… If you are into network marketing (MLM). If that is you, then you might want to consider to at least try out Online Sales Pro.
If that isn´t you I don´t see any reason why you should even try it. Instead, I would suggest that you don´t get involved in MLM at all, as it is not the best way to make money online.
Best way to make money online is with Internet marketing, a proven Internet marketing method that also have been proven to be the best way to start (for beginners) is by start doing affiliate marketing. That way you can start selling (whatever you want) things that you do not even own, you will get paid any way.
The foundation you will need to start doing that is a website, and of course, some high-quality training and support.
This place will give you all of that: Click here to read about it
Final Words and Verdict Of Online Sales Pro
Verdict: Legit (but NOT recommended)
Overall rating 5/10
The Online Sales Pro program is not a scam, it is legit. I don´t recommend it especially not if you aren´t into MLM. If you are into MLM it might be something for you, on the other hand you can find most of the things offered within the program for free on other places online.
Maybe not the 500+ marketing templates and the cool app, but other than that you really don´t seem to get anything special.
Best Legit Program That Will Teach You Internet Marketing
I don´t know but you, but for me all those "hyped programs" that for example, make claims that you easily will earn $10,000 a month if you buy them. They just don´t feel very honest.. Not just feel, they are NOT honest when they do those claims.
That kind of money is of course, possible, and a lot more but NOTHING will come to you easy, you are going to have to put in both time and effort to make it happen.
Most programs that make that kind of claims I would call scams, even if they only say it like that, to "market" the product, it is very unethical and dishonest, (at least in my humble opinion).
A program that always will be honest with you and tell you the truth, that you are going to have to follow step-by-step training and put in time and effort to build your business from the foundation and up (no shortcuts) is Wealthy Affiliate.
You will get a free trial (no credit card needed) + 20 Free lessons on how to set up your website (also included in the free membership) + all the support you need in an instant.
Click here to read more about that!
I hope you found this short review of Online Sales Pro to be helpful and now hopefully you have a better understanding if it is something for you or not. If you have tried it please share your experience with us in the comment section below. Also, if you got any questions about this review I will be more than happy to answer them.
I wish you success!
Thank you for reading.
John
Owner of: StartMakeStopWaste.com