Today we look at the new RA Wealth Partners site. What is RA Wealth Partners (rawealthpartners.com)? Will it be worth for you to join or should you look at other solutions? How can you use it? Are there better alternatives out there? This is some of the questions this review will help you answer! Ok, with that being said, let´s start!
Company: RA Wealth Partners
Website: www.rawealthpartners.com
Owner: Tyler Gallagher
Price: Free to join (if you qualify)
Who is it for: For business owners in the investing space and/or for affiliate marketers
Niche: Investing in general, Precious Metals, Cryptocurrency, Trading, etc
Overall rating: 
(4.7 / 5)
---
P.S.
All links on this page are 2nd tier affiliate links, meaning I will make money if you make sales (if you get approved to the program). The money I might make, will of course, Never be on your behalf, but on the behalf of the company, that you promote.
+ ALL the Links on This Page Come with Only Benefits!
IF you join through any of the Links on this page you will get a HUGE advantage over any competitor who don´t, as I will provide you with some "secret tactics" that everything from a seasoned Blogger, Social Media or PPC marketer, SEO expert, or even a complete beginner in Affiliate marketing will have HUGE benefit from, (read more about that below)
Why I would do this?
Needless to say, right?
I mean if you make money, I make money, right?
Yeah sure,
but I also happen to LOVE to Help People Succeed.
/John 
Founder of: $tart Make $top Waste
---
IMPORTANT UPDATE! (JUNE 2020)
There have been changes to the RA Wealth Partner affiliate program. In short, the commissions are lower.
I still promote them but not at all as much as before, instead I have started to promote another company that have both better commission percentage and more importantly CONVERT LEADS INTO SALES MUCH BETTER!
So, my best recommendation is to look at this page instead and join that gold affiliate program instead, to be honest it is (by far) the best one I have ever been part of. 
Hint: You get 6% commissions instead of 3% 😉
Ok with that being said, let´s continue with the review of Ra Wealth Partners.
---
Table of content (in order)
What is RA Wealth Partners

How does it work?

For affiliates (read)

For business owners (read)

Realistic Earning Potential (for affiliates)

How you get paid + affiliate structure

My own experience (as an affiliate)

Alternative sites?

Final words
---
What is RA Wealth Partners?
RA Wealth Partners (rawealthpartners.com) is the new Regal Assets affiliate program. the official network & JV portal for financial and marketing professionals. You can use it for promoting Regal Assets offers to earn commissions, or you can JV with Regal and start selling your own financial products through their (proven to work) ecosystem.
So in short, this is actually a huge opportunity for both worlds so to speak.
How does it work?
The platform can be used for 2 things:
Either you are a business owner in the alternative investment industry that is looking to expand your business further,
Or you are an affiliate marketer who is interested in promoting products and services for companies.
---
For affiliates:
You can promote Regal Assets products and earn commissions as an affiliate marketer, this is great for you if you are a financial advisor already for example, but also if you are a seasoned affiliate marketer. You will get generously paid for both leads and sales (if the lead is qualified).
Some of the obvious reasons to sign up as an affiliate is:
The investment products you will promote easily converts into sales
The offers you promote will not be found elsewhere
Very High Commissions
Easy to use dashboard with traffic and lead stats
Free Mentor program to take advantage of
Great resources and creatives to use in your marketing
Must read for affiliates:
It is not easy to get approved as an affiliate as you are required to convince the affiliate managers that you are going to be able to drive leads and sales, so if you have never done a sale online this opportunity might not be for you. However, on the other hand (as I got a good relationship with them) I have been able to approve complete beginners in affiliate marketing to the program, and even helped them make their first sale online, on the RA Wealth platform.
So, if you are a beginner, please join through this page (my personal) and then send me an e-mail at John@startmakestopwaste.com (or leave a comment in the comment section below) and I will help you to get approved.
P.S.
I can also provide you with some tactics to get leads and sales (even if you are a beginner or not) that nobody else on the platform is currently using, so you will be the only one doing those… Am sure you understand that would put you in a very good position, right? 
And, if you are into FB ads you WILL LOVE what I can offer you!
If you are interested in that then simply join through ANY of the links on this page and you will become my sub-affiliate and I will make sure that you get approved plus sharing some "secret" tactic with you.
---
For business owners
If you have an IRA-Eligible product you might want to consider to join the RA Wealth Partners Ecosystem for many reasons.
Some obvious reasons, (except that you can significantly increase your revenue):
You will have your product promoted to a list of 200k+ Qualified Investors
You will have access to Pro Brokers Floor
Keeping Track of Your Leads and Sales in a Custom Dashboard
Report Generation
Support (in the form of Phone and E-mail)
Must read for business owners:
You are going to need a solid track record, and have an IRA-eligible product to be able to get approved, as the US is their biggest target market. Companies who fall into any of the categories below are already partnered up, and continue to partner up with Ra Wealth Partners:
Real Estate
Startups & Private Equity
Alternative Stocks [E.G. Hemp/Cannabis/Marijuana)
Art
Farmland
Wine, Whisky, Etc
Other Alt. Investments
---
Earning potential
Needless to say, there is a huge earning potential for both affiliates and business owners to be made here. The "sky is the limit" is a good old saying that comes into a good place here.
Just looking at what some of the top affiliates earn per month, by promoting services and products for companies will give you a pretty good understanding of what you are looking at here, as an affiliate. Also, business owners can clearly see why being part of this network might be profitable if 1 single affiliate is raking in these amounts for promoting your product for you…
---
How you get paid:
You get paid through Paypal.
Update: As of July 2019 the commission structure has been raised from 3% to 5% so the earning potential is even bigger now than it has been previously for affiliates.
Below is the affiliate payout structure: 
Qualified Leads = $30 – $100 per lead (yes you get paid even if they do not invest)
Closed Deals $5,000 – $14,999 = 1% of net investment
Closed Deals $15,000 – $29,999 = 2% of net investment
Closed Deals $30,000 – $99,999+ = 3% of net investment
---
My own experience using the platform (as an affiliate)
I have personally been an affiliate of this network (former name was Clickagain) for around 2 years now and I have to say that I have never experienced a platform that pays higher commissions and some days I actually make more money than most of the people in the western world, make in 1 month. (My record so far for a single day is over $7,100+)… and that was before the commission structure changed from 3% to 5%…
It is super easy to use and understand the backend, even if it might be a bit overwhelming at first.
The best part (in my opinion) is the great number of resources to help you in your marketing.
Below is a screenshot from inside my member's area of the affiliate backend:
Update (New commission record!)
Just wanted to say that my previous record from one sale at RA Wealth Partners was 7k something but am happy to announce that I broke that record just now the other day: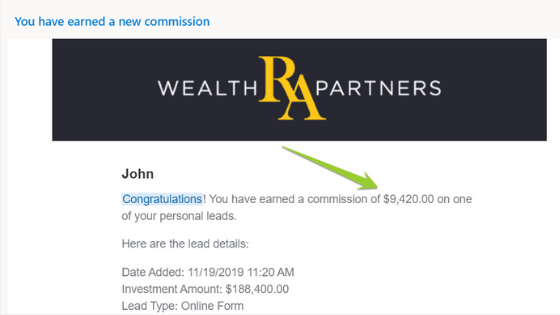 As you can see you will get e-mail notifications as soon as you have made a new commission and that is another nice detail with this affiliate program.
P.S. 
I plan to break this personal record soon so stay tuned ;o)
---
An Even Better Alternative to RA Wealth Partners?
Even though RA Wealth Partners are great, they are not my absolute #1 recommended affiliate program in this niche, there are similar sites for affiliates to join and the absolute best one I have found, that is also simple to use and offer much promotion material to their affiliates is the Goldco Affiliate Program.
If I would recommend the #1 affiliate program (also in the Gold & Silver investing niche) it has to be the GC Affiliate Program.
P.S. I can help you get approved for that one as well if you visit the page above.
---
Final words and verdict
Verdict: Recommended
Overall rating:
(4.7 / 5)
Ok, I think that sums up the overall view of this new platform pretty good.
The only small "complaint" I have is that the mentor program seems to be "not that active" as it is hard to get an answer when trying to contact them. That is also what brings the rating down from a 5 star to a 4,7 star instead.
This is a legit and also a very good opportunity both for affiliate marketers and maybe even more for you as a business owner to grow your revenue bigger and bigger each and every year moving forward.
Personally, as I am not a business owner who offers investment products and services I use it as an affiliate and I can easily say that I would recommend this to you as a business owner as I know the power of having this kind of "help" for your company.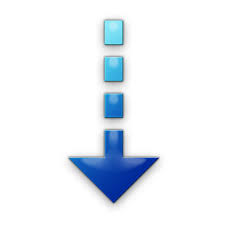 I hope you found this short review of RA Wealth Partners (rawealthpartners.com) to be helpful and that you now have a better understanding of what it is and if it is for you. If you have used it yourself then please share your experience in the comment section below as it can help others. Also, if you got any questions about this review I will be more than happy to answer them below!
I wish you success!
John,
founder of: $tart Make $top Waste