Today´s review is going to be on a new thing online called TADSOL. What is TADSOL? A Scam or a legit opportunity, for you to make money? Well, first of all, if you know what revenue sharing is all about then you also know what TADSOL is going to be about.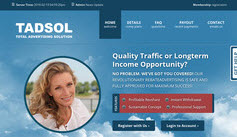 Product: Total Advertising Solution (TADSOL)
Website: www.tadsol.com
Owner: Isner Nazir
Price: Free to join, minimum deposit to participate in the revenue sharing is $10
Who is it for: People who want to do rev share to make money and/or want to advertise.
What is TADSOL about?
TADSOL is a new revenue sharing program that recently hit the web, there are MANY similar ones online. Seems like revenue sharing is VERY popular nowadays, it is easy to see why. Anyone can do it and it takes minimal effort to make money… However, it is a risk and most revenue sharing sites don´t last very long.
How Does It Work?
On the TADSOL website you will find the statement "we are committed in our business and want to grow our money back realistic plan". What the owner Isner Nazir means with that (even if his grammar is worse than mine) is that TADSOL is different from other rev share programs.
It is not different, they all work the same way. In short, they will work for as long as people joining and put money into the "revenue sharing pool" and as soon as that don´t happen anymore nobody will be able to cash out their earnings. All revenue sharing programs works like this, TADSOL included.
How Much Money Can You Make? (And How Fast?)
So, when you choose a revenue sharing program (in the rev share jungle)  you might want to choose one that pays good, and also fast, right? How good are the TADSOL return rates and how fast will you make a profit?
There is 4 different ad pack choices, below you got them: