Today something called VIP Voice is up for a review. What is The VIP Voice and is it something worth your time? Is it a legit opportunity or is it a scam? You will have the answer in about 3 minutes in this short review.
Product: VIP Voice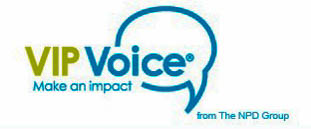 Website: vipvoice.com
Owner: The NPD Group
Price: $0 Free
Who is it for: People who likes taking surveys online. (Only for people living in USA or Canada)
What is the VIP Voice About?
The VIP Voice is owned and founded by the NPD Group and is a website where you can sign up for free, and start taking surveys. You will get "paid" with reward points that you can later trade in for lottery tickets, and auctions. You are NOT going to be able to trade your points into real money.
How many points you get for spending your time taking surveys on VIP Voice is dependent on your level. Your level is determined by the number of surveys you have taken: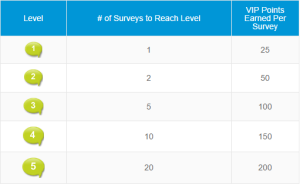 On the screenshot above you can see that to get to the top level you have to take 20 surveys. When you reach the top level (5) you will start to earn 200 points per survey. Everyone that signs up to VIP Voice starts at level 1 and has to work their way up.
What can I exchange the points for?
You will find two redemption options inside the VIP Voice members area: Sweepland (the lottery) or Bidland (the auctions).
To buy lottery tickets inside sweepland is not that expensive, but it is on the other hand not very likely that you are going to win anything.
For you to win an auction inside of Bidland is going to be VERY expensive, atleast if it is a good price like a vacation or a new TV or something like that. You win the auction simply by biding a higher amount of points than anyone else. You will probably have to "work" for many years before you can win such an auction.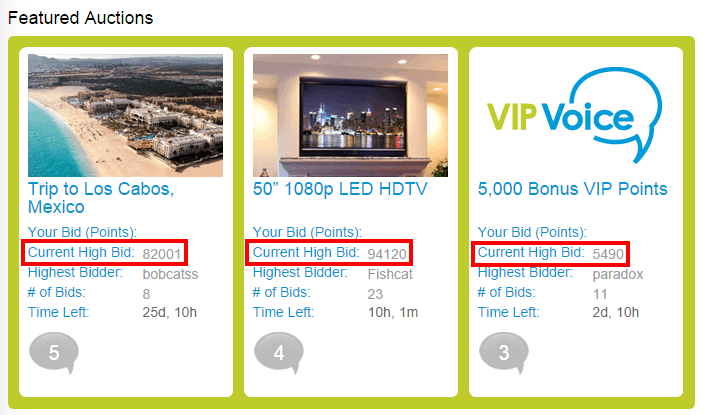 In the screenshot above you can see how many points the leaders of this three bids have put. The fact that you will only get about 3-5 surveys to complete per week makes it a very long road to this kind of auction winings.
Why you should/should not try the VIP Voice
If you like taking surveys and like the idea of having to spend years before you will get some form of payment from doing it then go ahead. If you like to take surveys, but also want to get paid in cash there is much better options for you, like Opinion Outpost for example.
Overall taking surveys online is not going to make you any significant amounts of money, it can at the best only be considered as a part-time job that only will bring in some extra "gasoline money".
If you want to make a lot of money online try this instead:
If you are looking for a way to be able to quit your job and make more money than you did with that 9-5 I strongly suggest that you try affiliate marketing. It is the exact same method that has made many internet millionaires, it also gives you the benefit of choosing yourself what ever you want to promote.
You basically have the whole internet to choose from. For example you can sell anything on Amazon.com, you do not have to own the things that you sell/promote. It will not make you rich "overnight" and it will take some time and effort before you start to see any money coming in. But compared to taking surveys online it is fast as lightning :o)
If you want to know more about this and how you can get started click here.
You will be able to go on that vacation (or buy that TV) way faster than if you take surveys, regardless of where you take your surveys…
Final words and Verdict
Verdict: Legit! (but also a big waste of time)
Overall rating: 2/10
To be honest I really want to call the VIP Voice a scam because for me it is really a very cheap way from big companies to get valuable information from the customers, and not even pay them in real money.
Taking surveys online has never been an option for me as I am intrested in making A LOT more money than taking surveys online can give. My time is also way more important to me than spending years just to be able to make significant amounts. Hell on that time you could build up atleast 3 money generating business online that will make money for you while you are aslep.
But the VIP Voice never claim that you will make any money from their site and it is also free to sign up and start taking surveys… So I have to call it legit anyway.
It is of course up to you if you try the VIP Voice. But even if you like the idea of taking surveys online I am not going to recommend it. There is many taking surveys sites online that is better and that actually pay you in real cash, I have a few listed in the "make small extra money online" tab on the top of this site.
I hope you found this review of the VIP Voice to be helpful and now you know what it is and if it is something for you or not (hopefully). If you have any experience from trying the VIP Voice please share your experience in the comment section below so others can get a better picture of it. Also if you have any questions about this review just ask.
I wish you the best!
John
Founder of: Start Make Stop Waste