Ok this is 25 easy things that you need to take care of before hitting the publish button, here is the Onpage Seo Checklist for 2015-2016. Make sure you have all these points… on point… If you have, you are going to have a lot of posts on Google page 1!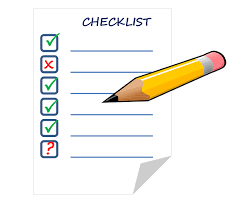 1: Make the keyword/Keyword phrase appear in the url for this page.
2: Make the keyword/keyword phrase appear in 1 subheading in the copy.
3: Put the keyword/keyword phrase in the alt tag on atleast 1 image.
4: Place atleast 1 outbound link (a link to another website) that opens in a new    tab/window)
5: Make the keyword/keyword phrase appear in the first paragraf of the copy
6: Use the keyword phrase about 1 time per 100-150 words, keyword density should be about 8 times per 1000 words.
7: Put the keyword/keyword phrase in the beginning of your page title.
8: Make the page title more than 40 characters and less than 70 long.
9: Try make the meta desciption as intresting/appealing as you can
10: Make sure the keyword/keyword phrase is in the meta desciption.
11: Make sure your copy is atleast 300 (minimum) words.
12: Use unique keywords that you have not used before.
13: Place internal links!
14: Activate visitors! Call to action, ask them to comment and share, anything that makes them do something is fine.
15: Try to make your subtitles appealing, many visitors have the habbit to "screen a page" Catch their interest to read further, make main points easy to identify
16: Check your grammar (Something I never do to be honest) But you (and I) should… probably.
17: Give credit to research sources you used, or pictures you used.
18: Check that all your links work.
19: If you use categories, make sure your post is in the right one.
20: Fill in some tags.
21: Add a feature image.
22: Use headings and subheadings properly, H1 for the title, H2 for the keyword/keyphrase, H3-H6 for the subheadings.
23: Have your first image above the fold. (so viewers see the image as soon as viewing the post).
24: Optimize your post with visuals! Images, videos, etc.. if they are appropriate of course. Set your images to none (or place a link).
25: Your post are ready to publish! Share it to all your social media accounts.
Hope this helps!
I made a review on the best keyword search tool on the market recently, if you want to know why it is the best? And also try it for free (for 30 searches) click the link below!
Click here for my review on the best keyword search tool on the market!
Do you miss something on this onpage seo checklist? Do you have any questions about this post? I would be very happy if you left a comment!
Thank you for reading!
John
Founder of: Start Make Stop Waste