Ok this is 25 easy things that you need to take care of before hitting the publish button, here is the Onpage Seo Checklist for 2015-2016. Make sure you have all these points… on point… If you have, you are going to have a lot of posts on Google page 1!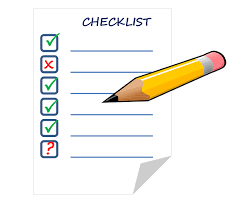 1: Make the keyword/Keyword phrase appear in the url for this page.
2: Make the keyword/keyword phrase appear in 1 subheading in the copy.
3: Put the keyword/keyword phrase in the alt tag on atleast 1 image.
4: Place atleast 1 outbound link (a link to another website) that opens in a new    tab/window)
5: Make the keyword/keyword phrase appear in the first paragraf of the copy
6: Use the keyword phrase about 1 time per 100-150 words, keyword density should be about 8 times per 1000 words.
7: Put the keyword/keyword phrase in the beginning of your page title.
8: Make the page title more than 40 characters and less than 70 long.
9: Try make the meta desciption as intresting/appealing as you can
10: Make sure the keyword/keyword phrase is in the meta desciption.
11: Make sure your copy is atleast 300 (minimum) words.
12: Use unique keywords that you have not used before.
13: Place internal links!
14: Activate visitors! Call to action, ask them to comment and share, anything that makes them do something is fine.
15: Try to make your subtitles appealing, many visitors have the habbit to "screen a page" Catch their interest to read further, make main points easy to identify
16: Check your grammar (Something I never do to be honest) But you (and I) should… probably.
17: Give credit to research sources you used, or pictures you used.
18: Check that all your links work.
19: If you use categories, make sure your post is in the right one.
20: Fill in some tags.
21: Add a feature image.
22:<